CHARLOTTE — By most statistical measures, cornerback Donte Jackson is having a solid season.
He's tied at No. 5 with three interceptions and leads the league with 110 interception return yards. Plus, Jackson's six passes defensed are tied with cornerback Rasul Douglas for the team lead.
But this has been a frustrating season for Jackson because he's been battling a turf toe injury since Week 3 when the Panthers defeated the Chargers in Los Angeles.
Jackson has tried his best to play through it. But the injury's unpredictability has meant even when he gets through a week feeling healthy, sometimes he'll make one wrong cut in a game, and it will flare-up. The worst example of that was in Atlanta when he came out after only one play.
Overall, Jackson has played just 53 percent of Carolina's defensive snaps this season as he's gone in and out of the lineup.
"I can't even express how much of a frustrating feeling it is," he said Wednesday. "You want to be out there, and you want to fight with your teammates."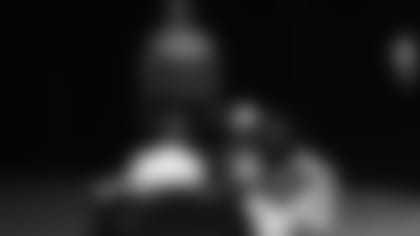 Jackson has tried to stay engaged by coaching the younger players when they've had to fill in for him, but that doesn't lessen how much it gnaws at him that his body isn't allowing him to play. With the ailment, he's gotten through nearly a full game against the Saints, playing 97 percent of snaps. But he was only available for 50 percent of them against Chicago in Week 6 and 36 percent last Thursday against the Falcons.
"I just want to get out there and compete and help my team win and help my team be successful. And when I can't do that, it hurts me a lot," Jackson said. "But I'm just trying to stay on it, stay on this treatment and try to keep this thing right because, like I said, when it's feeling good, it's feeling good."
To that end, Jackson saw a specialist over the long weekend following last Thursday's loss, and now he's doing something different to keep his toe healthy.
"I'm trying a new acupuncture routine to help minimize the pain when it does start hurting," Jackson said.
He began the routine Friday and was able to let his toe rest and heal a bit with no game to play on Sunday.
"That helped me have a better day today on it," Jackson said. "I know this is an uphill battle. I know that this is something that won't just go away on its own. You've got to really just force it and stay on it."
The third-year corner is grateful for his teammates' support throughout the season. Still, he wants to contribute at a high level himself. If this acupuncture technique works, it could help him stay on the field more consistently.
"It's getting there. I'm still working," Jackson said. "It's feeling better — just trying not to aggravate it."
View photos from Wednesday's practice as the Panthers returned to the field to prepare for the Chiefs.