WR Curtis Samuel, Ohio StateRound 2, Pick 8 (40)
Where did you watch the draft?:Brooklyn, NY. My home.
Who is there with you?:It is everybody who supported me through my process and my journey. Family, friends, just everybody who has been around for a long time.
Did the team tell you which position you'll play?:There are going to use me primarily as a slot receiver. That's why they brought me in there. That's where they thought I could help the team a lot.
Will you also play running back?:Yeah, they definitely told me we were going to do a little bit of that too but they have a great draft pick in Christian McCaffrey who is a terrific player. I definitely like how he plays. But you know, I'm going to be primarily in the slot but then sometimes we both can be in the backfield with Cam Newton. I feel like it's going to be great.
Which position do you tell people you play?:I'm a slot receiver.
What was your wait like today?:As the day started, I said let's see what happens today in the second round. I stayed patient. I wasn't frustrated or anything. I stayed patient throughout the whole thing. Then I got a call where they said they were going to draft me. I was really excited. My family and everybody was excited so it was a great moment to be with everybody else.
How excited are you to partner with Christian McCaffrey in this offense?:It's definitely going to be a great offense. I've seen what McCaffrey can do. I feel like he is a terrific player. He is a great player. He can line up in the slot sometimes too. He can run the ball out of the backfield. We both can do similar things. We complement each other well. I feel like we will do a great job there and it will be a terrific time playing there. I'm excited.
How did you feel your pre-draft visit here went?:It was a great visit. I went there before I traveled somewhere else. It was a great visit. I felt comfortable there. I felt like I was home. Great coaching staff. I felt everything that they were telling me and I felt like I could definitely fit there. There is a great coaching staff that's there. A great owner, great management, everybody who was part of the whole system. I felt like that would definitely be a great place for me.
What are people going to learn about you?:Just the energy and the effort that I bring every day to practice and the weight room and what we have to do. I'm a team player. I'm there for the team. I'm not there for myself. I'm there to help someone get better and also help myself get better.
Did the Panthers talk to you about helping take the pressure off of Cam Newton?:They definitely talked to me about everything. Just how they want the direction the offense to have. They want a slot receiver guy who can also line up in the backfield and do multiple things. Just go into the slot and do a bunch of things there too. What they were telling me, I thought I was a perfect fit.
Do you have any connections to Charlotte and North Carolina?:I'm not too familiar with the city but I do have a cousin that lives out there. He tells me it's a great place all the time. He was hoping I was drafted there so when I finally talk to him, he's going to be really excited. But he definitely told me it's a great place, a great place to live. I'm excited.
How has playing multiple positions helped you in this process?:I really believed in myself and believed in how much better I feel like I can get. Like I told everybody, I focus primarily on receiver stuff and being able to develop my game that way just because I did so much of everything. But I trust in myself. The coaching staff at the Panthers trust in me and know I am going to come in and make something happen.
Are you looking forward to settling in as strictly a receiver?:Yes, definitely. I'm focused on playing slot receiver.
Do you know former Carolina and Ohio State wide receiver Corey "Philly" Brown?:I spoke to him a couple of times. I definitely saw how he fit in that offense and saw him play before.
What's the high school football scene like in Brooklyn?:It was great. It definitely developed tremendously. I felt like a bunch of great players have come out of the city. I was just working so hard to become that one guy to go to a top school and open the gates for other guys. Just give them the confidence and also just lure more scouts in to the city and I definitely feel like it's helped. I have a guy at Ohio State right now. I have another guy that's probably going to another top school. So there are guys in and out of the city and in and out of these schools that are going D-1. I'm fortunate and happy about that.
Did you run track in high school?:No, no. I mean I did run track my junior year but that was about it.
Could you have made a living from running track?:I definitely believe so if I went with it but my love for the game of football is too strong so that's the direction I went in.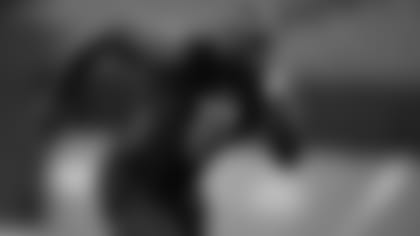 Where did you watch the draft?:It's amazing. I'm back home right now. All my close family and friends around. It's one of the best moments of my life. A dream come true. It's a truly awesome experience.
How would you describe yourself as a player and a person?:How I would describe myself as a player is come in, work hard every day, just do whatever he can to make the team better. Just someone who is finding however he can to be the best teammate he can be, and just be everything he can be. Be the best player he can be. That's all I can control. Just be better than I was the day before. Just trust the process.
Is your expectation to compete at right tackle?:That is it. That is what I've been told. My goal is to get on the field and help out the team however I can. That's what I've been told that I've been drafted as a tackle.
What do you know about the tackle group here?:I know that they just signed Matt Kalil. That's going to be awesome asset to the team. I feel that I am someone who can come in and help out.
What are your strengths?:My strengths I would guess are my intelligence and how hard I'm willing to work. I'm pretty solid with pass protection and run protection, run blocking. I feel like I'm someone the offense can count on, the whole team can count on.
You share the same agent with Christian McCaffrey, right?:I'm excited about it. I watched Christian McCaffrey all throughout his college career. He is one of the best running backs in the draft. I'm really excited to do whatever I can to make him the best running back he can be. Just to play a small role in that. Do whatever I can to open up holes for him.
What's your ideal playing weight?:I'm shooting to stay around 320. That's around my goal. I feel like that's where my best playing weight is there to 325 probably.
Is it tough to maintain your ideal playing weight?:I don't think it's that tough for me. All it is, is eating habits. If I just commit myself to whatever I want to weigh, I don't feel like I have a problem doing it.
What kind of food did you serve at your watch party?:Mom served up a little taco bar for everybody so that was good.
How many people were there?:I'd say 20, a little over 20 of family and friends.
Do you take pride in starting the most games in Western Michigan history?:I hate missing games. I haven't yet and I do whatever I can to stay on the field. I feel like durability is definitely one of my strengths as well. Being available is one of the most important parts of being in the NFL.
How will you celebrate after you get off the phone with us?:The first thing I'm going to do is go and say hello to my family and friends again and just thank them for being here and always being there for me.
Do you know former Carolina wide receiver Muhsin Muhammad?:Yeah. He is from Lansing – Michigan State as well.
What does it mean to you that you're the top prospect from Lansing since Muhammad?:I feel good. I guess it's just something that means that I'm someone that the kids in the Lansing area look up to. They understand that if I can make it – just because you're from Lansing, doesn't mean you can't make it to the NFL. Hopefully I'm someone that these kids look up to.
Do you have a relationship with Muhammad?:No, I've never met him before but I've heard great things about him. My family knows him. I think my grandfather knew him because my grandfather worked at Michigan State a while ago.
Have they told you much about the status of tackle Michael Oher?:I haven't heard too much about that. All I heard was that they signed [Matt] Kalil. That's all they talked to me about. They didn't even bring up Michael Oher. Really, all I can control is being the best player I can be.
Did you think you'd be drafted by Carolina?:I remember vividly, the O-line coach, Coach Brown, came and worked me out at my pro day. Talking to him, they seem to really like me and we hit it off pretty well. I felt like this was definitely somewhere I could've ended up. I was really happy it worked out.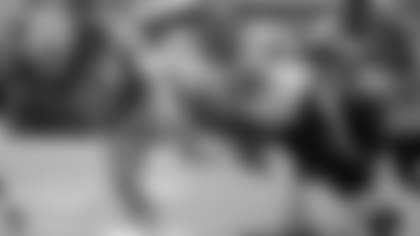 DE Daeshon Hall, Texas A&MRound 3, Pick 13 (77)
What was your experience like tonight?:It's a whirlwind. I'm surrounded by people who love me, my family, my friends. Overall, I didn't think I would be picked this early. This is just a blessing. It's a little overwhelming.
How would you describe yourself?:I'm just a pleaser. I please my coaches. I do whatever possible for me to please my coaches and please my teammates. I go 100% every time I'm on the field. Off the field, I'm just a real laid back dude. I go fishing. I go bowling. I'm just a real low key dude. I just do the little stuff that makes me have fun.
What would you be doing right now if he hadn't stuck with football?:Man, I would probably be somewhere playing basketball or trying to go overseas or trying to go to the NBA.
It sounds like you're very close with your mom?: My mom has been in my life all the way but me and my dad are really close too. So it's both. We are good.
How much interest did the Panthers show during the pre-draft process?:I worked out with the Panthers earlier in the process. I was just hoping that someone would take a chance on me and fall in love with me when I was working out in my interview process. It's a dream come true and I'm just ready to go get to work.
Do you play better versus the run or pass?:I feel like I can do both really well. There is always room for improvement. I'm not the best at everything but I feel like I'm really good at both and I just can improve. I'm with Coach Washington and he is going to improve my strengths and weaknesses. He knows what I do well what I don't do well so he is going to give me the tools to be successful at the next level. I'm looking forward to it.
How excited are you to learn from the veteran defensive linemen in Carolina?:When I was at A&M, I would give my little guys the game. I'm looking forward to having veterans to teach me the game of football, how to study film a little bit better, how to be a better practice player and how to be a better game player. I'm a listener and I observe a lot of things. It's just amazing. I just really hope I can go in there and learn from the vets.
Did you feel like you were often playing in the shadow of Myles Garrett at Texas A&M?:It was none of that. Me and Myles are boys. Myles is the best player in the draft. He went number one overall and he went number one overall for a reason. He deserves all of the accolades and everything he got. That's my boy. You can talk to him and he'll tell you that we're boys and we're ride-or-dies until the end. Myles deserves everything he got. He deserves to be number one overall. We're still going to be friends.
How do you plan to celebrate?:I'm just with my family and friends. I'm going to eat some good food. I'm going to wipe my eyes. Hopefully my eyes stop being a little swollen and we'll be good.
What food did you have at your watch party?:Saturday is barbeque and everything. My people are cooking major barbeque, best ribs in town. We got pizza. We got everything you can imagine here. Pasta, chicken, everything.
What would you like to tell the people at your watch party?:I love them and they know I'm going to play hard for them. I'm the first dude in my family to go pro so it's just a blessing.
How much did you benefit playing opposite Garrett?:I feel like Myles benefitted playing with me and I benefitted playing with him. I got him sacks. I got him tackles for loss and he did the same with me. At the end of the day, we're going to be rivals in the NFL. We're not going to be teammates anymore. We're going to have to produce by ourselves. He's going to be in his organization and do well. I plan on being in this great Carolina organization doing well by myself too.
Will your mom move to Charlotte with you?:I don't know. It's all up to her. She says she rides-or-dies so we'll see what she's going to do.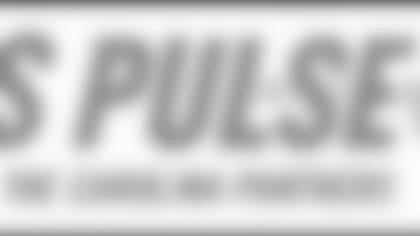 ](https://nfl.csharmony.epsilon.com/pc/clubs/Panthers/Account/register)