CHARLOTTE – Safety Eric Reid said he was "satisfied" with the job he did in his partial season with the Panthers, using the same word to describe his feelings about the three-year contract he signed with the team Monday.
Now, with a full offseason of football in front of him, Reid chose another word to describe his thoughts about what's to come in 2019.
That happens to be the same word his defensive coordinator used to describe his feelings about Reid returning rather than becoming a free agent.
"It's huge, and not just for the safety position," defensive coordinator Eric Washington said. "Clearly that's an important part as far as what we want to do defensively at all levels, but he's also a tremendous leader and asset in our locker room.
"He's a natural fit for what we want to do defensively – a very physical run defender who has range."
Reid joined the Panthers during their early bye week last season, after veteran Da'Norris Searcy was put on injured reserve with a concussion, and nine days later Reid was in the starting lineup. He remained in that role the rest of the way and recorded 71 tackles on the season – one shy of his season best set as a rookie in 2013. He got there in three fewer games.
"As I reflected on the season, after not spending the offseason with a team and not having a training camp – really coming in cold – I learned as many plays as I could during the bye week and then came in and did my job," Reid said. "I felt very satisfied with the job I was able to do.
"This season, having an offseason to train with the team and having a training camp to train with the team, having that time to learn the playbook instead of coming in in the middle of the season not knowing any plays - I'm looking forward to starting the season already in game shape and with an offseason to learn the playbook."
Washington marveled at how quickly Reid got up to speed last season but also said that Reid got better as the season progressed. By the end, he was showing signs of being the player he was as a rookie when he was selected to the Pro Bowl.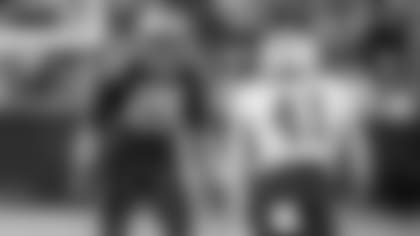 Reid said Monday that this defense that he'll now return to reminds him of the defenses his first two years in San Francisco. Both of those units finished fifth in the NFL in total defense; the 2018 Panthers ranked 15th.
"This defense is experienced," Reid said. "I think we have that here – a good mix of veterans who know the game of football and can make all the checks and can recognize what's coming before the snap along with young guys who bring energy and who we can help groom into great players."
Washington believes Reid will be a key to that grooming process. While Reid will again bring stability to the safety position in 2019, the decision on who his running mate will be remains very much up in the air. With free agency and the draft still to come, Searcy is under contract next season, as is 2018 third-round draft choice Rashaan Gaulden. Veteran Mike Adams, who started every game this season, is a potential unrestricted free agent.
"Eric's a great example for everyone," Washington said. "He fits the culture. The guys respect him. He'll be able to mentor some of the young players – he provides that kind of resource for guys like Rashaan Gaulden and (cornerback) Donte Jackson."
Reid said that leadership is an organic thing, something that can't be forced or faked. It's much the same with team chemistry, and just like the leadership thing, having Reid in the mix again is a pretty good place to start.
"I like the defense. I like the coaching staff," Reid said. "I'm excited."
View photos of safety Eric Reid and his family as he signs a three-year deal to remain with Carolina.