CHARLOTTE – The last time the Panthers faced the Cowboys was one of the best days in the best season in franchise history.
Playing in Dallas on the storied stage of Thanksgiving Day, the Panthers took off from the start and rolled to a 33-14 victory.
They took off because they took the ball away.
"That day was tremendous," said first-year defensive coordinator Eric Washington, who was Carolina's defensive line coach from 2011-17. "To get a takeaway, a pick-six on the third or fourth play of the game, that does a lot of things.
"It changes momentum, and obviously you get points, and obviously that's what determines wins and losses."
Safety Kurt Coleman zigzagged his way into the end zone for a 36-yard interception return on the game's third snap. Then in the second quarter, linebacker Luke Kuechly became the first NFL player in 18 years to intercept passes on consecutive plays from scrimmage. He returned one of them for a touchdown.
"We played well that game," Kuechly said. "But that was a couple of years ago."
Such success with takeaways hasn't repeated itself since the Panthers went 15-1 in 2015 while claiming a league-high 39 turnovers. Carolina has managed 48 total turnovers the last two seasons, including just 21 last season – the fewest of the Ron Rivera era.
Rivera appreciates the importance of taking care of the ball and taking it away, and at the first team meeting at training camp he shared a stat that spells it out in black and white: Since 2013, the Panthers have a 37-2-1 record when winning the turnover battle.
"It's important to emphasize specific things that lead to victories. That's most certainly one of them," Rivera said. "It's a conscious effort, and you've got to have great effort, great hustle. Good things happen when you run to the ball, when you're around the football. You also have to be lucky every now and then, too."
As for the luck factor, Washington was asked if turnovers were something that even the most determined defense can count on.
"We have to count on it," he said, adding that has made takeaways a priority with the players since their first day at offseason workouts. "We emphasize that as being an important part of our identity and what we strive to be.
"We work hard at it. We practice it daily. We emphasize it. They know that's a big part of what we want to be about."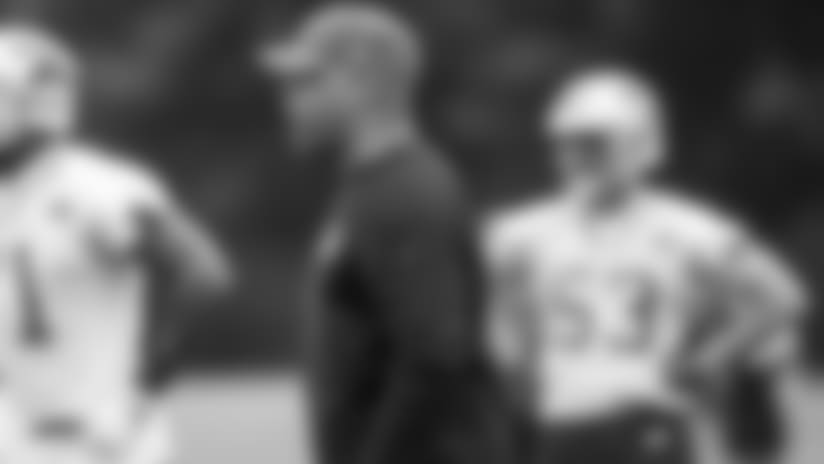 Washington shared some more insights about his defense as Sunday's rematch with the Cowboys to kick off the regular season fast approaches.
On his decision to remain on the sideline as defensive coordinator: "It's where I thought I could help and really manage the football game. That's the total consideration. I really feel like and believe that the players respond to my voice, and I have direct access to the coaches and the players. I'm comfortable there."
On the planned lineup with weakside – or "WILL" – linebacker Thomas Davis out of action: "Shaq (Thompson) will play the WILL linebacker position, David (Mayo) will align at the SAM (strongside) and Luke (Kuechly) will stay home at the MIKE (middle) linebacker position."
On how many of the team's six defensive ends he thinks will be active for the Cowboys game: "One of the major factors is special teams and of course the other side of the ball and sometimes the health of players becomes a factor in that. It comes down to Coach Rivera. We've gone eight players total every year I've been here – defensive ends and four defensive tackles – and that's allowed us to keep our rush fresh and potent especially in obvious pass situations when we need it."
On containing Cowboys running back Ezekiel Elliott: "It really starts with us – our fundamentals, our readiness for this kind of challenge. It's going to take all 11 guys; it won't be just one person, it would be just one position group.
"It's going to be a group effort, starting with me getting the guys ready and making the right calls, and then we have to execute. A guy like this is going to present and tremendous challenge, and coupled with their offensive line, but I like who we have. I like the personnel we have."