CHARLOTTE – Eric Washington called Sunday a "tough day at the office," but the Panthers' first-year defensive coordinator isn't turning in his two-week notice or anything of the sort.
If anything, Washington is serving notice that while the defense picked a bad day to have a bad day against a talented Falcons offense, his unit is still plenty capable of earning employee of the year.
"We're still going to be the best D in the National Football League," Washington said. "What we need is consistency. I retain supreme confidence and belief in who they are as people and professionals. Nothing is going to turn me around from that."
Following a dominating performance in Week 1, the defense was dominated for long stretches of a 31-24 loss at Atlanta. Carolina yielded a 100-yard rusher for the first time in 22 games – Tevin Coleman needed less than three quarters to get there – and Falcons quarterback Matt Ryan wasn't sacked on his way to a 23-for-28 day.
"It's not the way we want to do it. Have to get it fixed," defensive tackle Dontari Poe said. "Confidence hasn't changed. We're constantly working, and that's what we're focused on."
The work resumed Monday morning in a defensive meeting where Washington went through the issues against the Falcons and began working on solutions in advance of Sunday's visit to the 2-0 Cincinnati Bengals.
Washington believes that Sunday's struggles in Atlanta are completely correctable.
"Looking at the tape, there were some situations where we weren't exactly where we needed to be, whether it was an assignment issue related to technique. That's what I saw," Washington said. "There were occasions where we were able to overlap and mitigate some of the damage in terms of those things, but against a good football team, credit to Atlanta with explosive backs and the offensive line taking advantage and exploiting those things.
"We'll shore those things up and we'll be ready to go; you'll see the Panthers defense that we're all accustomed to seeing."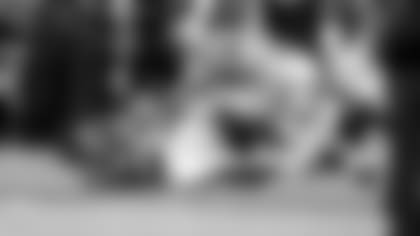 This is Washington's first year as a coordinator but not his first rodeo. He coached Carolina's defensive line from head coach Ron Rivera's arrival in 2011 through last season, so he's seen it all – including defensive duds for even the most dynamic of defenses.
In 2013, the Panthers team that started the recent tradition of top-10 defenses got ransacked by the Saints in Week 14 primetime loss before recovering to oppress opposing offenses the rest of the way. Even the 2015 team that lost just once in the regular season yielded 38 points to the Saints and 35 to the Giants (both victories) shortly before dominating throughout the postseason.
And just last year, impressive performances the first two weeks had everyone singing the Panthers' praises – before the defense yielded 34 points to New Orleans in a lopsided loss at home. But the unit responded by holding high powered offenses New England, Detroit and Philadelphia in check (the first two teams rallied late but lost while the Eagles rode takeaways to victory). The next three opponents put up just a total of 37 points, and while there were some stops and starts down the stretch with a young secondary, the defense finished in the top 10 for the fourth time in five years.
"Sometimes that happens. I'm not going to dwell on it," Washington said. "We just had a fantastic meeting with the guys. The guys are very confident. They're able to look at it and see, to a man, along with the coaches where the breakdowns were.
"I saw a group that was disappointed, definitely disappointed with the performance and the outcome – we lost a football game. But I also saw a group that's set and received the feedback that I gave them specifically and that walked out of there understanding that one game does not change what we are, does not change what we feel about ourselves and how we feel about ourselves. We made some mistakes; we'll get those things fixed and corrected. They're determined, and I think they're anxious to get back on the practice field."
View the favorite photos from Panthers at Falcons of team photographer Melissa Melvin-Rodriguez.