CHARLOTTE – The start of the game against the Bengals did not go as planned.
Carolina's offense went three-and-out, and Cincinnati's offense took a 7-0 lead thanks to an efficient 11-play drive.
How did defensive coordinator Eric Washington react?
"I'm the leader, and that's when you have to lead," Washington explained. "You can rant and rave and throw a tantrum, but what the guys want to hear from me are solutions. They want to hear confidence, they want to hear things that are consistent with our preparation. That's what they want to hear from me, and that's what they're going to get.
"You don't win a game on the first drive," Washington added, "but you can lose a game by not responding to that situation correctly."
Washington liked the response, and above all, he liked the 31-21 victory.
In this week's "Film Review" we take a look at some standout moments on defense that helped push Carolina past Cincinnati.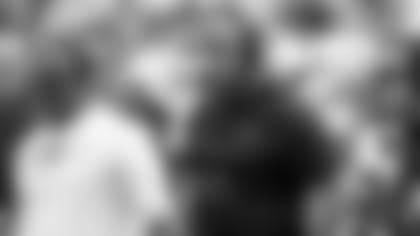 Bengals' ball at own 25-yard line with 2:47 left in first half
The Panthers are leading 21-14, but the Bengals have plenty of time to engineer a two-minute drill to tie things up.
The week prior, Atlanta went 85 yards in seven plays and took a 17-10 lead with 22 seconds left before halftime.
"This was a point of emphasis after last week where we gave up a touchdown going into the half," Washington said.
It's a different outcome this time.
Quarterback Andy Dalton completes 11-yard passes on consecutive plays to get the Bengals to midfield, but that's as far as they get.
On third-and-7, Dalton looks for wide receiver Tyler Boyd, but as you can see, there's nowhere to go with the ball.
"A great job by Luke Kuechly pushing the seven-route and Captain Munnerlyn forces this thing to be thrown in a tight window," Washington says. "That's just a tough throw – the coverage is outstanding there."
Sudden change following fourth down
The Panthers elect to go for it on fourth-and-4 from the Cincinnati 41 on the first play of the fourth quarter. Quarterback Cam Newton's pass is deflected at the line and the Bengals, trailing 28-21, take over with strong field position and a newfound wave of momentum.
But that momentum is short-lived.
Kuechly knifes into the backfield on first-and-10 to stop running back Giovani Bernard for no gain.
"A really good first play of the series," Washington says. "We've got a no-gain situation, so they are immediately behind the count."
Second down results in a 3-yard completion to Boyd after linebacker Shaq Thompson pressures Dalton into a hurried throw.
"An outstanding rush by Shaq," Washington says. "Now that's a vice tackle with (Rashaan) Gaulden and (Donte) Jackson converging. Rashaan has to take a little bit better angle here and make sure he keeps the ball on his inside hip. We have good effort by Mario Addison running to the ball to limit the yards after contact."
It sets up third-and-7, and Carolina gets off the field as Dalton is pressured into an incompletion with the blitzing Munnerlyn getting the better of tight end Tyler Eifert.
"Captain is involved in the blitz, Shaq does a nice job against the back trying to free release, quarterback struggles to follow through and we're off the field," Washington said. "And if you look, every option (for Dalton) down the field is closed.
"That's exactly what we needed. Coach Rivera trusted us and we wanted to make sure we delivered."
Big days for big guys up front
Defensive end Efe Obada's NFL debut was surreal. He nearly finished with two sacks, an interception and a forced fumble, but what looked like a strip-sack ended up as a QB hit resulting in an incompletion after official review.
Still, that pass rush against left tackle Cordy Glenn on second-and-10 in the second quarter was textbook.
"The coverage is doing an outstanding job – there is nowhere to throw it," Washington says. "Kyle Love collapses the pocket, forcing the quarterback to stay on his spot. And you see Efe get to the launch point and reach to make sure we get not only the sack, but the sack-fumble, which we thought we had."
Obada got his takeaway in the third quarter. Cornerback James Bradberry played the pass to wide receiver Josh Malone beautifully, and Obada did extremely well to locate the ball and make a play.
"Bradberry's technique is outstanding. A good break and he works the top shoulder of the receiver to get his hand on the football," Washington says. "The rushers retrace and start chasing the ball. We have a saying around here: 'The ball finds energy.' Efe gets in position to come up with it, and he does."
Obada's final splash play comes late in the fourth quarter, as he beats the tight end assigned to block him and crunches Dalton for his first career sack.
And much like the near strip-sack, it's important to note defensive tackle Kyle Love's contribution.
"Talking about Mister Unsung here, watch 93," Washington says. "Quarterback can't step up.
"Kyle Love played as well as anybody on the field Sunday. He allowed the defense to work and allowed other individuals to make plays."
Here's a little more Love to hammer that point home.