CHARLOTTE – The first time Gerald McCoy and Trai Turner shared an NFL field, they didn't have much in common from the league's perspective.
In McCoy's last game prior to the two facing off in the 2014 season opener, the dynamic defensive tackle sacked Saints quarterback Drew Brees in the season finale to cap a season with the Buccaneers that earned him first-team All-Pro honors.
Turner's last game prior was in McCoy's home stadium, when the young right guard helped LSU beat Iowa in the Outback Bowl.
But after the Panthers and Bucs opened the 2014 season at Raymond James Stadium, the gap between McCoy and Turner closed.
Actually it closed even before the game was over.
"I remember talking to him after the game and talking to him during the game," Turner said of his new teammate. "It was my rookie year, and I'm going up against Gerald McCoy – one of the premier if not the premier defensive tackle in the league. I was blocking him, giving it all I'll got."
McCoy complimented the rookie's game on the spot. After the game, McCoy had even more to say – words of praise that proved prophetic.
"It was his first game," McCoy recalled after he recently signed with the Panthers. "After the game I told him, 'Hey, listen. The path that you're on, if you keep playing like this and don't change what you're doing – just keep improving – you're going to be a Pro Bowl offensive lineman.'
"I told him from the first time I played him, and when he made it the following year he was like, 'Man, how did you know that?' And I said, 'Because I know football and I just played against you.'"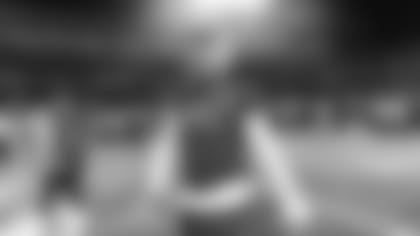 The two now share a locker room, and both can claim their share of NFL notoriety. McCoy joins the Panthers after nine seasons that netted six Pro Bowls and three All-Pro nods; Turner has piled up four Pro Bowl selections in just five seasons.
When the two first crossed paths, though, Turner didn't have that long to make a good first impression, but clearly he did. The Panthers' third-round draft choice in 2014 had impressed enough to earn the starting right guard job, but in part because Turner was recovering from a groin injury suffered late in the preseason, veteran Fernando Velasco started the season opener.
He and Turner rotated each series, with Velasco logging 56 snaps to just 24 for Turner. The next week, Velasco again started but played just seven snaps while Turner played 60.
"First game, first real live action, up against an All-Pro like him? I had a good game," Turner said. "That started me off good, helped me get to where I need to be."
Now McCoy is where Turner could only dream he'd be - set to wear Panthers blue after spending years wearing out the Panthers.
"Hell of a player. Now that he's on our team I think there are going to be some great battles in practice," Turner said. "And he's a natural born leader – not just for the defense but for the whole team. The energy that he brings, I feel like that's infectious.
"And he's just a good guy. When you have good people on your team, that helps create camaraderie; camaraderie helps create passion. And when you have passion, you want to do better. It's like a domino effect."