Rookies restructuring Browns offense: The last time Carolina faced Cleveland, the Panthers walked away with a 17-13 win at home. The Browns that will take the field in Week 14 have no recollection of that last meeting in 2014, primarily because, outside of left guard Joel Bitonio, none of them were there for it.
Back in '14, quarterback Baker Mayfield sat out after transferring from Texas Tech to Oklahoma. Fast forward four years (and a Heisman) later, and Mayfield finds himself as "the guy" for a franchise that has long been without one at the most important position on the field.
Veteran Tyrod Taylor started over him the first two weeks, but when Taylor suffered a concussion in Week 3, Mayfield got his shot and didn't disappoint. With the Browns down 14-0 to the Jets, the rookie went 17-of-23 for 201 passing yards and helped set up three scoring drives to give Cleveland a 21-17 victory. Keep in mind, it was the team's first win since Week 16 in 2016. That alone should be enough to convince you that Cleveland has something in Mayfield and his non-traditional style.
For the year, Mayfield has thrown 18 touchdowns and 10 interceptions while completing 63.3 percent of his passes. In addition to the comeback against the Jets, he also led a game-winning drive in a 12-9 overtime win over Baltimore's stout defense in Week 5.
The Browns may have found a dynamic answer at quarterback, but there are obviously more components. Given the way rookie running back Nick Chubb has been schooling defenses, the questions coming out of the backfield may also be null and void.
Four years ago, Chubb was a true freshman at Georgia playing behind Todd Gurley, the Rams' star back. Similar to Mayfield, Chubb has had to wait for his moment much of his career, but both know how to make an immediate impact.
After starter Carlos Hyde was traded in October, Chubb saw a dramatic increase in carries, going from 16 through the first six weeks to 115 in the last seven.
According to Pro Football Focus, Chubb's 4.59 yards after contact per attempt average is the highest ever charted for a back with 100-plus attempts in a season since PFF began tracking such things in 2006. He has also forced 33 missed tackles across his 131 attempts, so clearly the guy is hard to bring down.
With the contributions of Mayfield and Chubb, along with veteran wide receiver Jarvis Landry and tight end David Njoku, the Browns are currently ranked in the top 20 (18th) in total offense for the first time since the 2013 season when they finished 17th.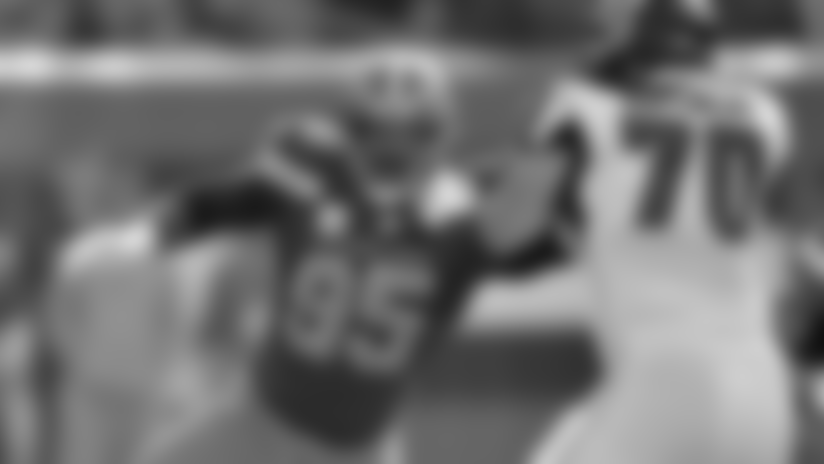 Myles ahead of last year: Myles Garrett was just a freshman at Texas A&M when the 2014 Panthers-Browns game took place, but let's be honest; he probably could have played a few snaps back then.
As evidenced by his collegiate career, Garrett has a knack for going from 0 to 100 pretty quickly. Since entering the league as the first overall pick of the 2017 draft, Garrett has used that same tenacity to become a rising force among defensive linemen.
Health threatened to stagger Garrett's career during his rookie season, but that's behind him in 2018. In his second season, the defensive end has started every game and is tied for the third most sacks (11.5) among defensive linemen with Minnesota's Danielle Hunter, Tampa Bay's Jason Pierre-Paul and Houston's J.J. Watt - all established names in the NFL.
Garrett is also one of seven players to have at least three forced fumbles (Watt, Aaron Donald and Chandler Jones are on that list).
O-line holding up: No, I'm not going to pad this article with the whereabouts of Cleveland's offensive line in 2014. But one of them, as mentioned above, did play in the loss.
The reason they are getting the spotlight is because of how they've played the last three weeks, a stretch in which Cleveland has gone 2-1.
The Browns have given up zero total sacks in that span, and PFF says Mayfield faced pressure on just 22.3 percent of his dropbacks, the lowest rate in the NFL. Over those three games, Bitonio, fellow guard Kevin Zeitler and center JC Tretter have combined to allow only five pressures on 309 pass-blocking snaps.
The Panthers have had "forcing takeaways" and "pass rush" circled on their game plan all season, with a special emphasis coming during their four-game losing streak.
Expect Sunday to be a war of wills with both sides having something to prove.