Brees is staking his claim: 2018 has been special for 39-year-old quarterback Drew Brees. But, then again, so has much of his Saints tenure.
In his 18th NFL season, Brees has more than shown what can be accomplished if you hang around long enough and stay efficient and hungry. He's added to a list of career accomplishments while having one of the best years of his career.
In a Monday night 43-19 beatdown of Washington back in Week 5, Brees hit rookie wideout Tre'Quan Smith late in the second quarter with a 62-yard touchdown pass to leap Peyton Manning as the NFL's all-time passing yardage leader. After the Saints' bye the next week, he became the fourth quarterback to reach 500 career passing touchdowns in a 24-23 victory over Baltimore.
Winning over personal gain is the main focus, but Brees has been able to enjoy both. After losing a Week 1 slug fest to Tampa Bay 48-40, Brees led the Saints on a 10-game winning streak before falling 13-10 to a peaking Cowboys team in Week 13. After Dallas' aggressive defense held Brees to his lowest QB rating (71.6) of the year, he bounced back last week to avenge the loss to the Buccaneers and clinch the NFC South title.
He's a bona fide MVP candidate, having completed a career-high 75.7 percent of his passes to the tune of 266.4 passing yards per game, 31 touchdowns and four interceptions. He is also registering the top QB rating in the NFL, a career best 120.8 to date. Despite New Orleans beating teams by a league-leading plus-12.6 scoring margin, Brees has had to clutch some games out. He has led five game-winning drives - his most since 2010.
It's worth noting that Brees' yards-per-game average only ranks 14th in the league, but he has the fourth-most passes of 20-plus yards and has been sacked only 13 times - both areas Carolina has aimed to shore up in 2018.
In the Rivera era, Brees owns a 8-6 all-time record against Carolina, including three wins in 2017 (one of which came in the playoffs). He knows this team well, but the feeling is mutual.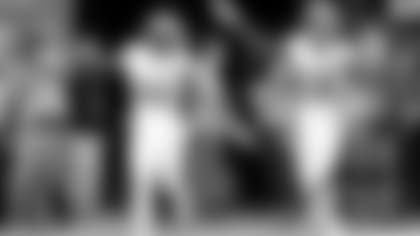 Offensive weapons aplenty: For all the praise Brees has earned, he's obviously not throwing or handing the ball off to himself.
Sure, Brees showcased in Week 12 that he just needs warm bodies, making the Saints the first team in the Super Bowl era to have four undrafted players catch a touchdown pass in a single game. But, those aren't the guys that have carried this team.
Wide receiver Michael Thomas and running backs Alvin Kamara and Mark Ingram boast that mantle.
Thomas has been spectacular this season, hauling in 102 receptions - second most in the NFL - for 1,218 yards and eight touchdowns. He has 15 catches for 20-plus yards, including a 72-yard game-sealing TD catch in Week 8. His 93.7 per game average ranks sixth.
Kamara and Ingram make up one of the best backfields in the league. Kamara ranks third in rushing touchdowns (11) and fifth in receiving yards (591) among running backs, and 14th in rushing yards (793). Ingram has added 519 rushing yards and five scores on 110 attempts after being suspended for the first four games.
Another name to keep an eye out for is quarterback/tight end/wide receiver hybrid Taysom Hill. The 28-year-old only has one touchdown, but having a guy that can pass, block, tackle, run, return kicks and block punts is just ridiculous.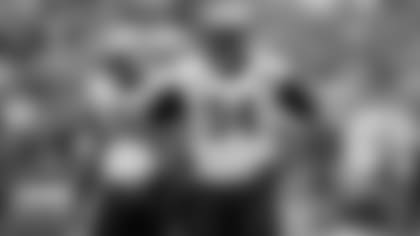 The "other" Cam leads the defense: Pairing big personalities with big-time performances must be a "Cam" thing, and Saints defensive end Cameron Jordan, like Carolina's own Cam, has done that throughout his career.
On the year, the three-time Pro Bowler has 12.0 sacks, tying him for fifth most in the NFL, and has been a driving force behind the Saints' top-ranked run defense (77.6).
Next to him, defensive tackle Sheldon Rankins has also terrorized O-lines, accumulating 12 tackles for a loss and the team's next-best sack total (8.0).
Defensive ends Alex Okafor and Marcus Davenport have also been factors, combining for 7.0 sacks and bringing steady pressure. Demario Davis has anchored the linebacker corps, leading the team with 95 tackles.
Outside of its strong run defense, New Orleans' secondary is still looking for some consistency.
Although the unit has formidable components in strong safety Vonn Bell and cornerbacks Marcus Lattimore and the recently acquired Eli Apple, the group is giving up the fifth-most passing yards per (271.2) and 13th-most passing TDs (24).
If it comes down to a kick: Based on the close nature of many of Carolina's games this season, I would be remiss if I didn't shed some light on Wil Lutz.
After going 10-of-11 on field goals and a perfect 11-of-11 on extra points in September, Lutz was named NFC Special Teams Player of the Month.
Overall, the 24-year-old is 25-of-26 on field goals, including two from 50-plus yards, and 46-of-47 on extra points. His field goal miss came from 44 yards out in a Week 2 win against Cleveland and the PAT miss came in Week 5.
That said, the Panthers need to ensure their season doesn't come down to Lutz's leg.