Yes, Cameron Artis-Payne should get a legit, longer look than he saw his first three seasons.
If the Panthers were on the field today, Christian McCaffrey would be the No. 1 back. Obviously, he'll never be tied to the backfield, so if McCaffrey motioned out or lined up in the slot – or if it's a power situation – Artis-Payne would be next in line for a potential handoff.
Of course, that scenario doesn't include a draft pick – which I think the Panthers will use on the position. But that won't be spent on someone like Leonard Fournette, who was the man in Jacksonville as soon as the Jaguars drafted him. Instead, I could see the Panthers taking a back on day two or three, and that's not a situation where you'd automatically pencil in a rookie over a veteran.
Coaches and fans would/will be highly interested in what the new guy could/can do, but Artis-Payne would/will get a chance to hold him off. At least temporarily.
---
At quarterback, it's still possible the Panthers will bring Derek Anderson back. But they may want to see how the draft unfolds before making that call.
As I've been writing for a while, they want to get young quarterback in the system to groom. If they grab someone in the mid rounds who they believe could be ready to be Cam Newton's backup as a rookie, Anderson may just have to spend the fall playing golf in Arizona. So, yeah, he's good either way.
Tight end? Maybe. Maybe not.
I'm not as high on Chris Manhertz as Norv Turner may be, but I also don't think a No. 2 tight end is something to get all that worked up over. You can find those guys. The bigger concern is getting Greg Olsen's heir apparent into the pipeline.
With more immediate holes at other positions, will the Panthers value any of this draft's tight ends enough to take one before the sixth or seventh round? We'll see.
---
No. Even if they have their eyes on a couple of the top wideouts, it's not worth mortgaging picks to move up to grab one in the first.
---
Curtis Samuel didn't just suffer a bad ankle sprain. A broken bone and ligament damage is significant, especially for a speedster. But by all accounts, it sounds like Samuel's rehab has gone really well, and he's been cleared to start running.
That piece of the program is straight-line sprints. He's not cutting yet, and he'll still likely be very limited in the spring. But so far, the process is rolling along as well as the Panthers could have hoped.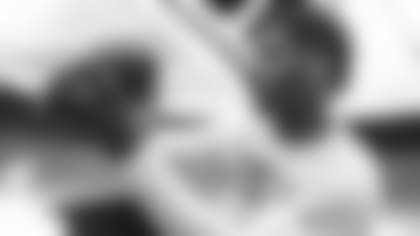 ---
Email from Robert:Taking the Fiance to Steeler Country for the game (I know its a sin to marry a steelers fan, I'm working on her) what's the best spot to eat up there and drink?  And do you think that game could come early in the year so I'm not freezing?
I haven't been there enough to give you non-touristy spots, but the most common suggestion you'll get is Primanti Bros. Beer-wise, Fat Head's is great.
Bless your heart for marrying a Steelers fan. I've always had two fan bases on my could-not-date list: Steelers, Yankees.
As far as when that game will land on the schedule, I'll randomly guess Dec. 9. Bring layers.
---
Hall's healthy enough that he isn't going through an on-site workout regimen like fellow 2017 rookies Samuel and . But until Hall is back with the rest of the veterans in mid-April, it's tough to predict how much he could help.
The word "veteran" isn't really a fit for him, of course.
Hall played a grand total of nine snaps last year, so this is sort of like Take 2 of his rookie season. And because the Panthers aren't quite sure what they'll get from him, they can't yet bank on him as a key cog. But considering they traded up to pick Hall in the third round, it's fair to say they're cautiously optimistic.
---