Email from Kevin: I know it was much too late to mount a comeback, but I saw Ron Rivera trying to argue the point that Devin Funchess had possession inbounds with an elbow down before going out. It didn't appear that the ref would even come over to discuss it. The video sure seemed like he had a case.  I think everyone (including the FOX crew) was caught up in where he was when he flipped the ball back in play. Did Ron discuss that call at all after the game?
For the second straight week, I'll start off by saying good eye and good question. 
Rivera didn't talk about the onsides kick afterward, but after a bit of research, I think I can clear this up. 
Let's first look at the overhead angles: 
The ruling on the field was Funchess was inbounds when he flipped the ball to Ben Jacobs. That was correctly overturned. But take a look at these screenshots: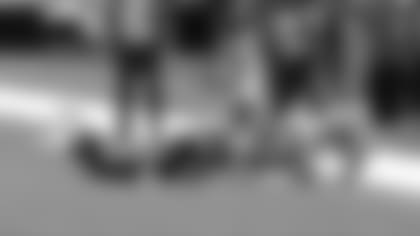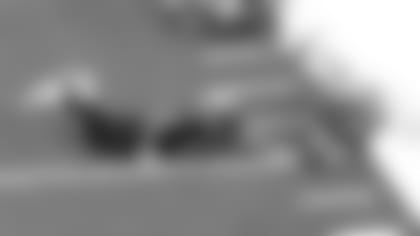 See where Funchess' left elbow is? That's inbounds. 
If I'm reading the NFL rulebook correctly, because he got that elbow in, if he had fallen out of bounds while keeping possession, it'd be Carolina's ball. But because he flipped it, he technically lost possession. It's very similar to the catch rule, which I know is pretty much the most confusing rule in sports. 
For what it's worth, Funchess seemed to have a good grasp of the rulebook when he said afterward:
"I knew it was coming my way, and I messed up again. I tried the best I could to throw the ball back in, but it's kind of tricky to know if I was able to grab it with possession or throw it back in." 
Obviously, Funchess didn't have access to the screenshots above to know his elbow was inbounds, but the only other way this would've worked out in the Panthers' favor is if he had knocked the ball toward Jacobs before hitting white.
---
I can't speak for him, but I'll give you my best guess.
If you're looking at it through Carolina blue glasses, it may appear refs gave the Panthers a bad spot. But it was tough to tell for sure on the immediate replays, so coaches probably didn't get a conclusive look.
Down 14, should they have at least made sure Funchess was short with a challenge? I can see that argument, but the hardest challenge to win is when you ask refs to change the spot. Plus, there were still more than 11 minutes left, and the Saints were pinned inside their 10-yard line, so the Panthers had a decent shot to get the ball back with good field position. And they would have if Kaelin Clay didn't fumble the punt return.
---
Email from Jack: Why did Rivera sit on two timeouts instead of trying to score at the end of the first half?
This has been a popular question since Sunday, so I'll again try to answer the "why?" with an educated opinion.
Rivera was in a similar situation against Atlanta a few years back, and as he explained then, too many bad things can happen when you start a drive like that inside your 25. 
Is that conservative? Obviously. But bear with me. 
The Panthers were down 21-14 when they got the ball at their 19 with two timeouts and 46 seconds left in the half. They were also set to get the ball first to start the third quarter. So that may have factored into the decision. 
Now, why run it on first down? 
The reason many coaches shy away from throwing in that situation is many more things can go wrong (see: Jay Cutler's interception with 47 seconds left in the first half against Carolina in Week 10). Say a Cam Newton pass ricochets off someone and winds up as an interception. The Saints could then cash that in to make the halftime deficit even larger.
So what the Panthers did is give Christian McCaffrey a chance to break off a big chunk. If he had, then you probably would've seen Newton airing it out. But that play didn't have much of a chance once Ed Dickson missed his backside block on Cameron Jordan: 
---
First, sure, he was blocked out of his gap during Mark Ingram's 72-yard run, but Lotulelei is having another solid season. He's not an elite defensive tackle, but he's really good at what he does. Just ask someone like Luke Kuechly who has more room to roam thanks to the space eater in front of him. 
Second, there's a misconception that Butler could eventually replace Lotulelei, who's in a contract year. But they're different players with completely different roles and skills. If Lotulelei's not back in 2018, the Panthers will have to find another guy to do the dirty work. 
---
There was a stat going around late last week that said the Panthers allowed fewer rushing yards when Johnson's in the game than when he's not. Well, yeah, he's usually in there on early downs when the defense is usually set up to stop the run. No disrespect to Johnson, but that's why context is often needed with cherrypicked stats.
---
Gotta go with Curtis Samuel. Obviously, that's not something the Panthers can bank on after his injury-plagued rookie season, but he has the natural talent to develop into what they hoped when they took him in the second round. 
---
I don't like them here or there.
I don't like them anywhere.