Pre-draft press conferences aren't typically chocked full of trade secrets, though general manager Marty Hurney did let one "secret" related to trades out of the bag at his.
"I can tell you right now, you can consider next year's first (round pick) safe. I don't think we're going to be trading next year's first," Hurney said two days before the draft kicked off.
That statement proved true in the case of Carolina, though the division rival Saints did surprise by trading next year's first-rounder to move up 13 spots and take defensive end Marcus Davenport. Hurney was burned by a couple of similar moves his first go-around as GM, but this time he sat tight and was rewarded.
Here's a look back at some other things Hurney had to say before the draft and how they played out during the draft.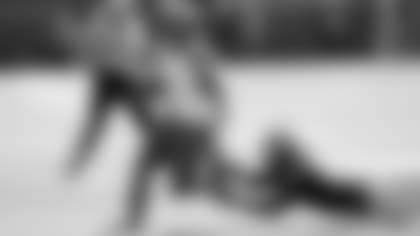 "Probably patience is the key word, being patient. … I think we are extremely well prepared, we've covered all scenarios, and now you just let the board come to you."
Hurney's hopes that patience would pay off were no doubt buoyed by a few things that happened as the Panthers' pick at No. 24 fast approached. The Ravens at No. 16 were reportedly interested in DJ Moore or perhaps another top wide receiver, but they first traded down to 22 with all the receivers still available and then traded below the Panthers down to 25. Then, when the Cowboys opted for a linebacker rather than a receiver at No. 20, it became very likely that either Moore or Calvin Ridley would still be there when Carolina went on the clock.
Both were as it turned out – a scenario Carolina couldn't have seen as likely – and the Panthers wasted little time selecting the top receiver on their board in Moore. That's not to say Hurney's call for patience called for a receiver all along, but the board broke that way and the Panthers couldn't have been happier about it.
"Obviously we would love to keep adding parts to the secondary, as well as other positions. It's going to depend how the draft falls. We are not going to reach for somebody because he plays safety."
Some were predicting the Panthers would take safety Justin Reid in the first round, but they didn't even take Reid when he remained on the board at No. 55. Carolina did add to the secondary in the second round, pouncing when speedy and feisty cornerback Donte Jackson lasted that long. The Panthers got their safety in the third round, taking another fiercely competitive prospect in Rashaan Gaulden.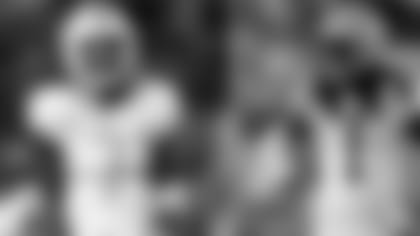 The Panthers like what late free agent additions Ross Cockrell at corner and Da'Norris Searcy at safety can bring, and come draft day their presence provided Carolina with enough ability to contribute that Hurney didn't feel like he had to reach for defensive backs. Jackson – arguably the fastest player in the entire draft class - was a no-brainer in the second round. Gaulden doesn't have those measurables from an athletic standpoint, but he makes up for it with physicality, football IQ and position flexibility and made sense in the third round.
"I think the strength of the draft is in those second and third rounds. Wouldn't be surprised to see people trading to move up to get picks higher in those rounds or to get into those rounds. But you just never know. That's the fun thing about the draft – you don't know what's going to happen."
People did trade up in those rounds – with one team actually partnering with the Panthers to do so. The Panthers picked Gaulden at No. 85 and possessed No. 88, but they traded it to the Packers to move down to the first pick of the fourth round (No. 101) and pick up a fifth-rounder (No. 147).
The Packers used the pick acquired from Carolina to take a linebacker, then the Panthers watched as eight of the final 12 picks of Day Two were used on defensive backs, defensive tackles and offensive tackles. When the day ended, tight end Ian Thomas remained undrafted, and the Panthers gladly opened Day Three by selecting someone who can contribute right away and perhaps grow into much more in time.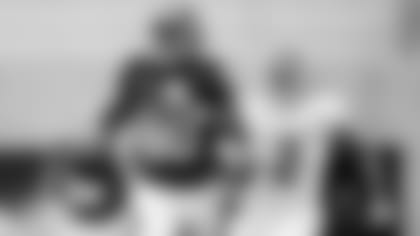 "If we can help the secondary, if we can help the pass rush, if we can add skill players on the offensive side – I think that's something we would like to do while still keeping our offensive and defensive lines strong."
Having already addressed secondary twice and skill players on offense twice, Carolina parlayed the fifth-rounder from the Packers into pass rush help. This time the Panthers were the ones trading up, shipping that pick and their sixth-rounder to the Rams to move up 11 spots and take defensive end Marquis Haynes.
Because of Haynes' size (235 pounds) and some experience at linebacker, some weren't initially sure if Carolina saw him as an end. But getting the quarterback on the ground is what he does best – better than anyone in Ole Miss history – and the Panthers see him as a change of pace off the edge that can disrupt with his speed rush while also using those linebacker skills to catch offenses off-guard by dropping into pass coverage at times.
The Panthers didn't add to their offensive line in the draft but they already like their depth there – and the draft didn't fall in a way where they could grab a prospect more ready to contribute than their current holdings. It's always a position the Panthers aim to develop depth, however, and that chance could present itself via rookie free agency (remember Andrew Norwell was an undrafted addition).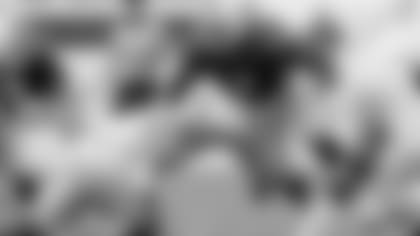 "The first three rounds, we would like to get four players to come in and compete for a role and have some impact. Then you want guys to come in and be special teams contributors and grow. As long as you do that and you draft good players, then everything takes care of itself."
Thomas to kick off the fourth round qualifies as a fourth "immediate impact guy," and the Panthers' final three picks are clearly a case of taking good players regardless of position. Linebacker Jermaine Carter (the second fifth-round pick) racked up 330 tackles at Maryland, and seventh-round linebacker Andre Smith was a tackling machine at North Carolina save some injury history.
The Panthers are loaded at defensive tackle but couldn't pass up Kendrick Norton with their final pick, a prospect with much more talent than his draft slot suggests. NFL.com was inaccurate in saying he's related to the heavyweight champion by the same name but hopefully won't be wrong in saying he has a chance to develop into an NFL starter.
View photos from Carolina's war room during the first night of the 2018 NFL Draft.