CHARLOTTE – Unfortunate and uncomfortable.
Those words best describe the feeling for the Panthers last Sunday when, for the third time in 15 months, they watched tight end Greg Olsen hobble off the field.
Fortunate and comfortable.
Those words best describe the feeling around the team as rookie Ian Thomas begins his second attempt at filling Olsen's sizable shoes.
"I love Greg – a great player but an even greater person. Yes, it hurts," said right tackle Taylor Moton, himself a success story as a fill-in this season. "But we're really comfortable with who we have at tight end, and I'm sure he'll step up and do a wonderful job."
Thomas, a fourth-round draft pick, looked like a confident and competent cog in the Carolina offense in Tampa. After Olsen injured his foot in the first minute of the second quarter on a third-down play that forced a punt, Thomas took over. He made his first catch of the day on the second play without Olsen, and he added four more receptions after halftime to finish with career highs in catches (five) and yards (46).
"I'm definitely hurt that Greg is out, but it's football and things happen," Thomas said. "I think I handled it well. I'm ready for the opportunity and excited for it.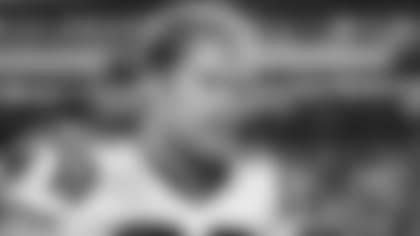 Olsen, who missed three games earlier this year with a broken bone in his right foot – the same bone that sidelined him for nine games last season – saw his season end prematurely with 27 catches for 291 yards and four touchdowns. Olsen entered 2017 with three consecutive 1,000-yard seasons and fully expected to record a fourth, but he hasn't come close to 1,000 yards over the last two seasons combined (44 catches, 482 yards).
Olsen is under contract through the 2021 season. But the latest injury for the 33-year-old, combined with his flirtation with the Monday Night Football broadcast booth in the offseason, has led to speculation that his playing days could be over.
Olsen said after the game that wouldn't make a rash decision about his football future. His quarterback, however, already has his mind made up.
"You hurt for him. But at the same time you know that with the type of person that he is, this is not the end for Greg," Cam Newton said Wednesday. "For him to mend up and get rested and really fix an issue that's been lingering for some time, there's only good things in the future for him."
Wide receiver Torrey Smith said people have no idea how hard Olsen worked every day to be able to function on the foot, and Smith doesn't see that changing.
"I'm sure he'll be back better than ever," Smith said. "And it's an opportunity for Ian to step up."
When Olsen went down the first time this season in a kickoff weekend victory over the Cowboys, some looked at the flashes that Thomas showed in the preseason and thought the rookie would just step up where Olsen left off.
But no one could have come in and replace Olsen that easily. And besides, Thomas wasn't exactly a plug-and-play product.
After just one year of major college football, Thomas still isn't ready to replace Olsen. But he is more ready to be the type of player the Panthers envision he will be once his experience level can support his talent level.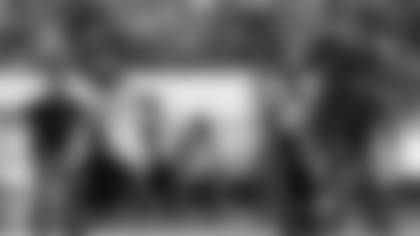 Just how much has he progressed since his first stint as a starter?
"A lot," Thomas said. "I feel very prepared, thanks to my teammates and my coaches and the work that I put in myself to study and learn the small things.
"Once you understand more, you can be more composed in the game. It just comes more natural to you. You're not out there panicking and doing your own thing once you learn."
Fellow tight end Chris Manhertz, in his fourth NFL season and four years and a few months removed from being a college basketball player built like a football player, knows all about the learning curve. The key is continuing to straighten out the curve, and that's what he's been seeing from Thomas.
"It's never a question about his ability; it's just a matter of getting your stripes," Manhertz said. "It's learning things. Retaining the plays. Reading the defense.
"I think he's trending upward with that. There's always room for improvement, but he's getting better."
Having each other's backs
Before and between Olsen's injuries, he's been a positive influence in Thomas' development. Leading by example at times, leading from the sideline at times.
"I had a chance to sit back and watch Greg again and reevaluate myself and my game," Thomas said, looking back to Olsen's seven full games after his Week 1 injury, during which time Thomas totaled one reception. "Now I get go out there and try again.
"I've talked to him. Hopefully he gets back as fast as possible. He's always coaching, always teaching. As he goes through rehab, I'm sure he'll help the tight ends as much as he possibly can. That's one of the pros of having him as a vet in our room."
Added Manhertz: "Greg is always in 'coach mode.' That hat is always on. We're always learning from him, and I don't expect that to change."
Things could change come next year, but next year is for another day. The Panthers, thanks to a four-game losing streak, are in must-win mode starting Sunday in Cleveland, and Olsen won't play again in 2018.
Thomas will – ready or not.
"I've learned a bunch of new things. I'm learning how to be a pro and take ownership," Thomas said. "I'm just trying to give us the best chance to win by being the best player I can possibly be."
View photos from the Panthers practice leading up to their game against the Browns.