CHARLOTTE – You don't need to see the differences to know there are many between James Bradberry and Donte Jackson. But it was impossible not to notice the stark contrast during a recent practice.
There was Bradberry in the plain, white cleats he always wears. Behind him was Jackson, dancing to pre-practice music while wearing a shoe color he described as "pylon ... because I'm a for-sure touchdown."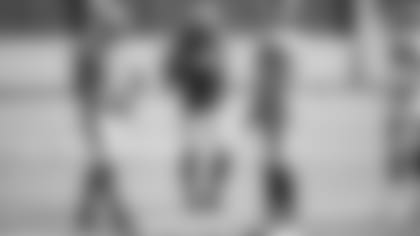 Bradberry would never be that brash, and he sure wouldn't be caught dead in bright orange cleats.
"But I would be so happy for him if he did," said Jackson, Bradberry's fellow starting cornerback. "That'd be so out of his box. He's just a great guy. Standard guy. He's a standard guy."
Bradberry is so standard, it bugged him his rookie year when he was required to wear black cleats. Yeah, he isn't your stereotypical No. 1 corner.
Bradberry appears to crave attention about as much as Luke Kuechly, which is to say they each could do without it. But Kuechly does flip an intensity switch when he steps onto the field. Bradberry, not so much.
"I honestly think if somebody said something about JB's momma, he wouldn't say nothing back," said Jackson within earshot of his locker room neighbor.
"Nah, they talk about my momma, I've got to say something back to them," Bradberry replied.
"I don't think so, bro. You'd probably be like, 'No, YO mama,'" countered Jackson. "That would be his comeback. 'Hey D-Jack, you hear me? I told him, 'Yo mama!'"
With the Panthers set to reunite with Josh Norman in Washington this weekend, comparisons between Carolina's former No. 24 and current No. 24 are inevitable. They play the same position, wear the same number and have similar body types. But that's where the similarities end.
"Major James is so quiet," quarterback Cam Newton said. "Super quiet."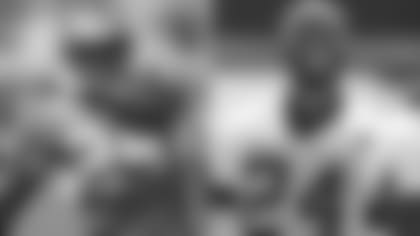 "He's loud. He gets into your personal bubble," Newton said. "Now ask yourself why is he that loud? He's got a lot of brothers."
Norman, the second-youngest of five brothers, grew up Greenwood, S.C., population 23,000. That's a metropolis compared to Bradberry's hometown.
"I grew up in a really small area," Bradberry said of Pleasant Grove, Ala., population 10,000.
And there were no brothers around to bug him.
"It was just my mom and my sister in the house," he said, "and I didn't want to talk to them all the time."
So Bradberry found an outlet at the local Boys & Girls Club where he began to open up. Well, to those who made an effort.
Not much has changed since.
"He's a guy who doesn't say much, but if you talk to him, you're one of his guys. You see a whole different personality," said linebacker Shaq Thompson, one of Bradberry's closest teammates. "You just have to get to know James. That's all I can say. James is James. Until you know James, you won't know James."
"That's what I'm saying," Thompson continued, "you've got to understand who James is. If you don't know James, get to know James. James is hilarious. He's sneaky, clowning on people."
Added cornerback Captain Munnerlyn: "He's a quiet guy, but he's sneaky. Don't let James fool y'all, man. He talks, he just doesn't talk that much."
And when he does, he's funny – if you like a dry sense of humor. You can even start to see some of that coming through in his acting debut:
"Most times I'm sarcastic, but I'm being serious at the same time," Bradberry said. "So some people find it funny for some reason. I try to find off-the-wall stuff that nobody else likes."
Asked to share some examples, Bradberry rattled off TV shows. He's into "Martin," "The Bernie Mac Show" and most surprisingly, "Seinfeld."
"George Costanza and his whole family are funny," said Bradberry, who has a particular affinity for "The Soup Nazi" episode.
"Most of my friends don't find (Seinfeld) funny, but I find it hilarious."
Even if Bradberry is more talkative than it appears off the field, he's exactly what you'd expect him to be on it.
"James doesn't talk. He's locked in," Thompson said. "He does what he's got to do and he goes straight back to the huddle. You rarely see the man celebrate or anything like that."
Which made his celebration in Week 2 so noticeable – as brief as it was. After knocking away a pass intended for Falcons star wideout Julio Jones, Bradberry signaled "incomplete." It wasn't much, but for Bradberry, it was something.
"I was like, 'Woah!'" Munnerlyn said. "I was definitely surprised."
Bradberry then set a new career record in emotion against the Giants when, after ripping a ball out of the hands of Odell Beckham Jr. in the end zone, Bradberry jumped up and mugged for the crowd.
"It just came over me, man. The spirit or something," he said. "Something came over me, and it took over."
But there's a benefit to Bradberry's usually calm demeanor, as evidenced on that play against Beckham.
"You just don't see any panic in James' technique," defensive coordinator Eric Washington said. "Obviously, when that receiver, especially a receiver with great speed and burst, when he starts to eat up the cushion of that corner, sometimes that will undo the fundamentals that you want that person to play with. James does not panic."
And while guys like Jackson and Norman are fun to watch, emotions can sometimes get the best of chatty corners. At that position, it helps to have a long fuse and a short memory.
"You don't get too high; you don't get too low," Bradberry said. "I never want to think about the play that I made or missed beforehand. I just want to move on to the next play."
On paper, at least, Sunday's trip to Washington should provide Bradberry a bit of a break.
The Redskins' leading receivers are running back Chris Thompson (26 rec., 200 yds) and tight end Jordan Reed (15 rec., 189 yds). Pacing the wideouts is Paul Richardson (13 rec., 181 yds), who has big-play ability but who's not nearly the threat Bradberry faced in consecutive games when facing off with Jones, Cincinnati's A.J. Green and Beckham.
"I'd give myself a B-minus," said Bradberry of the three-game gauntlet during which he helped keep Jones and Green out of the end zone. "I played well at times, but Odell had too many yards."
That's fair. Beckham racked up 131 yards, with many of those coming while lined up across from Bradberry, who still isn't traveling across the field and into the slot full-time against the Jones, Greens and Beckhams of the league. But the Panthers clearly believe they've filled the No. 1 corner role Norman had three years ago.
"James deserves a lot of credit. He accepts the challenge, he works at it and his knowledge has gone through the roof," Washington said. "Everybody wants a corner with length – James brings that to the table which gives you a chance to disrupt a receiver. So you put all those things together, with his attitude and character, and you're looking at a guy who's pushing toward that elite level."
Of course, no matter how much we try to compare the two, Bradberry will never be Norman. Not as a quote machine or entertainer. But what the Panthers need most is someone who can limit top wideouts, and if Bradberry can continue to do that, there is another way he can be like Norman.
"He got paid," Bradberry said. "I want to have the same situation happen to me."
He's probably not on pace to supplant Norman as the league's top-paid corner, but Bradberry should be setting himself for a nice payday once his rookie contract expires after the 2019 season. Still, one gets the sense that no matter how much success Bradberry has, he won't be jet-setting to L.A. to appear on "Dancing With the Stars." Watching reruns of the Costanzas suit him just fine.
"James is going to be James regardless of what happens," Thompson said. "He remains James."