HOUSTON – Someone showed up for this weekend's road trip wearing one of those hats. Brim, bright color, big clothespin, feather.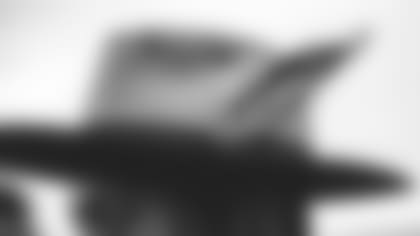 But it wasn't Cam Newton. He stayed back again to nurse his injured left foot.
So who was the Panther trying to pull off some flash? One of the most understated guys on the team.
"That's why it was a big hit because this is not me," wide receiver Jarius Wright said as Carolina's victorious locker room cleared out Sunday afternoon.
"It's a shout-out to Cam but also to the woman back home who makes the hats because I'm from a small town, so you've got to uplift the people where you're from."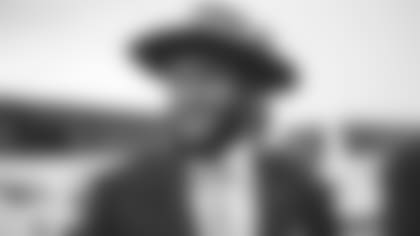 Wright is from Warren, Ark., population 6,000. The orange and black featured on the hat, a nod to his high school, the Warren Lumberjacks. But how Wright best represented his hometown was how he did his job.
"You've got to up your level of play when you wear the hat, man," he said.
And that Wright did, making the two biggest catches of the 16-10 win.
The Panthers scored just one touchdown. They may not have found the end zone at all if not for Wright.
On third-and-4 late in the second quarter, he ran a vertical route against cornerback Bradley Roby. The coverage was good. The catch was better.
It was also a great throw, the best of the day from quarterback Kyle Allen, who was out of sync most of the game and fumbled all three times he was sacked.
"Ball security, obviously, was unacceptable by me. Put our team in some bad positions," admitted Allen, who's lost four fumbles in his two games in place of Newton this season.
"I've got to have two hands on the ball all week this week. I haven't played in a lot of games, but I need to get those reps. I need to get those reps with ball security, because it's crucial to our team. I can't put our team in that position. Having three turnovers by one player is not going to win many games."
But what sure helped Allen and the offense was a workhorse like Christian McCaffrey, who finished off that late-second quarter drive with a short score, and a veteran like the 29-year-old Wright.
"He's the 'OG' in the (receivers) room. He's the oldest dude. He's the vet. He understands. He's savvy," Allen said. "He doesn't get as much press as the other guys in that room, but when you need J, he's always there."
Added head coach Ron Rivera:
"He's where he needs to be, and I think that's very comforting when you know there's a guy where he's supposed to be. Very similar to what Greg (Olsen) does for you as well. You've got to have those guys and you've got to have that guy that Kyle can get the ball to."
Which is what happened again on the Panthers' clock-eating final drive.
Facing a third-and-6 from the Houston 29-yard line, Allen had three-time NFL Defensive Player of the Year J.J. Watt charging at him a moment after the ball was snapped. But Allen ducked under Watt and lofted a pass where he knew Wright would be.
"When I came off the ball, (outside linebacker Whitney Mercilus) just smacked me in my face, so I didn't see nothing until I got upfield," Wright said. "All I see is Kyle coming out of that J.J. Watt sack. Then I start (throwing my hands up) like, 'I'm open! I'm open!' He knew where I was and got the ball out."
Without that first down, Houston would have had more than three minutes to put together a final drive. With it, the Panthers went on to kick a field goal to go up 6 and leave the Texans with only 28 seconds.
It wasn't the flashiest win, which considering who helped get it done, is sort of appropriate.
"Like a silent killer," Wright said of his role. "You don't brag about what you do or how important you are, you just go out there and do it and act like it never even happened. They say act like you've been there before. So that's what I try to do."
And then, Wright walked out of the locker room, proudly wearing his orange hat — and a sweatsuit.
View photos from Carolina's game at Houston in Week 4.