He hasn't done it for long. In fact, it only started in July when the Panthers began training camp. But every day after Chinn walks on the practice fields, he goes to the four-man sled. He gets down in a stance, takes a first step, and slams his hands into the pad.
He makes his way one by one through all four pads, striking each with intensity.
At first, Chinn did this to improve his hands. It was a point of emphasis from defensive run game coordinator Al Holcomb.
"Coming from college to the NFL, hands are so important — striking first, getting off blocks, all that stuff," Chinn said Thursday. "Back in college, I could rely on my athleticism just getting around people so much. But now, moving to the next step, shooting my hands became so important.
"So, I just started doing that every single day before practice."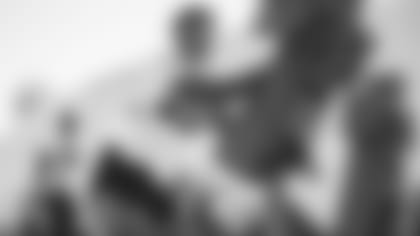 Now this seemingly benign habit has taken on a new meaning.
"At this point, if I don't hit the sled, I'm like, 'Man, I don't feel like I'm ready for practice,'" Chinn said. "It's like tying your shoes when you put your shoes on."
This is how Chinn prepares himself to practice the game he loves. And he truly loves football — it's his defining characteristic. Teammates, along with current and former coaches, describe Chinn as a serious football guy. Part of the reason why is he finds serenity within the white lines.
"Really, it's therapeutic," he said. "Whatever's going on in life, the moment I step on the football field, none of it even matters anymore. All your problems go away. You can just be yourself, play football, and everything makes sense."
Chinn's passion appears to rub off on everyone around him. He plays the game with such intensity that even as a 22-year-old rookie, he's become the defense's tone-setter.
"I always tell him, you're a rookie and all, but at the end of the day, you're a leader on this team," linebacker Tahir Whitehead said. "We all ask ourselves, are you playing with the same intent or the same tempo as 21's playing? And then if the answer is no, then it's like, you're shortchanging yourself. You're shortchanging the team, so turn it up."
It helps that Chinn's on-field performance has started to spur conversation around Defensive Rookie of the Year. Chinn currently leads all rookies with 48 total tackles. He's also recorded three passes defensed, an interception, a tackle for loss, and a quarterback hit.
He's accomplished all this after being a late second-round pick out of Southern Illinois. That's an FCS school, competing in the same conference that's recently produced Eagles quarterback Carson Wentz, Texans running back David Johnson, and Jaguars running back James Robinson.
Hailing from a smaller program or not, Chinn takes such pride in his effort and performance that it doesn't matter if he's a rookie. He likes being a tone-setter.
"I have a very high standard for how I play on the field, how I'm moving around," Chinn said. "The fact that guys see that, too, and they try to match the energy, it's definitely encouraging."
---
---
This mindset is nothing new. Chinn's head coach at Southern Illinois, Nick Hill, couldn't be on the field for early workouts during the summer Chinn entered the program as a freshman. But he remembers well what the upperclassmen told him about SIU's newest defensive back in 2016.
"They were just like, 'This kid, he's going to play as a true freshman,'" Hill said. "We knew pretty much right off the bat that he was going to be a player."
Chinn missed the first three games of his freshman year due to injury, but he made a clear impact once he hit the field. He finished that season with 51 total tackles with three interceptions and five passes defensed, setting himself up for an even larger role as a sophomore — both on and off the field.
"I was a captain as a sophomore, so that early leadership role is something that I've always had to just adjust to," Chinn said. "That's when I realized, it's not just about me making sure I'm doing my thing, that I'm playing at a certain level. But I've also got to make sure the guys around me are playing at a certain level. I had to hold them to the same standard that I hold myself to."
Hill saw Chinn take that role seriously and thinks Chinn is an easy player for others to follow. But he also backs it up.
"You can talk the talk and all of that, but at the end of the day, they want to see you go out there and do it, and Jeremy was always that guy," Hill said. "He played with a lot of energy, played with a lot of passion."