CHARLOTTE – As another preseason practice came to a close, rookie Jermaine Carter hung back after the linebackers broke their huddle, waiting to go over a situation with position coach Steve Russ.
"I didn't come off on a certain route, but I wasn't sure exactly how I was supposed to play it," Carter said. "I was just asking questions to be sure about what I was supposed to do."
That practice play notwithstanding, Carter has shown so far that he knows what he's supposed to do. Things are never going to be perfect for a rookie – or for anybody as all-everything linebacker Luke Kuechly readily admits – but Carter landed in the perfect situation for an aspiring perfectionist when the Panthers picked him in the fifth round of the 2018 NFL Draft.
"People might look at me like I'm crazy when I say this – but it has been a fairly easy transition for me," Carter said. "It was a tough last season at Maryland - every single play the offense made sure they knew where I was. Now I'm here, I'm out there with Thomas Davis or Luke Kuechly or Shaq Thompson, so they're not going to be focusing on me.
"That takes a little bit of pressure off me."
Carter, however, keeps the pressure on himself. Following a standout performance in the Panthers' preseason opener against the Bills, Carter had another good performance against the Dolphins but also just missed out on a couple of chances to make a play.
"I expect to make good plays, but the bad ones stick out most to me," said Carter, who quickly came to his own defense when it was suggested that he had two missed tackles against the Dolphins.
"Don't put another one on me. I only missed one. But that's all I think about, so I won't say I had a great game."
Kuechly is among those to take notice of the rookie's promising preseason start.
"He's smooth. He's kind of Thomas-ish – just smooth to the ball, gains ground on people, not afraid to hit you," said Kuechly, referencing a fourth-down stop that Carter in Buffalo. "He's smart, and he wants to learn. He checks all those boxes.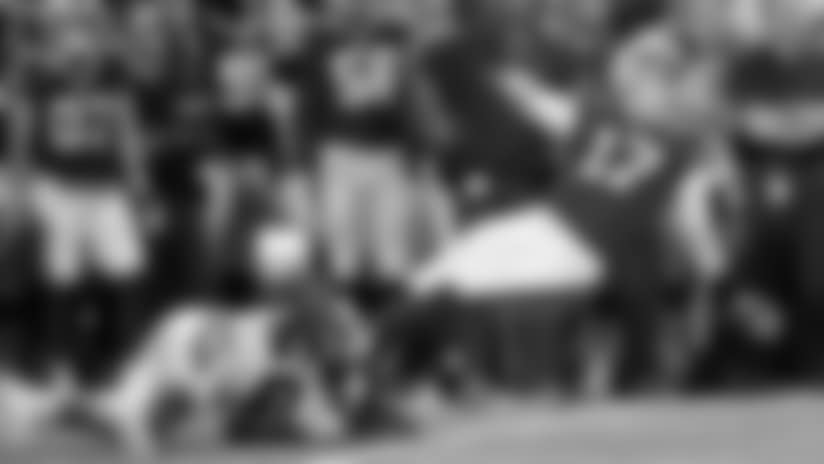 "Yeah, there's still some stuff he can learn, but he doesn't ever get outmatched. He doesn't ever look like it's too big for him."
That can be half the challenge for rookie linebackers in the NFL, as head coach Ron Rivera can attest. Thirty-four years ago, Rivera was a rookie for the Bears and famed defensive coordinator Buddy Ryan.
"When you learned the game, you didn't just learn what you were doing but also how to change things and make things go," Rivera said, detailing the unique pre-snap demands that Ryan's defense put on middle linebackers. "There was a huge learning curve; I've never been a part of anything like that."
So do Carter and Co. have it easy?
"I wouldn't say easier," Rivera said. "Just different."
Carter did say he feels like he's learned the whole defense and is already working on the finer points while working to learn every linebacker position. A college middle linebacker – which is Kuechly's domain – Carter's first action on defense against the Dolphins was in the middle, but he later lined up on the outside.
"I like to focus on every position so I won't be stuck at just one positon," he said. "I like to be able to rush. I like to be able to cover. I like to be able to defend the run."
All that being said, it's not exactly coronation time for Carter. Carolina is loaded at linebacker as far as starters go, and the roster features as much quality depth as Kuechly has seen in his time with the Panthers.
So for now, Carter's most important role is the one he's holding down on the kick teams.
"Special teams is going to be my way in because I'm currently starting there and I don't want to give that up. That's one of my biggest focuses right now," he said.
That role allowed him to be on the field for the opening kickoff of the preseason home opener against Miami, a moment in which the perfectionist allowed himself to be a rookie.
"To actually be in our stadium playing a game, it was a little more nerve-racking than the opener in Buffalo," Carter said. "Our first kickoff in Buffalo, I went down and tried to hit somebody as hard as I can. But when we kicked it through the end zone here, I just ran through the end zone looking at our fans, just happy to be here."
The Panthers are happy to have him.
View photos from the Panthers' Monday practice from the third week of preseason.