CHARLOTTE – At 70 years of age and with 32 NFL seasons under his belt, Jim Skipper felt the time was right to retire from coaching.
But walking away from the chance to keep coaching Christian McCaffrey – that made it a hard decision.
"It weighed on me about whether to retire or not. That's what made it hard," Skipper said.
The versatile McCaffrey was spectacular in 2018, setting a franchise record with 1,965 yards from scrimmage and earning second-team All-Pro honors along the way.
"His potential – he ain't even touched it yet," Skipper said. "Just a tremendous pleasure to coach."
McCaffrey, the eighth overall pick in the 2017 NFL Draft, posted 1,086 scrimmage yards as a rookie. The tough transition from college to the NFL was made tougher by the fact that McCaffrey missed all but one spring practice due to Stanford's quarter-system calendar.
That meant Skipper was Skyping with McCaffrey on a daily basis to help get him up to speed. And now, McCaffrey is blossoming into one of the league's brightest young stars.
"It was amazing. He spent all those extra hours to help me out," McCaffrey said. "He's meant a whole lot to me. A guy who believed in me from the jump. That meant more than anything. You develop a special bond with someone when you know that they have your back. I'm going to miss the heck out of him. He had a huge influence on the start of my NFL career. I'm very thankful I got to be with him for a couple years."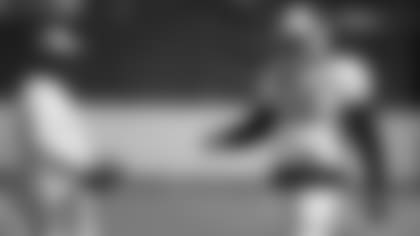 Jonathan Stewart, the Panthers' all-time leading rusher, also began his career under Skipper's tutelage. Eight of Stewart's 10 seasons with the Panthers included Skipper, who made an impact on and off the field.
"He developed me as a player and as a man. He's done a lot for me," said Stewart, who spent last season with the Giants. "He made sure my confidence was there and my head was always in it. He was always in my corner.
"When you play for Coach Skip, you don't want to disappoint him. You want to do your best for him."
While Stewart started his NFL career with Skipper as his coach, fullback Mike Tolbert didn't play for Skipper until five seasons into his 10-year career. Still, the impact was just as great.
"I would have never made a Pro Bowl without him," said Tolbert, who made three Pro Bowls in his four seasons beside Skipper. "I'm tremendously honored to have played for that guy. He's the reason I was the player I was.
"He is a 100-percent genuine guy that's my favorite coach I've ever played for – Pop Warner, middle school, high school, college."