CHARLOTTE – Thursday was moving day for kicker Chandler Catanzaro, who signed a three-year contract with the Buccaneers in the offseason but found himself heading back to his native South Carolina with two-and-a-half years left on the deal.
As it turned out, Catanzaro was heading in the right direction.
"Me and my wife had loaded up our cars, moving back from Tampa and driving to Charleston, and we had just gotten Zaxby's when I got the call," Catanzaro said. "I stopped eating a large chicken finger plate, drank some water, got to the Charleston airport and got here. It's crazy."
The Panthers signed Catanzaro, who was unemployed for the first time in his five-year NFL career, after Graham Gano's left knee injury that cropped up a week ago and got worse at Thursday's practice. Gano didn't practice Friday and was subsequently ruled out for Sunday's game at the Browns, meaning Catanzaro will handle Gano's duties in Cleveland.
"I obviously feel very bad for Graham right now. I think very highly of him," Catanzaro said. "We just talked in the locker room a little bit, and he's actually a guy I look up to a lot. I've asked him for advice multiple times, and he's been gracious enough to take phone calls from me."
Gano's status for the rest of the season is unclear, but Catanzaro – like his new teammates – is keeping his focus on Sunday after a good first day with long snapper J.J. Jansen and punter/holder Michael Palardy.
"It happened so fast that I hadn't even looked at who we're playing; I just found out today that we're playing in Cleveland," Catanzaro said. "I saw the forecast and luckily it seems like a pretty decent day for Cleveland standards, actually probably nicer there than it will be here with the winter storm."
Catanzaro has had a string of decent days against the Browns. He made all three of his field goals and all six of his extra points over his two previous trips to Cleveland, including a 57-yarder for the Jets that spelled the difference in a 17-14 victory in 2017. This season the Browns visited the Buccaneers and headed home as losers thanks to Catanzaro's 59-yard bomb, the longest overtime kick in NFL history.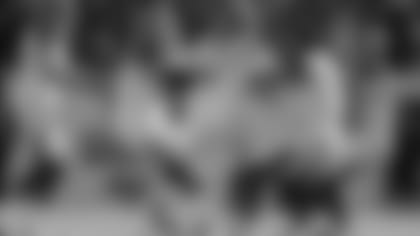 Catanzaro, however, also missed a PAT as well as a 40-yarder on the final play of regulation in that game, and Tampa decided to part ways with him after he missed two of three field goals in a Week 10 loss to Washington.
"While they did sign me to a contract of three years, I tried to stay true to 'one kick at a time' and unfortunately had a couple of misses there, and that was their decision," Catanzaro said. "I respect that. I don't spend too much time looking in the rear-view mirror. I'm just looking ahead, and I'm excited about what's in the future."
Catanzaro grew up in Greenville, S.C., not too far from Panthers training camp. He went to a couple of games at Bank of America Stadium as a kid and kicked at the stadium as a freshman at Clemson, making two of three field goals in the Tigers' loss to South Florida in the 2010 Belk Bowl.
He missed 13 field goals combined his first two years in college but missed just one each of his final two years. The Cardinals signed him as an undrafted rookie in 2014 and he made the first 17 field goal attempts of his career, tying an NFL record.
Catanzaro missed just seven of 64 field goals over his first two NFL seasons, but after he missed seven on 28 attempts in 2016, the Cardinals didn't re-sign him. Catanzaro made 25 of 30 field goals for the Jets last season before signing with Tampa in March.
Now he's the newest Panther in December.
"It's the life of a kicker," Catanzaro said. "It's what I signed up for."