CHARLOTTE – What a week this is shaping up to be for quarterback Kyle Allen.
If Cam Newton can't play due to a foot injury, the Scottsdale native will make just his second career start against the Arizona Cardinals in Glendale.
"Going back home is exciting. I always had this one circled," Allen said. "I got all this family and friends from Arizona that are going to come to the game and have this moment. It's cool."
If Allen indeed starts, that means he'll square off against first overall pick Kyler Murray, who shared the quarterback room with Allen at Texas A&M in 2015.
"The football world in general is just such a small world," Allen said.
It's never felt smaller for Allen than this week.
His best friend is Cardinals wide receiver Christian Kirk, who is also from Scottsdale and who also played with Allen at Texas A&M. They grew up together, played college ball together and lived together while they trained this summer.
And there's also this: Allen, at one point the No. 1 quarterback prospect in the country, was recruited by first-year Cardinals head coach Kliff Kingsbury, who at the time was leading Texas Tech.
"He probably threw all our letters away and red-buttoned me every time I called him," Kingsbury joked, "but I remember watching him. He was very, very talented. He played for one of my good friends there at Texas A&M (offensive coordinator Jake Spavital), and they speak very highly of him."
Allen has never played at State Farm Stadium, but he's been there several times as a spectator.
"I was there for Cam's national championship game," Allen recalled.
Yup. Allen was a high school kid watching the Heisman-winning quarterback (and little did he know, a future teammate) leading the Auburn Tigers past the Oregon Ducks.
And now Allen is preparing to step in for Newton as the Panthers attempt to climb out of this 0-2 hole to start the 2019 season.
Allen has gotten a taste of NFL regular season action before.
After Newton was shut down with shoulder soreness last year, Allen was promoted from the practice squad to back up Taylor Heinicke. Then Heinicke got hurt midway through the game against Atlanta in Week 16, so Allen finished that contest and became the starter for the finale at New Orleans.
He was outstanding in his first career start, completing 16-of-27 passes for 228 yards and two touchdowns (with one additional rushing touchdown) in Carolina's 33-14 win to snap a seven-game skid.
"It was all so fast. It was like, 'Alright, I'm in an NFL game. I was on my couch eight weeks ago,'" Allen said. "This year is more like, 'Alright, I've been preparing for this.'"
Allen fended off third-round pick Will Grier to win the backup job this summer. He's earned the right to be in this position.
He said the win in the 2018 finale felt like personal validation. Allen proved that he could get the job done at this level.
Now he has to do it again.
And it's none other than Murray on the other side looking for his first NFL victory.
"Yeah, I mean, it's wild," Allen said. "I think it's super interesting how it all has come full circle."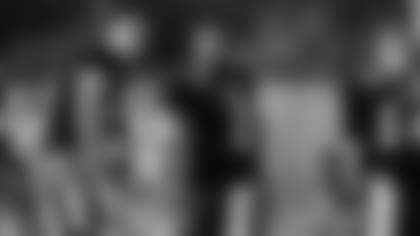 Quick backstory on the Allen-Murray situation: Allen emerged as the Aggies' started midway through the 2014 season, then Murray arrived in 2015. Allen began that season as the starter with Murray executing specific run packages before taking over. Then head coach Kevin Sumlin went back to Allen as the starter for the final two regular season games.
"It was a tough situation," Murray acknowledged.
Allen then announced his decision to transfer, eventually winding up at Houston.
Two weeks later, Murray announced his decision to transfer, choosing Oklahoma.
"It was an interesting year for both of us," Allen said. "When we split ways we both had some time off and grew from it a lot. You see from his career especially, he played that last year at Oklahoma and it was incredible. He put up great numbers.
"Seeing his career and seeing my career – totally different paths, you know what I mean?"
They weren't best buds by any means. But Allen laughs at the suggestion that there was any "bad blood" between the two at Texas A&M.
"I don't think I've ever had bad blood with a quarterback in any room, ever," Allen said. "That's always a storyline that likes to get portrayed. The more you sit in the QB room and be around quarterbacks, the respect is there. That was always there between us."
Anyway, Murray was spectacular in his final college season, taking home the Heisman after accounting for 54 total touchdowns and 5,362 total yards. Then Arizona made him the No. 1 overall pick in the 2019 NFL Draft.
Allen began his lone season at Houston as the starter, but he was benched during the third game of that 2017 campaign and he opted to forgo his final season of eligibility to declare for the 2018 NFL Draft. After going undrafted, Allen joined the Panthers as a rookie free agent.
"You guys all know my college experience. You have those ups, you have those downs, and you learn a lot about yourself," Allen said. "Through that crap I went through in college and even getting released last year (before coming back), you build that resolve. That's something I hold onto really tight."
What the Panthers love most about Allen is his steadiness, his calm, his poise.
He may not be a No. 1 pick with a Heisman Trophy on his resume, but his teammates and coaches believe in his ability to execute.
"This is my job. I'm a No. 2 quarterback," Allen said. "If I have to go in and play, this is literally what I get paid for. I'm prepared for it."
View photos from Wednesday's practice as the Panthers prepare to take on Arizona on the road.