CHARLOTTE – In the spring of 2017, Christian McCaffrey and Leonard Fournette were two very talented young running back prospects with two very bright NFL futures ahead of them.
On Sunday, they'll go head to head as workhorses for their respective NFL teams.
McCaffrey – drafted eighth overall by Carolina – was just named NFC Offensive Player of the Month. He leads the NFL in rushing (411) and total scrimmage yards (629) through four games.
Fournette – drafted fourth overall by Jacksonville – erupted after a slow start to the season for a career-high 225 rushing yards against the Broncos last Sunday. He's the only back to eclipse the 200-yard mark in a game this season.
"Both dominant college running backs, both were going to be dominant running backs in the NFL," defensive tackle Gerald McCoy said. "And we're seeing it."
THE NEXT… Herschel Walker? Earl Campbell? Marshall Faulk? Bo?
The LSU star was considered a sensation before he ever stepped foot on campus thanks to a high school career where looked and played like a man amongst boys.
"I played him in high school twice," said cornerback Donte Jackson, another Louisiana native. "By the second quarter he was sitting on the sideline with his pads off, just relaxing. He's a powerful runner. He wants to make you feel the hit. He's not going to stop running hard."
Jackson and Fournette were teammates at LSU, and Jackson got to see Fournette's power up close on a daily basis.
"There was one time where we had a scrimmage and it was the first time … you know his freshman year when he ran over the guy from Texas A&M? Well, he did that in practice first," Jackson said. "I'm not going to say who he did it too. I'm can't put none of my guys out there like that. But it was a 'wow' play. That's when I knew."
Second-year linebacker Jermaine Carter remembers watching Fournette's jaw-dropping highlights with his Maryland teammates.
"He was a guy that everybody was talking about in college locker rooms," Carter said. "Everybody would talk about those runs where he just obliterated people."
After posting 1,953 rushing yards as a sophomore in 2015, Fournette battled injuries as a junior in 2016, which is something he's dealt with as a pro as well. But NFL evaluators were more than sold, especially with his blend of size (6-foot, 228 pounds) and speed (4.51 40-yard dash).
The Panthers, very much in the market for a running back in the 2017 draft, spent a lot of time scouting Fournette and McCaffrey – widely considered the best backs in the class.
The Jaguars, to no one's surprise, took Fournette off the board with the fourth pick.
"He was one of the guys that was in that search," head coach Ron Rivera said. "He's a solid young man, he really is. He fits their style of football exactly. It made sense because of the head coach (Doug Marrone) and the (top football decision maker, Tom Coughlin) that they have there. They're guys that believe in physical, pounding football."
But Fournette can do more than pound away at a defense.
"He's got an unbelievable blend of power and speed, reminds you a lot of a young Adrian Peterson," Carolina defensive coordinator Eric Washington said. "He can hurt you. He can go the distance. He's going to attack what we call 'dark creases,' which means that even if there's a defender fixed in a gap position, he's going to challenge it. He's going to challenge the leverage of our defense."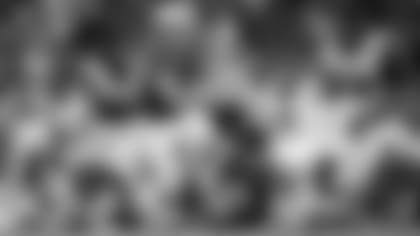 Fournette was considered a readymade NFL prospect almost from the beginning.
McCaffrey, with his NFL bloodline and supreme athleticism, was always considered special during his wildly productive college career at Stanford, but there were doubters. People questioned his size. People questioned his ability to hold up physically in the NFL.
McCaffrey has emphatically put all those questions to rest since entering the league.
Here's what rookie Brian Burns said to defensive tackle Kyle Love as he watched McCaffrey carry the offense in Houston while mic'd up.
"I ain't going to lie bro, it's debatable for him to be the best back in the league," Burns said.
"I would arguably say that he is," Love replied. "He's dynamic. People say he couldn't run between the tackles. He proved them wrong."
Jacksonville defensive coordinator Todd Wash would agree.
"It is a very unique challenge. We were talking earlier in the week and if he's not the best, he's one of the best players we have played against all year," Wash told reporters Thursday. "He is somebody that obviously we have to know where he's at all times on the field and try to do some different things to try to take care of him.
"But he is playing like an MVP candidate right now."
Jaguars head coach Doug Marrone clearly came away impressed after watching film of McCaffrey do a little bit of everything through the first four weeks of 2019.
"Christian McCaffrey – I don't know what you can say – just outstanding," Marrone said. "Leads the league in rushing, leads the league in all-purpose (yards). He's a matchup nightmare if he gets out there on the perimeter. I think if you don't get enough people around him one-on-one, he can make someone miss and take it to the house."
And he can line up all over the field.
Jacksonville cornerback AJ Bouye was particularly complementary of McCaffrey's ability as a receiving threat.
"When you look at most backs around the league, when they are split out their route tree is pretty limited," Bouye said. "But with him, they give him the whole route tree. Great speed, great shiftiness, and once he gets the ball in his hands he turns into a running back."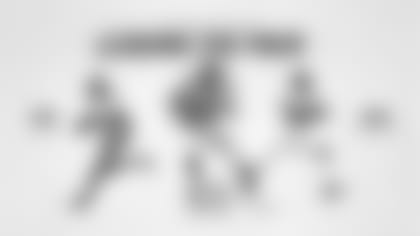 Gardner Minshew and Kyle Allen are getting a lot of attention – and deservedly so – for stepping in and playing well as backup quarterbacks.
But both offenses really start with their star running backs.
The Panthers know their run defense will be tested, especially with Fournette coming off a career game. Carolina is allowing 4.89 yards per rush attempt, which ranks 28th leaguewide.
"The first thing (the Jaguars) want to do is run the ball, so that's what we got to stop if we want to win this game," McCoy said when asked about Minshew Mania. "We haven't done particularly well with that. But it's a new week."
All-Pro linebacker Luke Kuechly echoed that sentiment. Kuechly said the run defense has been solid for stretches, but one gash is all it takes to cause severe damage.
"We have to limit big plays. That's hurt us," Kuechly said. "We've done a really good job for the majority of the time, but in order to be a good rush defense you have to play (well) all the time. That's especially important this week.
"A guy like Fournette, you give him a little hole and he can pop one."
Both backs, who are monsters in their own ways, will be featured prominently Sunday.
Both defenses will do everything they can to stop them.