Clearly, not all my thoughts are worth sharing with the rest of the class. But I went down the rabbit hole anyway.
In the second round, the Panthers have the 55th overall pick. Here's what that spot's produced the past three years: 
2017 - Defensive tackle Dalvin Tomlinson, Giants
2016 - Wide receiver Tyler Boyd, Bengals
2015 - Tight end Maxx Williams, Ravens
Not great. Tomlinson did start every game as a rookie, but Boyd and Williams have totaled just 1,182 yards and five touchdowns in five combined seasons.
There have been some gems at No. 55 over the past decade or so, though.
Offensive tackle Andrew Whitworth (2006/Bengals), running back Ray Rice (2008/Ravens) and linebacker Sean Lee (2010/Cowboys) all made multiple Pro Bowls. And if you REALLY know your history, you may know Hall of Famer guard Stan Jones went to Chicago with the 55th pick of the 1953 draft. Actually, if you know that, you may know a little too much about football. 
Anyway, as you'd expect, it's tougher to find success stories the later you look inside a draft. And because of potential trades, who knows if the Panthers will actually pick in each of these spots. But if and when they do, you can reference this recent – and some not so recent – history of their six other slots:
Third Round, 21st pick/85th overall
2017 - Offensive tackle Antonio Garcia, Patriots
2016 - Wide receiver Braxton Miller, Texans
2015 - Tight end Tyler Kroft, Bengals
Notables: Offensive tackle Brandon Mebane (2007/Seahawks), tight end Jordan Reed (2013/Redskins)
Third Round, 24th pick/88th overall
2017 - Defensive tackle Eddie Vanderdoes, Raiders
2016 - Linebacker Kyler Fackrell, Packers
2015 - Defensive end Danielle Hunter, Vikings
Notables: Wide receiver Bob Hayes (1964/Cowboys), linebacker Tom Jackson (1973/Broncos), Lardarius Webb (2009/Ravens), Nick Foles (2012/Eagles)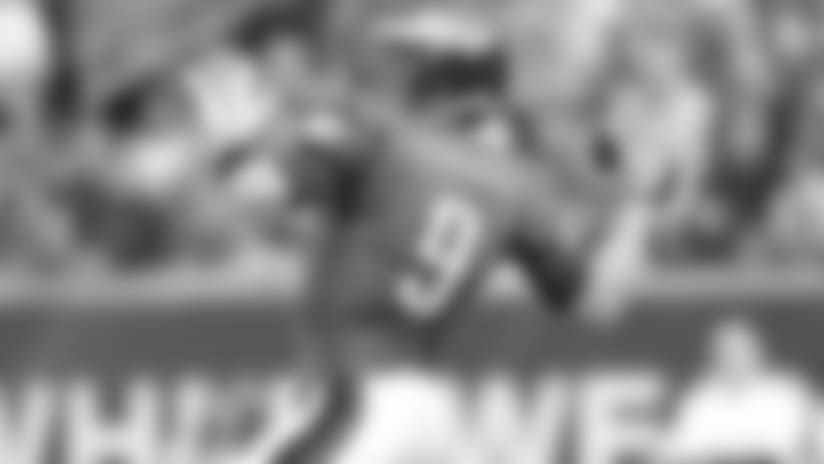 Fifth Round, 24th pick/161st overall
2017 - Linebacker Anthony Walker, Colts
2016 - Guard Christian Westerman, Bengals
2015 - Linebacker Neiron Ball, Raiders
Notables: Wide receiver Harold Carmichael (1971/Eagles), wide receiver Tavarres King (2013/Broncos)
Sixth Round, 23rd pick/197th overall
2017 - Cornerback Jeremy Clark, Jets
2016 - Fullback Danny Vitale, Buccaneers
2015 - Safety Derron Smith, Bengals
Notables: Quarterback Gus Frerotte (1994/Redskins), wide receiver Trindon Holliday (2010/Texans), wide receiver Cobi Hamilton (2013/Bengals)
Seventh Round, 16th pick/234th overall
2017 - Defensive end Ejuan Price, Rams
2016 - Guard Vadal Alexander, Raiders
2015 - Wide receiver Dezmin Lewis, Bills
Notable: Guard Will Montgomery (2006/Panthers), linebacker Andrew Gachkar (2011/Chargers)
Seventh Round, 24th pick/242nd overall
2017 - Running back Elijah Hood, Raiders
2016 - Running back Keith Marshall, Redskins
2015 - Cornerback Dexter McDonald, Raiders
Notable: Defensive end Brett Keisel (2002/Steelers), linebacker Malcolm Smith (2011/Seahawks)