CHARLOTTE – Kickers often play a pivotal role in overtime games, and that was no exception in the one overtime game in Panthers history to end in a tie.
The 37-37 result in 2014 against the Cincinnati Bengals – who will visit Carolina on Sunday – went to overtime thanks to Graham Gano's 44-yard field goal on the final play of regulation and was positioned to end in a tie when Gano hit a 36-yarder with 2:19 left in overtime.
"I remember the end of that game, everybody kind of walked onto the field almost like, 'OK, are we going to go into another overtime? What's going on here?'" Gano said. "You know how you feel when you win or lose. But a tie? It almost felt like a loss in a way.
"It was a little weird on the trip back."
Gano, linebacker Luke Kuechly and safety Colin Jones all used the word "weird" to describe the feeling at the end of the game.
And it was a weird, or better yet, wild one throughout.
-Quarterback Cam Newton, after sitting out the season opener following offseason ankle surgery and totaling 42 rushing yards over his first four games, piled up 107 on the ground – the second of three 100-yard games in his career.
-Bengals running back Giovani Bernard ran for 137 yards, still a career high for the 2013 draft pick and one of his three 100-yard games (Bernard will start for injured Joe Mixon on Sunday). The University of North Carolina product was powered by an 89-yard touchdown run, the second longest rush in Bengals history.
-But it wasn't even the longest play of the day for the Bengals. That honor went to cornerback Adam "Pacman Jones," whose 97-yard kickoff return set up Cincinnati to tie the game at 31-31 with less than five minutes left. It only set up a touchdown thanks to Colin Jones, who tracked down the notoriously fast Jones at the 3-yard line.
"I dove and got lucky," Jones modestly said. "I talked to a couple of guys on his team who said he caught a little flack for that."
-The Panthers had taken the lead just before on a 13-yard touchdown catch and run by tight end Greg Olsen, who was fired up when linebacker Vontaze Burfict twisted his ankle while bringing Olsen down just over the goal line. Burfict, who is suspended for the first four games of the 2018 season for violating the league's performance-enhancing drug policy, appeared to do the same on a Newton touchdown run earlier in the half.
-Gano was clutch but also had one of the Panthers' best chances to win it rather than tie it slip through his hands – though not quite as literally as a teammate. Gano missed a 38-yard field goal early in the fourth quarter that would have extended Carolina's lead to 27-17. Then in overtime, wide receiver Jerricho Cotchery dropped what could have been a game-winning 23-yard touchdown two plays before Gano tied it up to answer Mike Nugent's field goal earlier in overtime.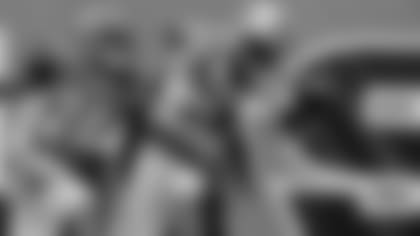 While those were among the reasons it might have felt a little like a loss, it could have been worse: The Panthers literally lost every game for nearly two calendar months after that game, though they then recovered to win their final four and squeeze into the playoffs at 7-8-1.
And if Gano thought it felt weird, it no doubt felt worse for Nugent, who missed a 36-yarder on the final play of overtime after Gano had tied it up.
"I was in on that, on field goal block," Jones said. "You look up and see it miss, and initially you're happy. Then it's like, wait, we tied?
"It's a disappointed feeling, but you didn't lose. Do we stop playing now? It was weird."
There have only been 11 ties in the NFL since the Panthers began play in 1995. The Bengals lead the way with three, all of which have somewhat of a tie to Gano. In 2008, the Bengals tied the Eagles 13-13 when Cincinnati kicker Shayne Graham – who kicked for the Panthers in 2002 – missed a 47-yarder in the final seconds of OT. In 2016, the Bengals and Redskins tied when Washington kicker Dustin Hopkins – who followed Gano as Florida State's starting kicker – missed a 34-yarder in OT.
In 2014, Kuechly was the definition of an interested bystander when Nugent, who now kicks for the Raiders, missed what would have been the game-winner against the Panthers in Kuechly's first game in his hometown of Cincinnati as a pro.
"It was a weird feeling," he said. "I hadn't been in a tie since high school against Saint Ignatius my sophomore year. I didn't know quite how to react, but it was still fun to play at home."
The list of ties since has increased by two in just two weeks – and yes, kickers played a major role in both. Steelers kicker Chris Boswell and Browns kicker Zane Gonzalez both missed field goals late in the final two minutes of overtime to create the league's first Week 1 tie since 1971. Then last week, Vikings kicker Daniel Carlson missed two field goals in overtime – including a 35-yarder on the game's final play – in a 29-29 tie at the Packers.
While Gonzalez and Carlson are no longer on NFL rosters, Nugent survived his overtime obstacle, though he was cut by the Bengals in 2016. Gano, who was cut by the Redskins in 2012 before joining the Panthers later that year – knows their pain both when it comes to losing a job and losing a game.
"You feel for kickers going through things like that," Gano said. "But at the same time, it's a win-or-lose – well, or tie – situation."