CHARLOTTE – Growing up in Cincinnati, Luke Kuechly occasionally attended Bengals games and dreamed of what might be someday.
His dreams weren't as big as his reality is now.
"When I was in high school, you always wanted to play on the varsity team," Kuechly said. "When I was a freshman and sophomore, I wasn't on varsity. That was always the goal, and then when junior year came along I was able to play on the varsity team.
"That year went well, and then you think, 'Well, maybe I can play in college.' It was just a very gradual progression."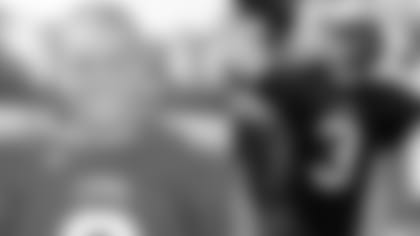 Kuechly progressed all right, from being drafted ninth overall by the Panthers in 2012 to being named NFL Defensive Rookie of the Year and NFL Defensive Player of the Year in consecutive years.
Kuechly leads the league in tackles since his rookie year. He's accomplished a lot in short time, so short a time in fact that the Bengals will visit Bank of America Stadium on Sunday for the first time during Kuechly's career.
"They played 25 minutes from where I grew up, so obviously I was a Bengals fan," said Kuechly, who mostly watched his childhood team on television but did attend a few games. "I watched them on Sundays, and a couple of my friends had tickets so I'd go every once in a while.
"I remember when they played at old Cinergy Field. I went with my granddad, and Corey Dillon had a million yards on that old AstroTurf. That was cool."
Kuechly was 8 years old and already in love with football when Dillon rushed for 192 yards in a 1999 victory over the rival Browns. Kuechly went on to play football at St. Xavier High School on the outskirts of Cincinnati, an all-male private school. The program won its first state championship when Kuechly was a freshman in 2005 – on the junior varsity team. His first year on varsity in 2007 (when he saw snaps at safety and linebacker), the Bombers won another title and were crowned mythical national champions.
He also played lacrosse for three years in high school. That's when he met Marcus Lewis, son of longtime Bengals head coach Marvin Lewis.
"I played with Marcus on a travel team. Marcus went to one of the rival schools growing up," Kuechly said. "I played midfield. I was good at face-offs and playing defense, but I wasn't very good at scoring."
Marvin Lewis saw something in Kuechly – in high school and then at Boston College.
"He was a fine athlete as a young guy throughout his career at Saint X," said Lewis, who kept an eye on Kuechly in college and took an even closer look at the request of Bengals owner Mike Brown. "Mr. Brown had asked me when Luke was coming out to take a look at him early on, even before we got in the draft process. I told him he was the best collegiate linebacker I thought I had ever seen at that point, and he hasn't disappointed."
Lewis went onto say that he loves everything about Kuechly, calling him "a great person and a very, very fine player."
"We're trying to clone guys like Luke Kuechly here."
Lewis wasn't the head coach of the Bengals when 8-year-old Luke witnessed Corey Dillon's big day, but it was close. Lewis has been Cincinnati's head coach since 2003, before Kuechly entered high school.
This will be Kuechly's second game against his hometown team, the first one taking place in his hometown, a memorable 37-37 tie in 2014.
"It was different when I was there with them playing 'Welcome to the Jungle' and us landing at the northern Kentucky airport and then driving over the river – kind of like when I drive from Charlotte to Cincinnati," Kuechly said. "But there will be a lot of Cincinnati people here Sunday."
Those in attendance will be pulling for one of their city's greatest sons, no doubt.
"Some people are converting, but there are still some Bengals fans," Kuechly said. "That's fine. It's all good."
A look at Luke Kuechly's career with the Carolina Panthers in photos.