Before departing for summer break, the Panthers wrapped up minicamp with an efficient practice in cool conditions.
Quarterback Cam Newton continued to progress through his throwing program, and head coach Ron Rivera expressed excitement about what he's seen on both sides of the ball.
Here's a full report from the final practice before the team reconvenes in Spartanburg for training camp:
-Newton started off with stationary targets on Tuesday. He tossed a select few passes to moving targets on Wednesday. On Thursday, his passes to moving targets increased, and Rivera was happy to say he did a little more than anticipated.
-Newton threw comebacks, digs, a post, a quick out. He's still recapturing his rhythm clearly, but it's encouraging to see him get back into the swing of things.
-During special teams period, it was interesting to watch tight end Greg Olsen lead a discussion with all four quarterbacks. Olsen was reviewing a red zone route concept and explaining where he felt the ball should be placed in relation to the coverage. It sounds cliché, but he's very much a coach on the field.
-A couple pretty throws from Allen during the team period. He fired a strike to wide receiver Chris Hogan on a post pattern. Moments later he lofted a pass perfectly over linebacker Andre Smith and into the waiting arms of tight end Temmarick Hemingway.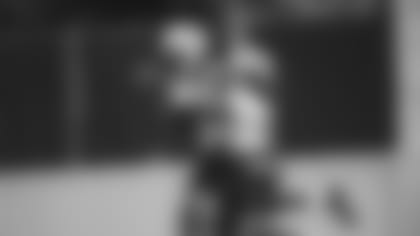 -Rookie edge rusher Brian Burns was active throughout, making his way to the quarterback with regularity. And when he wasn't, Burns was impacting the action by getting into the throwing lane. He showed off a massive vertical leap to give quarterback Kyle Allen second thoughts. On another occasion, Burns used his length to swat down a pass from quarterback Taylor Heinicke.
-Safety Rashaan Gaulden also got his hand on a ball after blitzing and getting to the face of quarterback Will Grier. The deflected pass was there for the taking, but defensive end Mario Addison couldn't quite corral it.
-Grier hooked up with Olsen for a short touchdown during the red zone period and linebacker Luke Kuechly made his buddy earn it, trying desperately to wrestle the ball away as they went to the ground (to no avail). That caused Newton to take an official's flag and toss it into the fray. After getting a taste for how fun it is to throw a flag, Newton wound up doing it several times. All of his calls went against the defense for some reason.
-Another dart from Allen near the end of the session, as he connected with tight end Cole Hunt beautifully in the corner of the end zone.
-A special treat was waiting for the team before they got back to the locker room. An ice cream truck was parked out front waiting to serve them. The man behind it? None other than newcomer Gerald McCoy. Is this dude likeable, or what?