CHARLOTTE – Perhaps no player on the Panthers' roster has as many different roles as Myles Hartsfield.
So naturally, he's spending his first professional offseason adding to the list.
Naturally, opening a gym is a complicated process at any time, but trying to do so during a pandemic has added to the number of tasks Hartsfield is trying to juggle with his business partners.
"I'm going to city hall like every other day," Hartsfield said with a laugh of his sudden education in the world of starting a business. "It will truly show you patience. But that's what you need to have to get the things you want in life, so you might as well learn it."
Hartsfield got into the business innocently and easily enough. He knows something about keeping high-level athletes prepared, so it was a short step to gathering some friends who were trainers to work with people outdoors during the early stages of the pandemic.
"We were training people who couldn't get into a gym because of coronavirus, and people kept saying 'You need your own spot,'" Hartsfield said.
Now, he's spending more time learning how to acquire permits than working with clients, but that's nothing new for a guy who has found his niche with the Panthers because of his versatility, and willingness to do anything.
Head coach Matt Rhule recruited the New Jersey native to Temple back when Hartsfield was a running back. He became a defensive back at Ole Miss and bounced all around the secondary there.
That continued to be the case in his rookie year, as he got work on both sides of the ball in training camp.
By Week 7, he was back to his roots on offense, as the Panthers made him part of the game plan before the first New Orleans game.
"I mean, I'm sitting in the same meeting room with Christian McCaffrey. I was like, 'Is this real?'" Hartsfield said. "I thought they were blowing smoke at first, but I get to the hotel the night before the game, and I'm looking at the first 15 (play) script, and I'm in there, it's like, 'What's going on? They're really going to give me the ball.'
"Then, as soon as I got hit, it's like 'OK, this is why I play defense.' But I hadn't done in it five years, so my two carries for 2 yards were like living the dream."
As he progresses in his football career, Hartsfield knows his most likely path is on defense, and that's where he built more and more of a role last year. But his first entry point was on special teams, where he quickly became a regular (playing every game and finishing with 254 snaps).
He played 140 snaps of defense (one of seven rookies to play at least 100 snaps of defense for the Panthers last year), along with his four on offense, making his first season a lesson in multi-tasking.
"I knew by getting into a camp at all, I was blessed to be in that situation," Hartsfield said. "I didn't know when I got here what my role might be, but I knew I could contribute on special teams. Putting everything into that helped get me the reps on defense I got at the end of the season.
"I didn't care where they put me, really, I just wanted to get my foot in the door."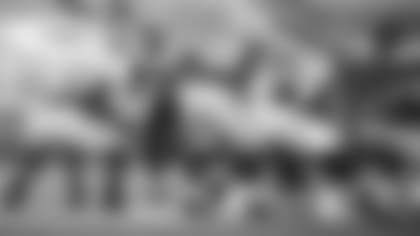 By the end of the season, he was getting regular work as the nickel back and safety, in addition to his kicking game duties. It's all still a bit of a blur to him, but he's open to whatever they ask in the coming year.
"I feel like I could do both (safety and nickel)," he said. "The key for me is to just be ready and to be coachable and take full advantage of whatever opportunity comes my way."
That's true in football and business.
In addition to his other ventures, Hartsfield has dipped his toes into the world of talking about football as well. A broadcast communications major at Ole Miss, he hopes to become a television analyst someday, so working through the conversational style of podcasting has been good practice.
He admits the first few episodes of his "Limitless" podcast (hence the name of the gym) might have been a little choppy, but he's starting to find a bit of a rhythm as he plans a second season.
"It's hard keeping people engaged. When you're just talking, it can get boring, which I learned the hard way," Hartsfield said. "The first few weren't very good, but we got some good feedback on the later episodes, so we're looking forward to seeing where it goes next."
That makes it a lot like his career as a businessman, and a football player as well.