CHARLOTTE – The Panthers locker room saw some changes this week as the team brought in both new and familiar faces.
Carolina claimed running back Mike Davis off waivers from the Chicago Bears on Monday, then followed that move by signing cornerback Corn Elder from the Giants' practice squad on Tuesday.
Davis may be new to the Panthers, but not to the Carolinas. The fifth-year running back was a standout for the South Carolina Gamecocks before stints with the 49ers, Seahawks and Bears. Now, he's happy to be back.
"I got a call from my agent saying, 'Hey, congratulations. You're going to the Carolina Panthers,'" Davis said. "I was like, 'There's no way. There's no way I can be this close to home.' So, I was pretty excited about that."
Davis' role with his new team is still unknown – even to him. After just one day of practice, he's still trying to figure out where he'll fit into an already crowded running back room with four other backs.
In 2018, Davis totaled a career-high 514 rushing yards and four touchdowns with the Seahawks as the team's No. 2 running back. With current superstar Christian McCaffrey handling 93.4 percent of the snaps at running back, having a proven veteran back like Davis could help lessen the load on CMC and keep him fresh during the second half of the season.
Whatever the Panthers decide to use Davis for, he said he'll be ready for it.
"Pass blocking, run, being out wide, anything, you know?" Davis said. "Just being able to be a mismatch with anything."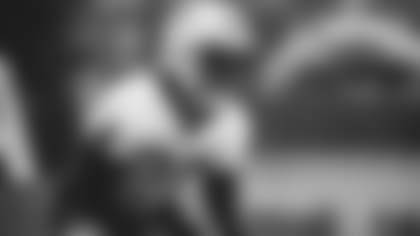 While Davis' role may not be as defined yet, Elder's looks a little bit more concrete. After No. 1 cornerback James Bradberry missed last week's matchup with Green Bay and cornerbacks Donte Jackson and Ross Cockrell suffered lower body injuries, the Panthers secondary is looking thin.
That's why Elder's return makes sense. The Panthers drafted Elder in 2017, but placed him on injured reserve after he suffered a knee injury in training camp. Elder appeared in 13 games for Carolina during the 2018 season but was waived during the preseason earlier this year.
With the depth chart taking a few hits recently, picking up a player like Elder who was already familiar with the Panthers' defensive scheme was a big selling point.
"That's why you bring a guy back that you had in camp," head coach Ron Rivera said. "We're bringing him back because he knows our system, so his transition back should be seamless. He got some reps today and it was good to see him out there."
If it comes down to it, Elder said he feels like he could be ready to go this Sunday against the Falcons.
"I'm still familiar with the playbook," Elder said. "I've got a bunch of guys who I can look over it with, talk to about it. I'm very familiar with it, so yeah, I definitely think I can be ready for whatever."
When he first got the news that he'd be returning to Carolina, the first people Elder informed were his old Thieves, Jackson and Bradberry.
"They were the first two people I texted when I got the news and everything," Elder said. "D-Jack, he kind of gave me a little bit more excitement. JB, that's my boy, I know he's happy to see me."