You've seen the trailer for the Amazon Prime video series "All or Nothing" featuring the Carolina Panthers, set to be released July 19.
Now hear from someone who played a large role in creating it.
"From a 30,000 foot view you get an inside look at an NFL team that no one has ever gotten. Period," said NFL Films senior director Steve Trout. "That's the broad stroke. Then what you see is full transparency from top to bottom. We were allowed everywhere, which doesn't happen a lot."
When the 2018 season began, and Carolina got off to a 6-2 start, Trout and the team of videographers and editors thought they were chronicling the story of a championship contender.
Then the story was flipped on its head as the Panthers lost seven in a row.
"Not every great film has a happy ending. You ride the roller coaster along with the players and coaches of what that season was – that exciting 6-2 start and then that finish," Trout said. "There is something so compelling to both sides. To watch them go through a seven-game losing streak, there is something so compelling to be allowed in that. We did the Cardinals when they went 14-2 in 2015 and I would easily say this is more compelling.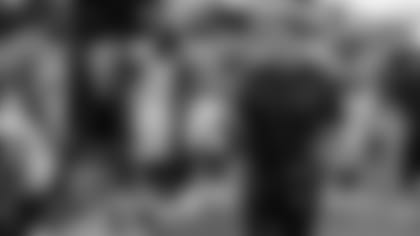 "Everyone was so close in that locker room. The camaraderie was rare to see. There was no in-fighting during a seven-game losing streak, no name-calling. That's a very, very strong locker room. It's a testament to Ron Rivera and the leaders there. Good human beings, and that's going to come across."
And that's really what this is – a show that humanizes the gridiron warriors the country watches do battle week after week.
"This is not simply a football series. The guys in that locker room, the superstars we only normally see on Sundays, they let us into their lives," Trout said. "As a result, you a see a side to them that's never before been seen."
Here's some bullet points from Trout on what went into the making of this series:
12 robotic cameras in the team facility
7 cameras at every game
2-4 people mic'd up every game
2-4 people mic'd up every practice
18-hour work days
80-100 people involved in the project
About 4,000 total hours of footage (a fraction of 1 percent makes the show)