CHARLOTTE -- Despite suiting up last Sunday, rookie cornerback Donte Jackson found himself next to wide receiver Devin Funchess on the sideline against Seattle.
Jackson injured his quad on the first play of the game and missed the remainder of the contest while Funchess was inactive with a back injury.
Neither practiced Wednesday, but both managed to make an appearance Thursday - Jackson a full practice participant and Funchess a limited one.
Head coach Ron Rivera addressed the status of both players as the team inches closer to Sunday's rematch at Tampa Bay.
"Donte moved around very well. He really did. They worked him really hard yesterday," Rivera said. "He had no residuals this morning, so we put him out there and let him do his normal routine. And hopefully he has no ill effects tomorrow morning."
Jackson, a candidate for NFL Defensive Rookie of the Year, has had a few brief run-ins with the injury bug, but Week 12 marked the first time he had missed a big chunk of time. Following Thursday's preparation, Jackson said it "felt good to get back running and rolling after missing pretty much the whole game Sunday."
Funchess, on the other hand, missed his first regular season game since the 2016 season when he injured his knee.
Rivera mentioned that Funchess moved well on the practice field, but he is still being closely monitored.
"He looked good at times. We'll see how he is in the morning," Rivera said. "They had him go through the individuals and he had some specific routes and stuff that we ran."
It's unclear whether either will play Sunday, but having them back in the lineup would provide a big boost for the respective groups.
Switching it up: In order to beat the Buccaneers in Week 13, the Panthers just need to dial the same number they did when they won 42-28 in Week 9. Seems simple enough, right?
Only thing is rematches lend themselves to the temptation of falling into whatever worked the last time, and Rivera wants to make sure Carolina is calling from a different area code Sunday.
"They're going to look and see how you attacked them and then they're going to figure 'OK, they had success doing it this way, what's to say that they're not gonna,"' Rivera said. "You have to have an answer because of what you did against them previously."
The last time these teams met, Carolina's offense dropped 42 points, which remains the Panthers' best output to date. The defense was also clicking on all cylinders that day, hitting quarterback Ryan Fitzpatrick 11 times and picking him off twice.
In the weeks since, change has swept across the board on both sides. Carolina is in the midst of a three-game skid while Tampa Bay underwent another quarterback change in an attempt to recapture the magic they had to start the year.
A point of emphasis for the Panthers much of this season has been preventing the long ball, something they had no problem doing against the Bucs four weeks prior. Fitzpatrick's longest pass of the day was a 31-yarder to tight end O.J. Howard, who will be inactive come Sunday.
During their three-game losing streak, the Panthers have allowed back-breaking passes in each game, including an early 75-yard touchdown versus the Steelers and a 43-yarder against the Seahawks that set up the game-winning field goal.
Carolina is aware of the threat Tampa Bay still poses downfield, with weapons like wideouts Mike Evans and DeSean Jackson, and Rivera stressed that can't happen.
"One of the things we've talked about, specifically on the defensive side, is guarding against the deep ball," Rivera said. "It's shown that we've given it up a couple weeks in a row, so its coming."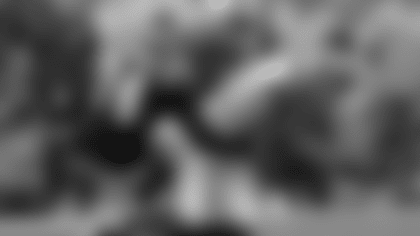 James Bradberry on Mike Evans: If Carolina's speedy rookie corner is a non-factor Sunday, James Bradberry's presence becomes even more important.
The 6-foot-1 corner is known for matching up with the opponent's more physical receivers, which made Evans his primary target in Week 9.
It was a standout assignment in a sea of them for Bradberry, but the 25-year-old was locked in, limiting Evans – one of the NFL's best – to one catch for 16 yards and zero touchdowns.
Bradberry is known for channeling his energy more through his actions than words. Against Evans, those actions worked wonders for him.
"In each offense, you're gonna run certain routes, you have certain landmarks and I think I was just knocking him off his landmarks," Bradberry said on what worked. "I was able to get up there and press him."
Jamming Evans and keeping him at bay gave the defense its best chance at success, and he will have to do the same this week.
In recent weeks, opposing receivers have capitalized on Carolina by slipping behind the corners and getting open to make a big play. Jameis Winston is known to air out his throws, much like the quarterbacks that have beaten the Panthers during their skid.
Bradberry has identified what works against Evans, but he understands that pressing him has its pros and cons.
"It can be a bad thing 'cause if you miss, it might be over with. You got to make sure you get your hands on him and slow him down," he said.
While Rivera mentioned the idea of changing the gameplan in Week 13, having Bradberry repeat his impressive effort against Evans will likely still be a key ingredient to winning an important divisional game.
View photos from the week of practice leading up to the Panthers' game against the Buccaneers.