CHARLOTTE – Head coach Ron Rivera wanted to practice in full pads Wednesday with linebacker Thomas Davis out there for the first time since the week before the regular season opener, but when the skies opened up, Rivera thought better of it.
"When you can't practice in ideal conditions, it does change the way things happen," Rivera said. "Last week the concern coming off after Wednesday's practice (which featured a heat index of 102) was how many guys had to get IVs after practice – that's something you're always concerned about. Today it was getting traction when you're running and cutting."
The lack of an indoor practice facility is a reality Rivera has rolled with throughout his tenure, but that reality could change in the relatively near future. Panthers owner David Tepper has expressed interest in adding a climate-controlled practice option for the Panthers, something that certainly would have come in handy Wednesday and likely again Thursday.
For the time being, though, it's business as usual for a team seasoned to practice in the heat of August, the chill of December and the occasional rainy day.
"It's something we've just gone through and dealt with," Rivera said. "It does us no good to complain about it while we're out there so we might have as well have a good time, practice hard and get something out of it."
Olsen, Kalil on practice field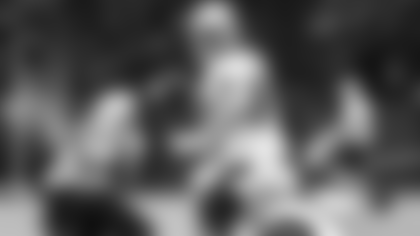 Tight end Greg Olsen got plenty out of practice Wednesday as he continued to ramp things up as he eyes a possible return to the lineup Sunday in Washington. Olsen was officially listed as limited in practice just like last week, but his words made it clear that it was another promising step forward from a broken foot suffered in Week 1.
"I would have preferred it would have not happened in a driving rainstorm, but other than that I think it was a pretty solid first day," Olsen said. "I've missed more practice the last 12 months than I have in a long time. It feels good to be back out there. You realize how much you still enjoy it, how much fun is still is to prepare for a game, for another team."
"It's 10, 11 games in the last two years that I've missed. It's been a lot of sideline cheering, a lot of yelling at the referees, a lot of standing up for your guys. I'm finally glad I can get back on the field and do less of that."
While Olsen was expected to be more active in practice Wednesday, no one knew for sure what to expect from center Ryan Kalil after he left in the late stages of Sunday's victory over the Giants with a shoulder injury. Kalil, however, practiced in full Wednesday.
"It was good," Rivera said. "He had a little something in the game, but he came out of it."
Defensive tackle Kawann Short (ankle) didn't practice, while running back Cameron Artis-Payne and defensive end Marquis Haynes were both away attending to family medical matters according to Rivera.
Will Washington be weary?
The Panthers catch a bit of a break on the schedule this week with Washington coming off a Monday Night Football appearance in New Orleans.
"It's just a matter of the players getting their rest and getting back on track," Rivera said. "They've had one less day to relax – that's about it."
While the Panthers followed their normal practice routine Wednesday, Washington head coach Jay Gruden said his team had to take it a little easy.
"Today we're just scheduled to walkthrough," Gruden said, "because we didn't get back until like five in the morning after Monday."
Rivera said from a coaching perspective, he's confident Washington won't have to cut any corners in preparations. It's a challenge his coaching staff will face at a crucial juncture on the schedule: Carolina hosts the Saints on Monday Night Football in Week 15 before hosting the Falcons the next week.
As far as matchups featuring teams coming off extra rest, but schedule doesn't do the Panthers any favors. They'll have a "mini-bye" after visiting the Steelers on Thursday Night Football in Week 10, but four times the Panthers face a team coming off a Thursday appearance.
View photos as the Panthers take the field for Wednesday's practice.