CHARLOTTE – First, a couple notes from interim head coach Perry Fewell following Tuesday's practice as the Panthers prepare for the season finale versus New Orleans.
-Fewell confirmed wide receiver DJ Moore is in the concussion protocol. Moore was injured early in Sunday's loss to the Colts and did not return.
-Defensive tackle Vernon Butler, who was ejected from the Colts game, practiced with the team Tuesday. Regarding any discipline from the club, Fewell said the situation will be handled internally.
-Fans have been asking about rookie edge rusher Christian Miller, who has played in just seven games and has not been active since the Week 13 loss to Washington. Here's what Fewell had to say about that: "It's clear that some of the other players are more game-ready than he is at this point in time. He's improving and trying to improve every day. We're trying to get him bigger and stronger, obviously, so he has that opportunity to get on the field and so he can be successful."
-Fewell also confirmed that he will interview for the full-time head coach role at a later date.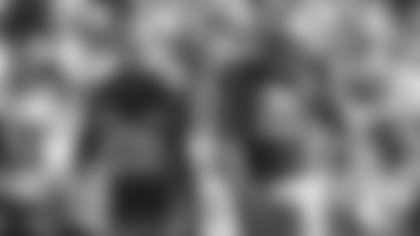 Reid's advice for Jackson
It's been a very disappointing ending to cornerback Donte Jackson's second season.
The second-round pick was benched against the Colts and did not play any defensive snaps. After some rough outings, Fewell decided it was time for Jackson – a starter since the start of his rookie year – to watch from the sideline.
Veteran safety Eric Reid, the leader of the secondary, said he's shared some words of advice with young corner.
"I've talked to him and a lot of the older guys have talked to him, too," Reid said. "Just don't let this define you. It's been a rough year for the entire team. The bad plays get magnified when you are having a season like we're having. Just don't let it define you. You have to keep that DB mentality – have amnesia and move on.
"Next year is a new season. Don't let this carry over into next year."
Reid firmly believes Jackson has a bright future ahead of him, despite the way this year has unfolded.
"He has all the tools. You can't coach his explosiveness. That's something people dream of having at that position," Reid said. "Everybody builds on their experience. He has the tools to be a great player in this league."
Grier ready to play in front of the hometown crowd
Quarterback Will Grier grew up in Charlotte and attended many a Panthers game as a kid, so Sunday will not doubt be special for him and his family.
It will be even more special if he can get his first NFL victory.
His first NFL start was a tough one, as he threw three interceptions in a lopsided loss.
"I think I was probably expecting to throw 10 touchdowns, a lot of yards," Grier joked. "It didn't necessarily go that way. But you have to have confidence going into every game. I have the same mindset, and this week I'm trying to get a win."
Grier is still looking for his first career touchdown. But it's not as if there weren't opportunities at Indianapolis. The Panthers went 0-for-3 in the red zone, and one missed throw in particular came to mind for Grier.
It was first-and-goal from the 10 in the first quarter with Carolina already trailing 14-0. Grier put a little too much on ball to Jarius Wright in the corner of the end zone, and the veteran wideout wasn't able to get both feet down.
But he had another option underneath – tight end Ian Thomas, who would have had a head of steam with a corner between him and the goal line.
"I probably could have taken the flat underneath and let Ian run on the corner and see if the corner can make that tackle," Grier said.