—The Panthers' last practice of the 2018 season was wet. So Friday, things picked up right where they left off. The first session of rookie minicamp was an hour spent in the rain. If only there were an indoor practice facility …
—Which made the constant beep, beep, beep of bulldozers, steamrollers and trucks on the adjacent former practice fields a lovely accompanying soundtrack to the morning. The bubble is coming.
—As he walked out with fellow tryout players Anthoula Kelly and Tyson Graham, cornerback Channing Stribling said, "Let 'em know we're the first ones out here." Done.
—Kyle Allen and Will Grier weren't far behind that first group. The quarterbacks walked out together, and it was nice to see Allen continue to guide Grier through his first practice. Yes, they each threw passes. Some were good; some were OK. It'd be ridiculous to try to provide a breathless play-by-play of how each looked. It's way too early to be breaking down the backup competition.
—The entire session was a glorified walkthrough. Guys were in ball caps and jerseys. So these observations should help give you a football fix, but they shouldn't be taken as all that substantive.
—Not surprisingly, first-round pick Brian Burns spent the bulk of his time with the linebackers, work that included practicing drop-backs with linebacker coach Steve Russ.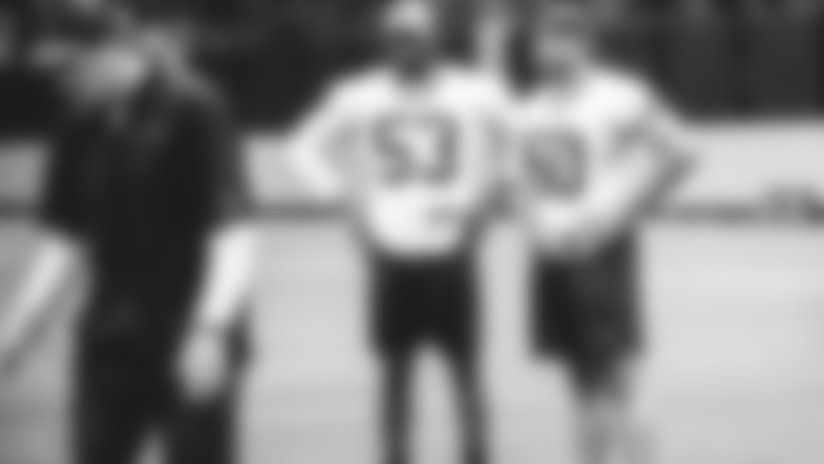 —Fourth-round pick Christian Miller was with Burns most of the session. Sure, Burns could stand to bulk up a bit, but each guy looked the part — which means they're not supposed to be built like traditional 4-3 defensive ends.
—Seventh-round pick Terry Godwin seemed to catch everything thrown his way, including a couple high tosses he climbed the ladder to grab in group drills.
—UNC Charlotte's new football coach Will Healy attended the session. The 34-year old is going to bring a unique energy to that program, so it'd be neat to see him establish a connection with the Panthers.