CHARLOTTE – The NFL just finished a season unlike any other, but pandemics don't have offseasons.
That means the Panthers' preparations for the 2021 NFL Draft will continue to be unconventional, as their personnel department and coaching staff try to figure out how to fill in all the blanks during a spring without the normal opportunities to scout, evaluate, and even measure players they might want to pick.
The study of information they have on hand started in earnest Wednesday, as Carolina's college scouts began two weeks of intensive meetings with general manager Scott Fitterer.
Even that's not as simple as it sounds, as most of the college scouts live in places that are not Charlotte, so they had to go through several days of COVID-19 tests to be allowed into the building to interact with staff here.
With their own medical portion taken care of, they have to figure out how to make do for the next couple of months, which won't feature many of the draft process's staples. First and foremost, the annual Scouting Combine was canceled, meaning teams lose the large-scale and extremely standardized way of gathering measurements, 40-yard dash times and other testing scores, along with medical records.
In its place, teams will have to rely on information gathered at pro days at colleges, and even that has its limits.
Teams are only allowed to send three representatives to each pro day, which means carefully tailoring the traveling party.
For instance, if Alabama has a lot of offensive linemen (and it does), they could send line coach Pat Meyer to accompany college scouts. Offensive coordinator Joe Brady would also likely be on hand to see some quarterbacks and skill position players.
Fitterer will hit a few schools, and head coach Matt Rhule will as well. In the past, particularly when drafting in the top 10, teams would send half the coaching staff to certain pro days.  
They're still figuring out the specifics, but veteran defensive coordinator Phil Snow knows it will be a different spring.
He went to exactly no pro days last year, but knows he's likely to be on the road quite a bit in March, health conditions permitting.
"Depending on the virus," Snow said last month while coaching at the Senior Bowl.
Those pro day trips will be vital because large portions of the usual reports will still be blank in the absence of the Combine.
Snow said that while coaching in Mobile, Ala., there was part of him that wondered if he was getting an accurate read on the players he was coaching on the field.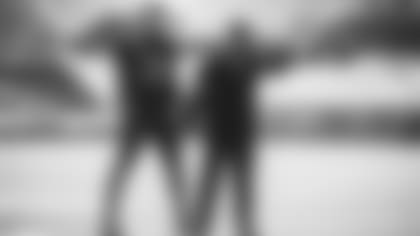 "The thing I don't know is how fast these guys are," Snow said. "We don't have legitimate (40) times on them. As an evaluator, you have to be careful.
"Say you're looking at a corner, and the receivers they're going against are all 4.7s (i.e., kind of slow). A 4.7 receiver can look really quick and fast when you're on the field with them. So if a corner's staying with them, you say, 'Well, he must be fast.' Well, the receiver's not that fast, and you don't know that until you actually get times. So that's going to be really important. The final evaluation will need the numbers."
While it's easy for fans to watch the Combine on television and ooh and ahh at 40 times (and promptly overrate them), they're part of the puzzle that teams are trying to put together. Fast is fast, and slow is slow, but teams also have to gauge how explosive players are, and vertical jumps and broad jumps are components of that as well.
And until they get those numbers, they have to extrapolate a bit.
Snow said that as they do their early preparations, they even go back to old film to gauge how fast certain players are.
"We're watching a lot of video," he said. "One of the things you have to do is go back and watch them against people we do have numbers on. For example, if I'm evaluating a corner, I can go back and watch him a year ago because I know the receivers he's going against because they went to the Combine and have (40) times. That's how you verify how fast they are."
That was just the start of the adjustments, for a process that shifted into another gear Wednesday.