SPARTANBURG — When you're a player such as Mike Panasiuk, there are no guarantees.
And while Panasiuk remains a long shot to make the Panthers regular season roster, he's taken care of that most important requirement because it's all he knows. And in the process, he's become one of the most visible players on the practice field.
Last year, he was the practice squad defensive tackle with his shirt rolled up to expose his belly.
This year, he's the second-year center with his shirt rolled up to expose his belly.
"This is just who I am," he said. "Ever since high school I've been rocking the crop top, letting it breathe. Just got to be comfortable, play comfortable, and once you do that, the game can go fast."
But it's not just for temperature control, or a device to get attention from coaches. For Mike Panasiuk, that's what work looks like.
"Growing up, you always see my pops with no shirt on," Panasiuk said. "He'd come home after a hard day of work, take his shirt off, and relax at the house.
"That's how I'm trying to be, just trying to be relaxed, but always working."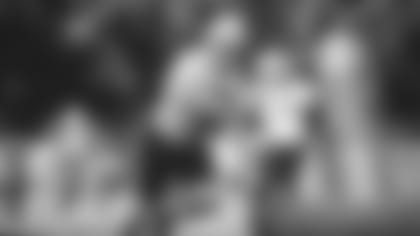 As typical a blue-collar Midwestern story as that might sound like, there's nothing typical about the way he was raised.
His father, Dariusz Panasiuk, came to America from Poland when he was 17. His mother Jolanta moved here in 1992, with only one aunt in the country. They grew up in nearby towns in Poland, but met at a wedding in Chicago, and eventually married, settled down in Roselle, Ill. and had three boys.
Mike was the first, and the biggest. Doctors told his parents when he was born, he looked like a Chicago Bear already. He was so big that he couldn't play football until he was in eighth grade because he was beyond the size limitations of the youth leagues.
But beyond his physical stature, Mike Panasiuk had to grow up fast.
His parents speak English, but it's the second language in the Panasiuk house. At home, everyone still speaks Polish when they gather together. Being a natural-born American, albeit a young one, Mike quickly became the family's translator.
"Growing up, it was always me dealing with the bills," he said. "But if there was a question, or somebody called, I would be the one going in the place and asking the questions. They didn't know English that well."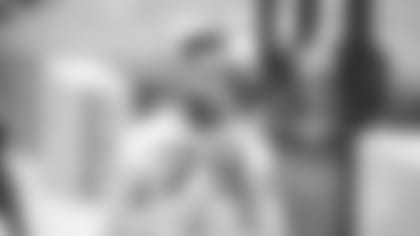 What they did know was work. Dariusz is a mechanic, unafraid of a hard day. Jolanta manages the bakery at a grocery store.
It wasn't easy for them to provide for three growing boys, but the oldest was always willing to pick up the burden for the family.
"I always say I am very proud of him — he is my rock, he is my hero," Jolanta Panasiuk said, her accent strong, but message clear. "Mike was always the first, the first one to go to school, the first communion, the first to graduate.
"He has always been like a grown-up man, even when he was a little boy. He has always been very focused, and would work and help others. I am very proud of him."
His willingness to punch the clock seems natural, after seeing his father come home with grease on his hands, his mom dusted with flour. As long as he can remember, the hours they put in to provide for the boys defined them.
"They came here when they were 18, and their whole lives they've been working their butts off," Mike said. "That's the work ethic me and my brothers have is to always work, and whatever you want will come your way. They're constantly working.
"They came here from basically nothing. My parents came to America; they didn't know a bit of English when they got here. Hearing their stories, and the way they come about since they were little, and what they had to go through — now when I look at my life, anything good that comes my way, can be accomplished."
That big, strong oldest boy quickly became a football player, and impressed with his prodigious strength. He grew to 6-foot-3 and 285 pounds in high school, and was the kind of game-wrecking defensive lineman who quickly drew the attention of colleges. At one recruiting event before he went to Michigan State, he bench-pressed 185 pounds a ridiculous 43 times.
He played in every game as a freshman, moving into the starting lineup for the Spartans by the end of the season. By his senior year, he was named the team's most valuable defensive lineman, and capped his college career in style. In the Pinstripe Bowl against Wake Forest, he picked off a pass that was tipped by his brother Jacub, a defensive end there. Mike would return it 14 yards, diving into the end zone for a big-man touchdown.
He went to camp with the Raiders last year, but was released in final cuts. The Panthers brought him in to the practice squad, and he was eager to do whatever was asked. But he always did it with his stomach exposed, even as the months grew colder, his own tribute to the way his father worked.
The Panthers asked him to switch sides of the ball this offseason, and he happily accepted. He played some center when he was in eighth grade, but the challenge to play a new position didn't faze him.
"Different coaches have said I might have a better chance of success as an offensive lineman," he said. "I first started playing as a center in eighth grade. That's where it all started. But when I got to high school, it was strictly defense. I was dominating, so that's where I was going to play at that time. That's just the kind of guy I am. If you need me to play fullback I will if you ask me to. Whatever you ask, I'll try to do and do the best I can.
"Now I'm at the next level and have this opportunity; I was like you might as well take it now, because this is pretty much it. Football's not going to last long."
Panasiuk works that way because that's what he knows. Though he's been playing offense all offseason, the Panthers ran short on defensive linemen late in one practice this week. He jumped at the chance to go back to fill in on defense, and the equipment staff had to scramble to find a penny to cover his jersey to prevent confusion, as the offense wears white in practice and the defense blue.
But that was typical of his attitude. Showing up early. Staying late after practice to run sprints alongside first-round pick Derrick Brown. Every day. Working. Knowing that's all that's in his control.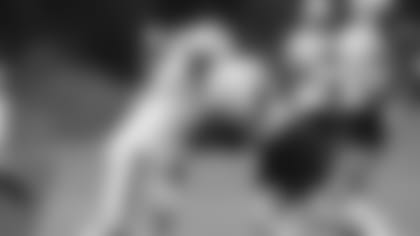 There's no guarantee that when roster cuts start next week, his name won't be called. That's the truth for every player working with the second and third strings in training camp. Especially when they change your position, coaches are often looking for a way you can contribute because they like some particular quality you have. But that's not going to change Panasiuk's approach.
"It's been fun," Panasiuk said of making the switch to offense this season. "You just have to enjoy the process and wait for the final results. I'm going to keep going and keep working at it, and whatever's coming my way is coming my way.
"I'm a guy that's going to come in every day, bringing my hard hat and lunch pail, and get after it."
The hard road does not scare Mike Panasiuk, because he's already seen where it could lead.
Directly to the American dream.