CHARLOTTE — Carolina's Week 4 matchup against Arizona should feel a little more like football, as Bank of America Stadium is set to host fans for the first time in 2020.
North Carolina's crowd restrictions of seven percent mean the Panthers will be able to host just over 5,200 fans until further notice. Tickets for Sunday's game are available at Ticketmaster.com.
When fans enter the stadium on Sunday, the venue will look different in order to keep everyone safe during the COVID-19 pandemic.
On Tuesday, team officials gave a tour of the stadium to display the changes and give a better sense of what fans need to know.
The Panthers have been working since the pandemic upended everyday life in March to craft a comprehensive health and safety plan that can keep the gameday experience enjoyable for everyone.
"What's really important is that we all comply with the rules," Panthers director of security and infection control officer Eddie Levins said. "You've got to keep your mask on."
That starts at the gate. Fans will enter through two gates: the North Gate on Graham St. and the Lowes Gate on Mint St. Fans' mobile tickets will indicate the proper gate for entry. Mint St. will be closed to allow fans to safely socially distance while waiting in line.
Everyone must wear a face covering and must keep their face covering on at all times when inside the venue, unless actively eating or drinking. Fans will be asked to put on their mask as soon as they step in line.
"We're going to have to enforce that rule," Levins said. "It's very important for everybody to feel safe being here. That's a critical part of the process."
The Panthers' partners at Honeywell will have disposable personal protective equipment packs available for those who need them. Those packs will include a mask, hand sanitizer, and sanitizing wipes.
At the gate, each fan will receiver a temperature check. If an individual's temperature is above 100.4 degrees, they will be asked to step aside to be evaluated by personnel. If the issue cannot be resolved, the fan will not be allowed in the building.
Mobile ticketing is also required and the NFL Clear Bag Policy remains in place. Fans are strongly encouraged to limit what they bring. As a change for this season, fans will hold metal materials like their keys, phone, and wallet in their hands while walking through the metal detector to cut down on contact with security personnel.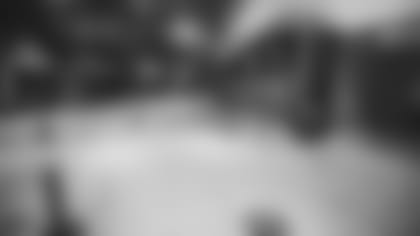 MAKING YOUR WAY AROUND THE STADIUM
Once in the stadium, fans will notice that concourse traffic has been separated into two one-way lanes. All traffic flows to the right when entering the venue and there are U-turn areas available. Carolina used computer modeling software to determine the proper layout for fans to make their way around the concourses.
Fans will see signs encouraging physical distancing throughout the building with signs and markings, including in restrooms where some toilets and sinks have been covered. Carolina's instituted additional cleaning and sanitization procedures, with more staff wiping down high-touch areas throughout the game.
To access the upper levels, fans will use ramps and escalators instead of elevators. Those will be reserved for ADA use only.
Honeywell has installed and will operate air-quality monitoring systems. And XENEX UV sanitizing robots are being used to quickly and effectively disinfect areas throughout the stadium.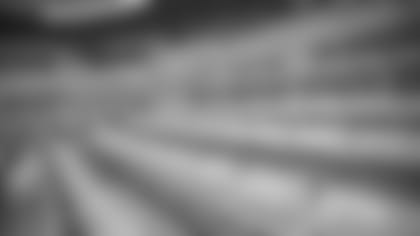 Fans will be seated in a physically-distant manner arranged in a pod system. Each pod is constituted of one to five people so that trusted friends and family may sit together. These pods are sparred from one another by at least two seats in a section, and every other row is empty to allow for easier exit paths. Seats that are not in use will be blocked off with a black zip tie. Fans are also placed in alternating aisle seats so that no one is directly across from someone else.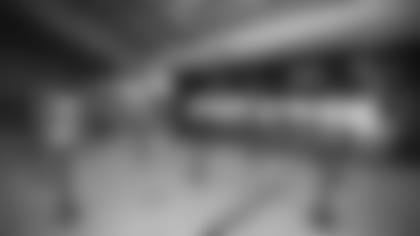 CONCESSIONS AND MERCHANDISE
Concessions will look different in the concourses with a focus on health and safety. But fans will still have multiple options on gameday thanks to the Panthers new partner, Levy Restaurants.
"Levy is extremely excited to be in our first year here partnering with the Panthers," said Travis Tucker, Levy director of operations. "Obviously, while our focus is on safety and health, we also expect to see some simple touches and elevated experiences with food and beverages."
Entrée offerings will include hot dogs, Panthers burgers, and pulled pork sandwiches. The menu is limited in order to streamline the process and emphasize safety. There will be no self-service, and all food will come in enclosed packaging.
There will be a pre-paid, pre-order option for $15, with a $20 average savings. The deadline to pre-order for Sunday's game against the Cardinals is Friday at 5 p.m. ET. Fans will get an entrée, chips, candy, water, and a fountain soda with their purchase that can be picked up at four locations on the 100 level.
All purchases will be cashless to create the least amount of friction possible. Fans may make their purchases though the Panthers app or using credit cards, debit cards, or touch-free payments. Mobile ordering is available at select concession stands through the Panthers app.
The team store will be open for ticketed fans on gameday who would like to stock up on the latest Panthers gear. The shop has been reconfigured so that fans can head in one direction from the entrance to the register. Transactions will be cashless and contactless for the health and safety of staff and fans.