CHARLOTTE – General manager Dave Gettleman believes in making a team's strengths stronger.
Carolina did just that in the second round of the NFL Draft, adding Missouri defensive end Kony Ealy to a front four that was among the most dominant units in the league last year.
"It's a special group, and I'm going to try to learn as much as I can," Ealy said. "I had a great workout with (defensive line) coach Eric Washington and got a good feel for what the things they like to do with their defensive line. I can't wait to be a part of that."
The Panthers led the NFL with 60 sacks last season, keyed by defensive ends Greg Hardy and Charles Johnson. Both are back, along with the rest of Carolina's defensive front, but that doesn't mean there isn't room for Ealy, who many believed would be a first-round pick but was still available at No. 60.
"I was shocked he was there," Gettleman said. "We had a first-round value on Kony. He was the highest-rated guy on the board at that point.
"He has a lot of potential. When I watched the tape on him, I felt like I was looking at a young Osi Umenyiora. He's got that kind of athletic ability."
In addition to Ealy's obvious ability – the 6-4, 273-pounder was a first-team All-Southeastern Conference selection last season – Panthers head coach Ron Rivera likes that Ealy can be on the field with Hardy and Johnson.
"The biggest thing I like about Kony Ealy is his versatility," Rivera said. "He plays both inside and outside, and he can play both left side and right side and rush equally as well. And we like to move our defensive ends around."
Added Gettleman: "The thing he can do that's unusual is he can go inside and play the three-technique, and he's a legitimate pass rusher from there. He's not afraid of the big boys."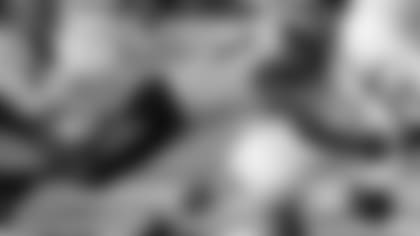 Ealy also isn't afraid of criticism or competition. He said he's been working with Chuck Smith, a former All-Pro defensive end who spent his final NFL season with the Panthers in 2000, to improve his footwork and hand and body placement, a process he'll continue in Carolina.
"I want to elevate my game, and I want to continue to do that when I get there by learning from older guys that are already established so I can be an impact player," said Ealy, who had 9.5 sacks and 14.5 tackles for loss last season. "They feel like they can utilize me in the middle and play me at end. Whatever they want me to do, I'll do.
"In the middle, if I'm playing the three-technique, I'm able to take on a double-team, and on the outside I can use my speed and power and try to get in the quarterback's head."
Ealy was one of 30 players that accepted invitations to attend the draft and was one of four still waiting to be selected when he finally heard his name.
He said it was worth the wait.
"It was long, and it was hard, but I had a support staff around me," Ealy said. "Everybody did a great job of making sure I'd be able to withstand it.
"I'm extremely excited. I'm truly blessed."