CHARLOTTE – It seemed to take forever for the first round of the 2014 NFL Draft to weave its way to the Carolina Panthers.
Once it finally did, it took barely any time for the Panthers to make their pick.
Without a hint of hesitation, Carolina selected Florida State wide receiver Kelvin Benjamin with the 28th overall pick, landing a physically imposing receiver with traits that can't be taught.
"You can't coach 6-5, 240, 34-inch arms and 10-inch hands. You can't coach that," general manager Dave Gettleman said. "This guy has unusual ball skills and what we call a very big strike zone.
"We looked at every tape of this kid, at every ball he caught, at every ball thrown to him. We felt very strongly that he was a first-round talent."
Benjamin was a beast for the Seminoles as a redshirt sophomore this past season, a matchup nightmare who scored 15 touchdowns and became the program's first 1,000-yard receiver since Anquan Boldin in 2002. He capped his breakout season by going up and coming down with a 2-yard touchdown reception with 13 seconds left to give the Seminoles a 34-31 victory over Auburn in the BCS National Championship.
When the Panthers brought Benjamin in for a pre-draft visit, head coach Ron Rivera realized the play revealed even more about Benjamin than what was obvious on film.
"I asked him if he knew he was going to catch it. He said, 'Yes. I wasn't going to let the quarterback down. Throw it to me, and I'll catch it,' " Rivera said. "I love that confidence. I also loved that he had his quarterback's back."
Benjamin will be paired with a quarterback not lacking in confidence in Cam Newton, who led Auburn to the national title following the 2010 season before the Panthers made him the No. 1 overall pick.
"I've always dreamed of playing with Cam," Benjamin said. "I've never met him in person, but you can just tell he loves to win, loves to compete. That's all you can ask from a football player.
"We've just got to get that connection down and work as a team and grind together and build that relationship between a receiver and a quarterback."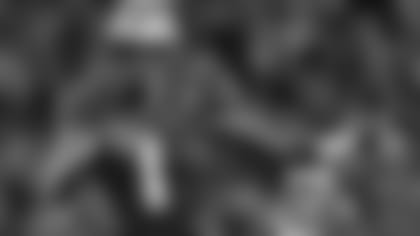 The Panthers, after parting ways with their top four wide receivers from last season, knew they'd target the position at some point in the draft, which continues Friday with the second and third rounds. With Benjamin on the board, Carolina struck quickly – but not just because he was a receiver they could pair with veterans Jerricho Cotchery, Jason Avant and Tiquan Underwood.
"He was the highest rated guy on our board," Gettleman said. "Like last year, value matched need."
Benjamin readily admitted he's "got a lot improving to do, a lot to learn." But in addition to physical characteristics that can't be taught, he struck the Panthers as teachable.
On Benjamin's visit to Charlotte, wide receivers coach Ricky Proehl talked Xs and Os with him before lunch, then reviewed their session after lunch. Gettleman said Benjamin's football instincts shone through.
"When we brought him in and had an opportunity to sit down and visit, I was really taken by who he is in terms of a young man," Rivera said. "He was very direct, very forward about what he wanted to accomplish. And it really wasn't about him; it was about us. That's what really impressed me."
Benjamin is the Panthers' third consecutive first-round pick who was not in New York for the draft. Like linebacker Luke Kuechly in 2012 and defensive tackle Star Lotulelei in 2013, Benjamin watched the draft with his family at home in Poinciana, Fla.
"I'm a humble guy. I'm not really a red carpet type of guy," Benjamin said. "I just really wanted everybody in my family to experience this.
"I had butterflies. I was nervous, but I had fun."
The fun, the Panthers believe, is only beginning.
"He's got a lot of upside," Gettleman said. "He's got a legitimate chance to be a No. 1 (wide receiver). He's a red zone threat right now. The other team will not be able to have eight guys in the box.
"We got fortunate. Jerricho and Jason are going to take him under their wing and help guide him along."