CHARLOTTE – Head coach Ron Rivera got an earful from his quarterback during the pre-draft process, but the Panthers' first-round selection left Cam Newton speechless save for two simple words.
"Yes, I heard from him," Rivera said when asked about Newton after the Panthers used the 24th pick in the 2018 NFL Draft on Maryland wide receiver DJ Moore. "It was cool to see him react the way he did.
"We had a great time going through this process. Cam was just constantly needling us. … Cam stays up on all this stuff, and he came to us with all the offensive guys."
To be sure, Newton got an offensive weapon to add to the huddle in Moore – the first receiver chosen in the draft.
"He's just one of those guys that you just look at and say, 'Boy, is he a good football player,' " general manager Marty Hurney said. "He's got the traits we're looking for.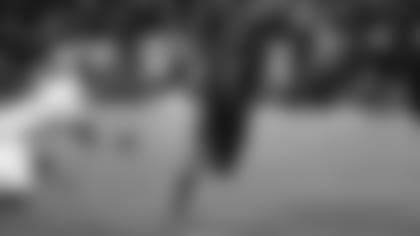 "The trait that stands out probably the most of all his strengths is his ability to run after the catch. When he has the ball in his hands, he turns into a running back. He breaks tackles and big plays, and he still has the ability to stretch the defense and go deep and run good routes. He's got a lot of strengths as a receiver."
So many strengths, in fact, that the Panthers were skeptical that Moore would last until they were on the clock. The last time a receiver wasn't selected before pick No. 24 was 2008, when no receivers were taken in the first round. Over the nine drafts since, an average of three receivers had been taken before the 24th slot.
"He was one of the guys that we really didn't think was going to get to us but he did, and we feel lucky that he did," Hurney said. "When D.J. was there, we were excited, very excited.
"We said that we wanted to add speed. We wanted to add athleticism and we wanted to add weapons, and he was there."
View photos during his time at Maryland and at the NFL Scouting Combine.