FOXBORO, Mass. – As far as dress rehearsals go, this one had mixed results for the Panthers' starters against New England.
It was the first and last time the full starting lineups on both sides of the ball got some game action before the Los Angeles Rams come to Charlotte to open the regular season.
Quarterback Cam Newton, running back Christian McCaffrey and tight end Greg Olsen had yet to play in the preseason prior to Thursday's game at Gillette Stadium. Defensively, linebackers Luke Kuechly and Shaq Thompson were in the same boat.
Here's a closer look at the offensive and defensive performances from the 10-3 loss to the Patriots.
The first series of the game came and went quickly. McCaffrey rushed twice without much push up front before Newton completed a short pass to wide receiver DJ Moore for three yards on third-and-7.
It was another three-and-out the next time out. A four-yard pass to Olsen was followed by a sack. Linebacker Kyle Van Noy came flying off the edge and rammed into Newton. McCaffrey took a delayed handoff for 13 yards on third-and-15.
The third series would prove to be the last for Newton, McCaffrey and Olsen. It started well with a 13-yard pass to wide receiver Curtis Samuel and a 10-yard completion to McCaffrey. Then came two straight incompletions, and on third-and-8, Newton danced around the rush trying to keep the play alive before going down for another sack. He proceeded to limp off the field with a foot injury that had him in a boot postgame.
Their own 31-yard line was the furthest Newton and the first-team offense advanced the ball in three possessions. That's not exactly how they wanted this to go.
"There's a fine balance between understanding what we've been working towards and what we're obviously going to do in preseason games are very different," Olsen said. "But at the same time, there is no magic wand that, 'OK, this is a real game against the Rams, let's go be good.' You've got to learn to be good at all times, whether it's practice, whether it's the second game, the first game, the third preseason game – it doesn't matter…
"There's a process about being good, and we've got to be better at that."
The next two possessions weren't any better for quarterback Kyle Allen, who got a chance to work behind the starting offensive line. It was two more three-and-outs, with defensive lineman Michael Bennett coming straight through the middle to sack Allen on the second third down.
"The disappointment was really what happened up front," head coach Ron Rivera said. "You know, I thought those guys played well the first couple weeks and did some good things. All the sudden, we made too many mistakes to give ourselves a chance.
"It's unfortunate. It happened early in the game and then it happened a couple other times."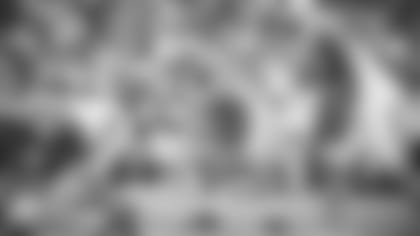 Carolina's defense was very much looking forward to this test against legendary quarterback Tom Brady.
And the Panthers got off to a solid start, forcing a quick three-and-out. The next series resulted in another New England punt, due in part to a holding penalty that took away a 30-yard run by Sony Michel.
"They busted one big run on us that got called back," Kuechly said. "We have to tighten some things up."
New England's third possession was a lengthy one that ended with the game's only touchdown. It was a 15-play, 85-yard drive that took 8:21 off the clock. Brady threaded a beautiful ball to tight end Ryan Izzo down the seam for 18 yards, setting up first-and-goal. Fullback James Develin later powered into the end zone for a 1-yard score.
"I thought there were some really good things. I was happy with the things we did up front initially," Rivera said of the defensive effort. "Tom Brady, he is tremendous, and he made some really good throws."
Short, a veteran leader on the defense, gave the first-team unit an 'F' for their performance against the Bills last week.
This week? Better. But not close to where they ultimately want to be.
"I feel like we have a lot of work to do still," Short said. "We're trying to be the best in the league. We need to come out with the intensity, better communication and just making tackles. Those are our biggest things right now."
View in-game photos from Carolina's preseason game at New England.