CHARLOTTE – This just in — Aaron Rodgers is good at football.
That's a clear and present challenge for the Panthers' secondary Saturday night, but he also serves as a possible teaching tool for a young secondary that's still developing.
Panthers coach Matt Rhule sort of laughed this week when the Packers quarterback came up in conversation, and rattled off a laundry list of things he was great at.
"The things he can do on the football field are fantastic," Rhule said of Rodgers. "He's got an amazing arm, elite pocket movement, unbelievable feel for the game situationally. Smart, if you try to sub, he'll get you with 12 men on the field. I mean, everything you do, he puts you under duress. . . .
"Aaron Rodgers, I think he's got elite arm strength. He can throw the ball way down the field," Rhule continued, stacking up all the qualities higher and higher. "Unbelievably accurate down the field. He can buy time for guys to get down the field with his elite pocket movement and running around. And he's also a master of the little things — his snap count, his keeping defenses from substituting.
"He's a fantastic player with his arms, his legs, and his mind. That to me is the trifecta when it comes to a quarterback."
And all those things are true, but the things he brings to teams are often best seen up close, and the Panthers have a guy who had one of the best views for the last nine years.
Defensive passing game coordinator/secondary coach Jason Simmons, who came from the Packers this offseason, said he picked up things from Rodgers every day that he's passing along now.
"Working against him in practice was one of the best learning experiences for me," Simmons said this week. "The thing about Aaron is, he's humble enough to give you information and things he's seen. If there were things we were doing as a secondary that are tells, he'd talk to guys about it, and share that with players, coaches, anyone. . . .
"People always ask what makes him so good, and most people will say the arm talent or the improvisational skills. But his intellect is what sets him apart. Even in practice, he'd see someone's mannerisms, and say 'You're not going to blitz here, because that's not what you usually do when you're going to blitz.' He understands every facet of the game."
Along those lines, Simmons said he didn't feel like the young corners the Panthers are playing now are particularly targets, because Rodgers is able to see beyond personnel.
"He's able to expose any weaknesses you have, whether it's scheme, game-plan, or personnel, so it's not like he's just out there looking for rookies," Simmons said. "That informs what you try to do against him, you can't give him any pre-snap indications, or he'll know what's up.
"He's too good to pitch batting-practice to him. You have to do everything you can to make sure you're not showing him something you haven't shown before."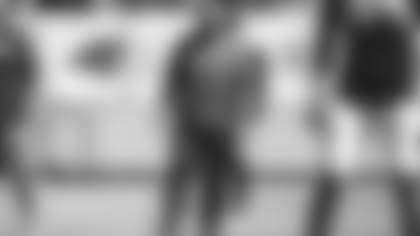 With drafted rookies Troy Pride Jr. and Stantley Thomas-Oliver III in the early stages of their NFL educations, along with a number of other young players the Panthers have been breaking in this year, that makes this game a particular chance to learn.
Simmons said he's been impressed by the group as a whole, saying they've progressed to the point of being functional NFL defensive backs. Now they have to take the next step to become the kinds of players who "be effective and can affect games."
"For us, when we're trying to develop a defensive back, we have to teach them about NFL offense," Simmons said. "We work with these guys to understand how offenses attack you and try to improve their football IQs. Once they start to understand what it takes to play against a top-five quarterback or someone at a high level, then you can start building on that and converting it to what we do. The goal is to get them to be instinctive enough to what we call 'play in a straight line,' so there's no wasted movement.
"It's a really tough thing to learn. I think the only thing tougher than learning to play defensive back in this league for a rookie is playing quarterback. There are so many things they have to see. You can talk it, you can chalk it, but ultimately, for those guys to improve, they have to see it."
And Saturday night, they have a chance to see and to learn from one of the best.