The Panthers' offensive line coach is one of the few on staff who didn't share a previous stop with head coach Matt Rhule. In fact, the only coach Meyer really knew before coming to Carolina was defensive line coach Mike Phair, who worked with Meyer in 2013 when they were each with the Bears.
"I'd bumped into them before at the Combine or something like that, but never really knew them in terms of being friends with them," Meyer said of his Panthers' colleagues.
After just a few weeks working together in-person, Meyer and Co. were forced out of the building by the COVID-19 pandemic. Since then, they've had to connect via Microsoft Teams.
"It's a unique situation," Meyer said. "I've always been places where I've either known someone, or known the head coach, or have been in tight with someone at the organization."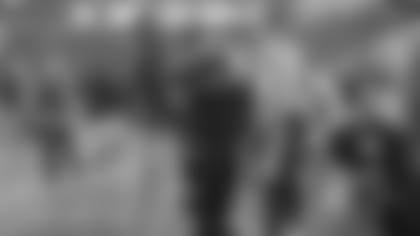 Meyer spent the past three seasons as the Chargers' offensive line coach after sharing two years with head coach Anthony Lynn with the Bills. In Buffalo, Meyer was a football operations consultant before transitioning to an assistant offensive coach. Before that, he moved up to the NFL with the Bears in 2013, first as an assistant offensive line coach before taking over the full duties a year later. That was during Marc Trestman's tenure as Chicago's head coach, and after Meyer spent 2012 on Trestman's staff with the CFL's Montreal Alouettes as the offensive coordinator and O-line coach.
Before moving up north, Meyer began coaching offensive linemen during four seasons at his alma mater, Colorado State. But Meyer initially broke into the business as a strength and conditioning coach, first at Memphis (1999) and then at NC State (2000-06) and Florida State (2007).
"I think that's helped me as much as anything because you're handling large groups and you're figuring out what buttons you can push with certain kids, and how to handle one guy differently than another guy," Meyer said. 
"I really think that leadership-wise and being in front of the group, having to make them believe that what we're doing is the best — I think a lot of that helped me as I went into coaching on the field. I truly believe that's a big part of how I still coach."
But for Meyer, there's nothing like coaching the offensive line. While growing up outside Youngstown, Ohio, he was a five-sport athlete — football, wrestling, basketball, baseball, and track. Yet his true love was being part of the five up front.
"I played the position for years," Meyer said. "It's a different sport than football; it's a whole different sport. We're a part of the football game, but in fantasy football, you're not picking linemen.
"I could go on and say it's the most technical (position) and this and that, and somebody else could argue something else. But I think just the way that the guys are and how they approach loving the game, loving to compete, that's what I get the most out of."
While Meyer may not have known his fellow staff members, the Panthers did bring in three players he'd worked with at previous stops. Carolina traded for veteran left tackle Russell Okung and signed free agent guards John Miller and Michael Schofield. Meyer coached Miller in Buffalo, while Schofield and Okung were with Meyer in Los Angeles.
"It makes it a little bit easier for me, especially during these times," Meyer said.
He then described being in video conferences during the virtual offseason program with 17 linemen on his screen and admitted he's only met about 10 of them. So Meyer would show a play, describe the technique, and then let Okung chime in to explain it differently, increasing everyone's understanding.
"It's nice when I'm saying something and having somebody like Russell, who's played for a long time and a true pro," Meyer said. "They learn from each other, and I learn from them."
It's been helpful for Okung, too. The left tackle credited Meyer for much of his improvement over the past few seasons.
"My first day with Pat, I sat down with him — I'd come from the Denver Broncos — and I said, 'Pat here are my issues, my problems, my things that I need to work on as a football player,'" Okung recalled. "And honestly, I think after the conversation, we both made a commitment that he was going to do his best to ensure that I'd be an impactful player.
"That was actually my eighth year, so to see the gains after that has been amazing."
As the Panthers get ready for training camp, Meyer will oversee one of the more intriguing position battles at guard. Because Carolina's staff hasn't seen the unit work together, there is a lot to be determined from the competition. Meyer mentioned Miller, Schofield, Dennis Daley, Chris Reed, and Tyler Larsen as players who could end up on the interior.
"We've got several guys that are going to be competing for a starting spot and that's a great thing," Meyer said. "You want that competition because that's going to bring the best out of everybody."
If there's a silver lining to having so much competition, Meyer feels like the Panthers will have solid depth, something vital for the offensive line.
"I don't know if I've ever, maybe one time, gone through a season where guys didn't get hurt up front," Meyer said. "So you're going to have quality, quality backups, which is — it's kind of weird to say — but that's key because a lot of times you really don't."
Identifying the best fits for all those roles will be a significant task in a shortened evaluation period once training camp begins. Like with his new colleagues, Meyer will have to get to know his players and establish professional chemistry quickly.
Still, he's looking forward to starting this new chapter in his career.
"I like it, to be honest," Meyer said. "It's a fresh start."