CHARLOTTE — If Phil Snow hadn't listened to Dick Jauron in 2005, he wouldn't have beaten a man half his age in a push-up contest this summer.
Then again, if Phil Snow hadn't listened to every football coach and player he's ever encountered from the high school level to the NFL, he wouldn't have the kind of encyclopedic knowledge of the game that the Panthers are leaning on right now.
The 65-year-old defensive coordinator is at the top of his game at the moment, pushing the buttons for the league's top-ranked defense — which is not the same as one he's content with. And as he leads the Panthers in his own style, he's building a following that expands as they realize how smart, how direct — and how strong — he actually is.
Even if trivialities like birthdays or the internet slip his mind completely.
Panthers head coach Matt Rhule coached with Snow one year as a graduate assistant in 2001 at UCLA. And after a year of fetching coffee for the veteran defensive coach, Rhule decided if he ever got a head coaching job, Snow was coming along. So Snow has followed, from Temple to Baylor to Carolina, helping Rhule turn teams around with defenses that improve quickly.
"Phil's the best football coach I've ever been around," Rhule said. "I said that way back at UCLA in 2001, I said it last year and I say it now."
When he was asked about that endorsement, Snow kind of aw-shucksed it, with a touch of a drawl that allows him to fit in in the South, despite being born and living most of his life on the West Coast.
"Well, I got Matt when he was a younger coach, and we worked together at UCLA, and we had a special defense that year. He worked one year with me there," Snow began. "At some point, something left an impression on him. I mean, when somebody says that, that's gratifying. One of the younger guys you've worked with, to see how far he's come, to hear him talk about you that way, that's kind of special.
"We've had a good eight years working together. It's been fun."
Never mind the fact that if you count this year, it's nine. And if you count the UCLA year, it's 10. But such details aren't important, not during football season. Not to Snow, who buries himself in his work.
"I can't confirm or deny that he hasn't forgotten his wife's birthday. Or his own birthday," Panthers linebackers coach Mike Siravo said. "There are different levels of distractions in life. He's not going to be distracted when it's time to work.
"He doesn't have hobbies. He doesn't have internet access. He doesn't watch the news. The level of time he puts in and the commitment is amazing."
Or as cornerbacks coach Evan Cooper said: "Man, coach Snow doesn't watch TV, he doesn't watch movies, he doesn't sing songs. He's just football."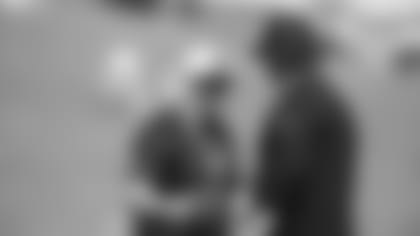 Rhule mentioned that last week, noting that immediately after the win over the Saints, Snow quickly cleaned up and grabbed a sandwich, and headed back upstairs to his office to prepare for the short-week game against the Texans. When Rhule came in early Monday morning to continue those preparations, he had to remind Snow to go back downstairs to take his COVID-19 test, because it was obvious he hadn't left his office all night.
That's not necessarily a surprise.
Siravo said when they were at Temple, Snow was famous for grabbing a couple of couch cushions from the lobby — he didn't have a whole couch in his office — and finding a spot for a few Zs when the situation called for extra work.
"It never really mattered where I sleep," Snow said with a laugh. "After the Saints game, I showered and went up and started working on Houston. In a short week, you have to do that. Maybe I'm not smart enough. I need that time, to spend that time."
Confirming Siravo's story about the appropriated furniture, Snow said he was never picky.
"Just the regular couches that were in the building, I'd go steal the cushions and sleep on them, whatever's available," he said. "Here's the deal though, I'd get up earlier than everyone else, so the cushions were put away by the time they got to work. They didn't know that."