SPARTANBURG, S.C. – When Greg Olsen approached campus among the final arrivals at Panthers training camp Wednesday, his drive time from Charlotte having been more than doubled because of an accident on the interstate, the media was there to track his every move.
Cameras clicked as Olsen lugged his luggage into the Wofford College dorm room that he'll call home for nearly three weeks, then recording devices whirred as Olsen addressed the media.
Moments earlier, in front of a building directly behind the players' domain, Olsen's new offensive coordinator checked into his dorm with all but two interns oblivious to his arrival. Football notebooks in hand, Norv Turner still managed to reach out and ask for a fist bump.
"It's a place to sleep. That's about all you can get out of it," Turner said of dorm life. "But I'm excited about training camp."
Olsen, too, is excited about camp, or at least what camp represents and what eventually comes from the sweat, the meetings, the sweat, the meals and little moments shared with teammates, and the sweat.
"It's mixed emotions. Coming down here and leaving your family is obviously tough, and it gets harder as the years go on," said Olsen, who is entering his 12th NFL season and who first stepped foot on the Wofford campus the day after being traded from the Bears back in 2011. "But once you get down here and you get into a rhythm, it's something I still enjoy doing.
"It's fun being around the guys, fun getting everybody back and ready for a new season. I still enjoy playing, still enjoy the preparation that goes into it."
Olsen was asked if he still enjoys preparing for the season so many miles from home. With David Tepper recently assuming ownership of the team and openly discussing his desire to improve the practice setting for the Panthers, it's fair to ask if Wofford – the domain of former team owner Jerry Richardson – will remain the training camp home for Carolina.
"Obviously we don't know about that stuff more than anybody else does," Olsen said. "I think more so than just a couple of weeks of training camp, I think having a facility with indoor (practice fields) and some of the other things that other teams around the league have for during the season would be to me a bigger deal.
"Having somewhere to practice inside would be great, but I don't know a whole lot about any specifics. We've done just fine with what we've had, and if we can get improvements, that would be great."
Tepper also said at his introductory press conference that he views "this as the Carolina Panthers in both states."
Another Panther who arrived at Wofford under the radar Wednesday certainly appreciates the importance of South Carolina to the equation. Travelle Wharton, in his first season as assistant offensive line coach, played nine of his 10 NFL seasons for the Panthers. The South Carolina native also played for the Gamecocks of South Carolina, and as a kid tuned into the Wofford coach's show every fall Sunday morning while getting ready for church.
"I couldn't have imagined this as a kid," Wharton said. "You just try to work hard to put yourself in position, and for it to actually come true is crazy. I'm only 25 minutes from my house. My whole career I've been really fortunate to play close and represent home."
Wharton is excited about the coaching opportunity, saying he's moved up in the world by moving down a level in the coaches' dorm. Last year, as a coaching intern, he had to ascend stairs to get to his room.
Wharton's last season as a player was 2013, so he knows all about the fanfare that awaited current players at their dorm Wednesday. He doesn't actually have that much firsthand knowledge, though.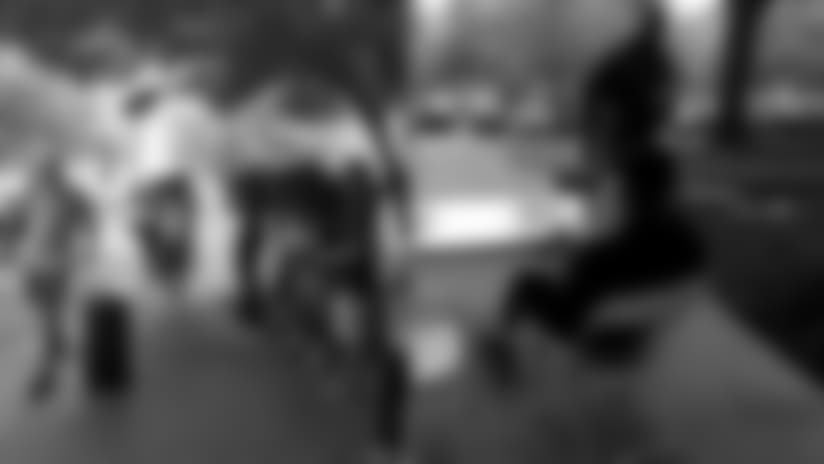 "It's been the same for me because Jordan Gross and me used to ride down together, and we'd go through the back anyway," Wharton said. "But it is different being on this side. You just come right in and go to work."
At the end of the day, that's what it's all about – the work. Whether camp is at Wofford or whether you're swarmed by media or not, it's about putting in the work toward the NFL's ultimate goal.
"We want to win a Super Bowl. That's every team's goal, and that's what we have our eyes on," running back Christian McCaffrey said. "We have the guys; we have the talent; we have the leadership; we have some unbelievable coaches. We're excited, but we'll take it day by day and really focus on what it takes to get there."