CHARLOTTE – Rashaan Gaulden desperately wants to make an impact.
The 24-year-old defensive back plays with so much energy, it sometimes looks as if he's about to pop when he's on the field.
"I view my game as infectious. I feel like guys feed off my energy. I try to bring that energy every time I step on the pitch," said Gaulden, a passionate soccer fan who likes to throw out 'pitch' every now and then – but that's neither here nor there.
What we're here to discuss is Gaulden's role in 2019. And it's going to be an important one.
The former third-round pick entered camp as the first-team safety alongside veteran Eric Reid. Then the Panthers signed experienced safety Tre Boston midway through camp, reuniting with the former fourth-round pick who spent his first three seasons in Carolina. And that decision obviously impacted Gaulden.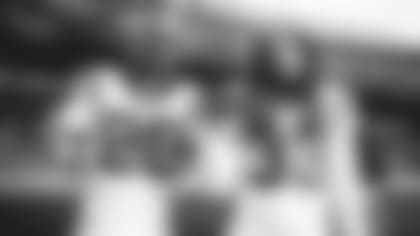 With Reid entrenched, there's only room for one additional starter at safety. And Boston signed intent on being that guy.
"Obviously I want to be a starting safety, selfishly," Gaulden said.
So you can understand the frustration. But it comes from a good place.
For what it's worth, Gaulden and Boston have seemingly hit it off. From the moment Boston arrived, they've been chatty on the sidelines, going over concepts and helping each other in between plays.
"He wants to help us, bottom line," said safeties coach Richard Rodgers. "He's all-in in that regard. I know it's not easy when guys get signed and that stuff, but he just wants to make plays and help us win."
Gaulden will get an opportunity to do that. A big opportunity.
The Panthers are very intrigued with what the 6-foot, 200-pounder has shown as the "big" nickel – a slot defender who can match up against bigger receivers.
"I have to take that role. I'm going to do the best I can at that big nickel," Gaulden said. "I'm going to keep making plays, and you never know, maybe they'll want that big nickel in the game a lot more than we ran it last year."
During training camp, head coach Ron Rivera indicated Gaulden's role would be significant despite Boston's arrival.
"We think that (big nickel) is going to truly suit him very well," Rivera said. "He's got a role, definitely."
The Panthers have an ongoing competition for the "small" nickel role, but Gaulden's unique skill set leaves the door open for him to get some work in that scenario. It's a tough matchup against the shifty little slot receivers, but it's a matchup that works to the Panthers' advantage if the offense tries to run the ball.
Gaulden has also shown a knack for blitzing, which we saw in the preseason opener at Chicago.
"He's got good timing, good explosiveness and he's relentless," Rodgers said of Gaulden's ability to rush the passer. "He's fresh. He's got young legs."
So Gaulden has a lot of tools to work with. But the nickel spot requires a lot of savvy and smarts. There's a lot to interpret before and after the snap. To that end, Gaulden believes he's made strides from his rookie season to Year Two.
"Wanted to see the game better, see the game with more intelligence and I feel like I can see that progression," Gaulden said.
Now he wants everyone else to see it.
"Every time I go out there I'm trying to make plays, trying to communicate," Gaulden said, "trying to look like a man amongst boys."