SPARTANBURG, S.C. – For Richard Rodgers' entire adult football life, save for a fun foray playing wide receiver that included a touchdown catch in Arena Bowl I in 1987, Rodgers has either played or coached in the defensive backfield or on special teams.
For the fourth time in his seven seasons with the Panthers, Rodgers is adjusting to a new role under that umbrella – now charged with leading a unit forecast by many to face some stormy Sundays this fall.
"I'm excited about the job and ready to accept the challenge," said Rodgers, named the Panthers' secondary coach just nine days before the team's first training camp practice. "I know Coach Rivera has faith and trust in me, and when I'm asked to do something, I'm going to get in line and do what's asked of me.
"I appreciate the opportunity. I know I'm ready for it. That's all you can do in life – when opportunities come along, take advantage of them."
Rodgers and Ron Rivera go way back – all the way back to college when they played together at the University of California. Rivera hired Rodgers before his second season as Panthers head coach in 2012 to assist on special teams.
This new role is Rodgers' biggest yet, although it's not that big a departure from what he was doing as an assistant defensive backs coach the past three seasons. But he took on more responsibility when secondary coach Curtis Fuller resigned in early May – three weeks before organized team activities began – sharing duties with second-year assistant Jeff Imamura before being promoted.
"I don't feel like there's a big change," Rodgers said. "Jeff and I, Coach Imamura and I, were working together already. We know we have to pick up the slack and just keep the ship afloat, keep it going.
"It's the same mentality for us that we ask of the players; next man up. We both have a wealth of experience in the secondary, so I think we'll do fine."
Rivera said he viewed Rodgers as his next man up.
"That's what we've tried to do for the most part with our guys," Rivera said. "Eventually the next guy up will be Jeff and we'll go right down the line. Everybody has to earn it, and Richard has been here six years, so this is his opportunity.
"I'm excited. It's one of those things where he's been around a long time, has been a part of what we've been doing the last few years, and it's an opportunity. He's got to take the bull by the horns."
Not everyone is bullish on the secondary that Rodgers has the reigns of. The Panthers tied for 24th in the NFL with just 10 interceptions last season, and the 25 touchdown passes they allowed were 11th most in the league.
"We have to continue to work at it," said Rodgers, who took over as Carolina's special teams coordinator midway through the 2012 season and provided a palpable boost. "I'm a motivator. I feel like I have positive energy, and I think those guys feed off it.
"They're going to do well. They're a good group of guys and they compete against each other. There's a good competition going on."
Rodgers' preferred view at practice is right in the middle of the field. During team periods at training camp, he positions himself midway between the sidelines, about 40 yards beyond the line of scrimmage. He has pen and paper in hand.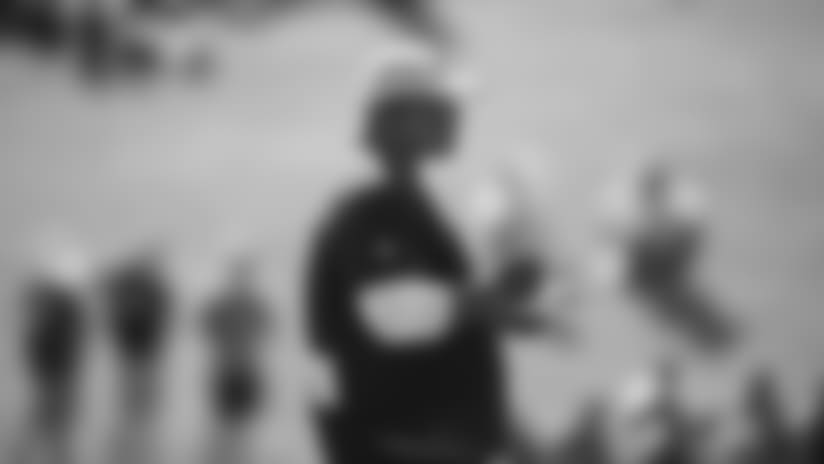 "Mainly I'm keeping up with the script and making sure they know the personnel that are in, but I also get a good visual on the entire package," Rodgers said. "I know what they should be doing and can have some input after the play – kind of like watching film before I get in the office. If something happens that I know I need to remember – because of my age (56) – I write it down.
"When it happens live, you take that mental picture, and then when you get in the meeting room you have that recall it from watching it live. You get to see it twice."
Safety Mike Adams, entering his 15th NFL season, appreciates Rodgers' approach.
"Rock is still Rock, but he has some different teaching techniques," said Adams, beginning his second season with the Panthers. "He's going to do well, but us in the secondary have to make him look good so it's not all on his shoulders. We've got to play well."
Fellow safety Da'Norris Searcy is entering his eighth NFL season but his first with the Panthers and Rodgers.
"He brings a level of experience and intensity," Searcy said. "He's a great teacher, showing us the ropes and how to play different techniques. We're taking it from the classroom to the field, and we're getting better.
"He always challenges us to get three to four turnovers a day, puts pressure on us. That's a good thing."
Some question whether this secondary can get back to racking up takeaways, but Rodgers is a believer. He's putting his faith in an unsettled but deep group – a plethora of players that are hungry as individuals to claim a spot on the field and are driven as a unit to help get the defense quickly off the field.
"We've got a mix of veterans and young guys," Rodgers said. "You've got older guys who naturally think, 'They're trying to get rid of me,' and young guys full of energy but who don't know it as well. It's a good combination, and the guys understand that it's healthy competition and they work together and help each other out.
"We know what our situation is and what the risks and rewards are back there. But we are going to try to make plays on the ball; that's our mentality. We're going to keep that 'Thieves' mentality and go with it."