INDIANAPOLIS – Ron Rivera had been there before. Two years ago, he sat on a panel in Orlando at the inaugural Women's Careers in Football Forum encouraging attendees to break down barriers. They, too, could coach in the NFL one day.
Jennifer King was in that audience, and last summer she became the Panthers' first female coaching intern. It was a gig that was only supposed to run through the late stages of organized team activities and minicamp. But Rivera extended the opportunity through the summer.
"When we got to training camp, you could see the transformation because now her confidence was building," Rivera told attendees Wednesday at the third annual Women's Careers in Football Forum.
"She knew the language, she could speak to the players, and really what was interesting was watching her deal with the young guys - how they gravitated toward her. And I was really pleased about that."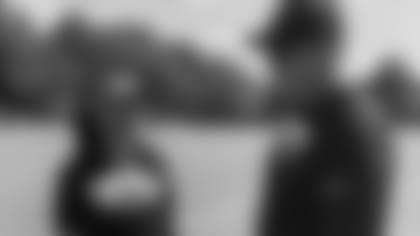 King parlayed her summer with the Panthers into a job in the newly formed Alliance of American Football. Now the assistant wide receivers coach of the Arizona Hotshots, King is in many ways a poster child for why a forum like this exists. It's how she began her connection with Rivera. It's how she got noticed by a sport that has only recently started to open doors that were previously shut.
"This is an untapped source. There's a lot of forward thinkers in this room," Rivera said. "We're in a production-based business. It's all about winning, and we've got to create that opportunity to win. It doesn't matter who you are – if you bring something special to the table and help us, we most certainly want you."
Joining Rivera on Wednesday's panel were three other NFL head coaches: Tampa Bay's Bruce Arians, who with the Cardinals in 2015, hired Jen Welter as the NFL's first female coach; Baltimore's John Harbaugh, whose staff included two female coaches last summer; and Buffalo's Sean McDermott, who had a female coach on staff last season and whose daughter, Madeline, dressed up as a coach last Halloween.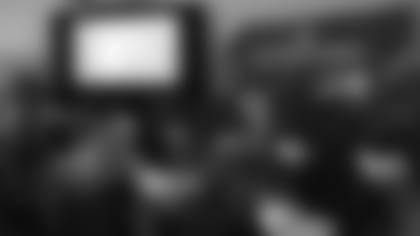 "We're doing things because we think they're right, because we have daughters and because we want to see opportunities. But we're also doing it because we want to win," Harbaugh told those in attendance. "We want to be the best we can be, and we're talking about a talent pool out there that's largely untapped.
"It's a new frontier. You're pioneers, and the next generation coming behind you guys is going to step right in your wake. I think the doors are going to be wide open. So I think coaches like us want to be on the cutting edge of that."
Which is why King may not be the only female coach in Panthers' history. Rivera hopes to be able to give another woman an opportunity as soon as this spring.
"These aren't just women who coach football; these are coaches," Rivera said. "I think when we can look at people and not put labels on them as, 'Oh, he's a black quarterback,' or, 'She's a woman coach.' No. 'Coach' and 'quarterback.' I think that's where we need to get."