CHARLOTTE – Donte Jackson is the only Panthers rookie to play a football game in 2018 that actually counted in the win-loss column, and since a last-minute loss to Notre Dame in the Citrus Bowl, the former LSU cornerback has dreamed of this weekend.
OK, he's actually dreamed of what awaits Sunday for a lot longer than that.
"All day, every day. It's the only thing I can think about when I'm chilling with my baby girl, when I'm doing anything," Jackson said. "I dream it, and then I hope to speak it into existence."
Jackson said he expected to have some jitters in the moments leading up to the kickoff of his NFL regular season debut against the Dallas Cowboys – "I've dreamed about it my whole life," he said – but he doesn't expect to have any nervousness after the opening kickoff that would impact his play.
"Nervous? I think the 'nervous ship' has sailed for me," Jackson said. "Probably during the second week of camp, I felt a little bit more comfortable than I had back at OTAs and minicamp. So by the time we came back here, the nervous level had gone down and the confidence level up. I'm feeling pretty confident."
When asked Tuesday, all seven of the drafted rookies on the Panthers' 53-man roster appeared to have their heads on straight, all referencing in some form making sure that they understand their role and are prepared to execute it.
But while they all said the right things, they also shared some real things – specifically what it's like to have arrived at this moment after a lifetime of dreaming and eight-plus months of waiting following their final college game.
Here's what they had to say, presented in the order they were selected in the 2018 NFL Draft.
On whether he'll get caught up in the moment: "I had the preseason to do that. … I just want to make sure I know the game plan so I can play fast. I want to be reliable out there."
On whether he literally dreams about football: "Most of my dreams aren't about football. … Maybe I will dream about this game – me making a play or something – but dreams are all over the place. That's how they work."
On his most recent football dream: "I had a dream before we played the Patriots in the preseason that I took a Tom Brady pick to the house. I woke up and it was like, 'Man, that thing felt real! I could feel all the fans screaming.'
"I dream about football all the time. I feel like I have the best job in America, that I get to go out and do something that I love."
On advice from fellow CB James Bradberry before his first NFL start: "He's just telling me to just go out and play the game and everything else will take care of itself."
On whether he's ready for the moment: "We've put in the work during the preseason, and those were very good dress rehearsals to see where our mind needs to be for these games. Now it's just about preparation."
On his football dreams: "I daydream about it all the time – about plays that I can make, about plays that I should have made. … A walk-off interception pick-six and just sliding down and celebrating with the guys."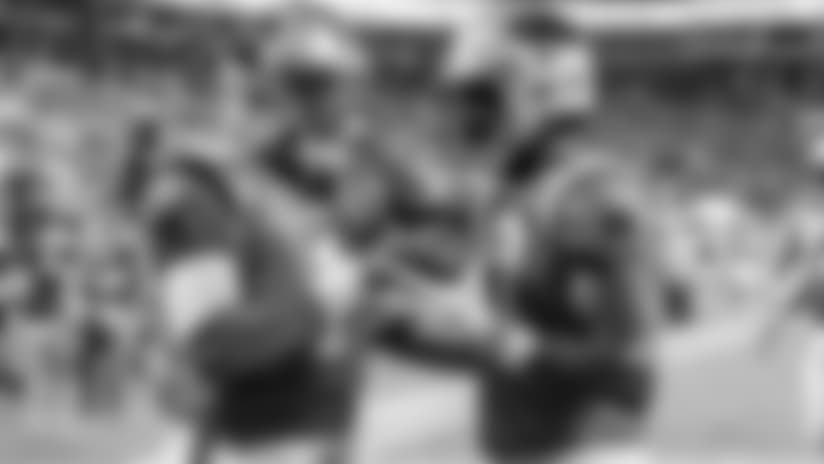 On making it through the endless months minus games that count: "Over the summer and in the preseason, when you make positive strides, that keeps you going, makes you want to get even better. That helps my mindset a lot."
On daydreaming about football: "I'm always learning new plays, so that's all I'm really thinking about throughout the day. But I don't really remember my dreams."
On what Sunday will mean to him: "I dream about it and I pray about it because everybody isn't given the chance to play on the biggest stage like they want to. I'm blessed and I'm humbled. You can't just go around bragging about it because somebody else could be in your spot right now."
On his football-focused dreams: "I dream about football every day. I'll go home, talk to my girlfriend about everything that happened. … I dream about later on in life being a Pro Bowler and being one of the top defensive ends. "
On how he'll approach Sunday: "It's a childhood dream, but you can't focus on that. You have to focus on what's important – winning the game. … I'm just going to give it all on special teams because that's going to be my role right now. I'm just going to try to fulfill my role to the best of my abilities."
On his most recent football dream: "With Khalil Mack just getting traded, I had this dream where he made a certain move, and I had a dream of me doing that same thing. I like to pass rush, so I like to envision doing things like that. … I dream about being the one to make a game-winning play, a game-winning interception or strip-sack. Hopefully one day those dreams will be fulfilled."
On ascending the NFL stage: "It's surreal. It's crazy. I was just watching these people on TV last year."
On his dreams becoming reality: "Daydreams. Dreams at night. All the time. Usually about hitting people – most recently tackling Ezekiel Elliott.
"We live for Sundays. That's when we feel alive."