MOBILE, Ala. — Two years ago, Sam Howell became a top quarterback prospect.
A year ago, Sam Howell found himself largely alone.
But instead of pouting or blaming others when his final college season failed to meet expectations, Sam Howell ordered a bunch of food for his linemen.
The North Carolina quarterback is getting a chance to prove himself again at the Senior Bowl this week, with a cast of offensive talent he didn't always enjoy last year.
"I just want to show people who I am as a player," Howell said after Tuesday's practice, when asked specifically about his arm strength, but it turned into a metaphor. "I tried to show them I could stretch the ball down the field. We've got some really good players out here, so it's been a lot of fun."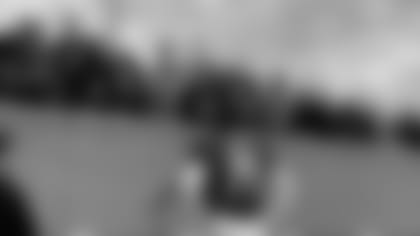 There weren't as many really good players, or as much fun for Howell last year.
After throwing for 7,227 yards with 68 touchdowns and just 14 interceptions his first two years for the Tar Heels, his numbers tailed off sharply last year (3,056 yards, with 24 touchdowns and nine picks). Of course, having four of his offensive teammates drafted into the NFL (running back Javonte Williams, wide receiver Dyami Brown, running back Michael Carter, and wide receiver Dazz Newsome) made life more difficult for him. But he also ran twice as much last year, with 828 rushing yards to pick up some of the offensive slack.
During a week in which he's pitching himself to NFL teams as a leader worth investing in, he's not going to pitch his teammates under the bus, but it was clear last year that a portion of Howell's struggles were directly related to the cast around him.
"Obviously, it was a little different not having the same guys with me," Howell said. "But the guys we had, we had some awesome players around me. Obviously, we didn't have the year we wanted to, but I wouldn't trade it for anything in the world."
At the same time, he acknowledged that it did create a certain pressure on him, and that some of his problems stemmed from trying to compensate.
"Maybe a little bit at times, maybe I tried to do too much," Howell said. "That's the main thing I learned throughout this season, is I don't have to be the hero on every single play. Just stay within my framework and stay true to who I am as a player."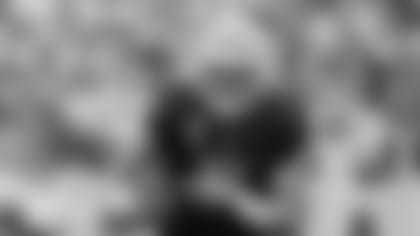 Kevin Donnalley saw how it affected Howell on the field, and how he responded.
The former Panthers guard, who now works as UNC's director of high school relations and de facto ambassador, said he was impressed with the maturity Howell showed while breaking in a new set of targets.
"With Sam, he never dwelled on what happened, or the things that were thrown at him," Donnalley said. "But that's also just his personality. He's got an even-keeled mindset, and he's one of those guys who never gets too high, never gets too low. He would never say a negative word about his teammates.
"He had a way of guiding the team, leading them steadily rather than just yelling at guys. A lot of times that kind of stuff looks good on TV, and people would say 'Oh, look how fiery that guy is,' but that's not his style. I've been in that huddle, and you'd much rather have a quarterback who feels real, and upholds the standard by example rather than telling people 'I'm doing my job, pick it up.'"
And toward that goal, Howell was also willing to pick up the tab.
Donnalley said that Howell tried to keep his NIL (name, image, and likeness) deals private, but he'd turn them into displays of affection for his teammates. Donnalley said that when a group of players would gather on their own to watch film, they'd often find a large delivery of food for them, the quarterback's way of spreading the wealth.
Howell didn't mention that part when he talked to reporters, but admitted he had to develop differently, without being able to rely on as much skill-position talent around him.
"I think definitely just my leadership," he said when asked how he got better last year as a player. "I was challenged a little more with the guys we lost and had to step up more into that vocal role, and bring guys along with me. So I think that's definitely where I've probably gained the most in the last year. . . .
"I definitely learned a lot. I had to do a little more to get those younger guys up to speed, so it was definitely a challenge I was excited for. We had a lot of fun doing it. Obviously, we didn't have the season we wanted to, but like I said, I wouldn't trade it for anything in the world. I learned so much last season, and overall it made me a better player and a better person."
What it didn't necessarily do was help his draft stock.
The Union County native who set records at Sun Valley High with his dual-threat skills was considered a top prospect entering the year, but that dimmed, as last season created some questions for scouts. But Donnalley said the feedback he got while talking to NFL scouts this week has been positive, and he hopes Howell is coming back around to them.
"What I'm hearing when I talk to these scouts is that some of the attention was taken off Sam, but now when they dive back into his film and really look at him, they're liking more and more the complete picture they see," Donnalley said. "It was hard for him last year, losing so much talent on offense. But him finding ways to manufacture offense stands out when you watch the film.
"I've had guys come up to me after doing more work on Sam, and they say 'We're starting to come back around, and see what you saw in him.'"
Of course, he's not necessarily the top quarterback in this year's class, as attention has shifted to players such as Kenny Pickett and Malik Willis, but Howell remains confident that he can get it done in the NFL.
"I think I have everything it takes to be successful at the next level, all the attributes it takes to be a good quarterback," he said simply. "And I think I'm ready to do that day one."