CHARLOTTE – Scouts across the league were drawn to LSU cornerback Donte Jackson for the same reason: elite speed.
Everyone had heard about it or seen it on tape. When Panthers college scout Jeff Beathard went to Baton Rouge and saw it in person, he knew the junior corner would be someone worth keeping a close eye on throughout the draft process.
"Once I left LSU it was like, 'OK, this is the type of athlete that has the NFL skill set to come out early,'" Beathard recalled. "Especially the speed, that's something we needed to improve in our secondary. We targeted him as someone who could come in and compete to start.
"It's just rare to find guys that can run like that. There are guys that time well but you don't always see it on the field. This guy times well and plays fast."
Jackson cemented his reputation as a speed demon with a 4.32 40-yard dash at the scouting combine, matching the fastest time among all participants.
But his ability to run with NFL receivers was never in doubt.
The questions and concerns stem from his size, or lack thereof, at 5-foot-11 and 178 pounds.
Here's what NFL.com draft analyst Lance Zierlein wrote in his scouting report: "Lacks desired frame to matchup with NFL size and support the run. Due to his slight frame, teams are sure to test his resolve and durability in run support."
Beathard, who has been scouting for Carolina since 2008 and currently oversees the southeast, of course had similar questions.
But Jackson answered them.
"He does a lot to overcome his size with how competitive he is," Beathard explained. "He's a tough kid. He's aggressive, he'll come downhill on run fits, he doesn't shy away. He'll compete to get off blocks. With a kid his size, he's got to do those things to show you he can play at this level.
"He plays bigger than the size indicates."
He also plays more than the size might indicate.
Consider this: In three seasons at LSU – the last two as a starter – Jackson never missed a game.
"For a kid his size, he's one of the most durable players that we've seen," Beathard said. "You go in and talk to the trainer, this kid has had no injuries. We know he can hang at this level."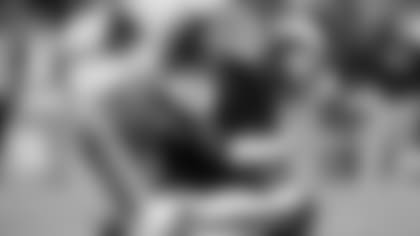 That durability is a major point of pride for the fiery cornerback from Metairie, La.
"Never missed a game at LSU in the SEC, but you're going to sit here and say I lack ideal size? I like to pride myself on that a lot," Jackson said. "I wouldn't think a guy lacks ideal size if he's out there banging with SEC opponents every week.
"That says a lot about my game; says a lot about my toughness and my aggression."
Defensive backs coach Curtis Fuller believes those elements of Jackson's game aren't talked about enough.
"His toughness – I think that's under the radar a little bit," Fuller said. "He will tackle and he does what he needs to do to be successful at that position."
As all prospects will tell you, the film speaks for itself.
General manager Marty Hurney, head coach Ron Rivera and Beathard would direct your attention to one game in particular: LSU vs. Auburn from last season.
LSU was clinging to a 24-23 lead with less than two minutes remaining. On fourth-and-10, Auburn tested Jackson deep, and he played it perfectly for the pass breakup.
When Auburn got the ball back following an LSU field goal, they tested Jackson three more times in the closing seconds. It resulted in three more pass breakups, the last of which should have been a pick-six.
"It was a tight game, very competitive environment and this guy is all over the place," Beathard said. "If you weren't looking for Donte, he's still showing up. You don't have to seek him out to find him."
View photos during his time at LSU and at the NFL Scouting Combine.