CHARLOTTE – Time now for another episode of Captain America: Luke Kuechly.
While his teammates trudged through OTAs and minicamp the past few weeks, Carolina's All-Pro linebacker wasn't allowed on the field. Well, except for some individual drills, installation periods – and to play scout team.
That's right, the league's best inside linebacker and five-time Pro Bowler played pretend offense, a role typically filled by reserves. And not only was he a willing participant. He loved it.
"I can't do anything in practice right now, so I've got to do that. That's one thing I can do," said Kuechly, who was limited after undergoing shoulder surgery this spring. "Plus, I never played wide receiver, and that's the closest I'm ever going to get to playing wide receiver."
Growing up outside Cincinnati, Kuechly's football career began in the fourth grade. During his grade school career he bounced between stints at linebacker, guard, fullback and running back.
"But I never got the ball (as a running back)," Kuechly said. "I guess I wasn't very good at it. I don't even play running back on scout team because I'm not good at it."
So wide receiver it is on the scout team. Even though he played a little center during Wednesday's practice, digging deep into that invaluable experience he gained way back when.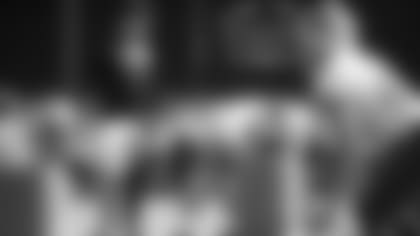 "I liked playing guard," Kuechly recalled. "All my buddies played on the line. But I was ready to play defense again."
He had to wait a couple of years, though. 
At St. Xavier High School, Kuechly wasn't a linebacker until his junior year. Before that, he was a tight end. So when asked which other position he could possibly pull off as a pro, Kuechly answered:
"Probably tight end. But I'd have to get bigger. I couldn't do anything else. I couldn't play wide receiver. I don't think I'd be good enough at that. I definitely couldn't play running back. I couldn't play quarterback."
Really, offense just isn't his thing.
"Everyone's always trying to hit you. I don't know if I'd like that. I'd rather hit somebody than get hit," Kuechly admitted. "Like I would never want to get hit by Thomas (Davis). That would suck."
Kuechly doesn't have to worry about getting hit on scout team since that group goes half-speed until intensity increases once the season gets closer. So even though Kuechly should be fully cleared for training camp, he plans to continue helping out on "offense."
"You need to stay warm, and sometimes those install periods are long. So I'll start getting tight. But if I run once in a while in those scout team drills I can stay loose," Kuechly said. "So right now it's more fun than practical because I can't really do anything. But in training camp, it's both.
"I just think it's fun to run those routes sometimes. I don't know why."
Why? Because it's football, and because it's Kuechly.